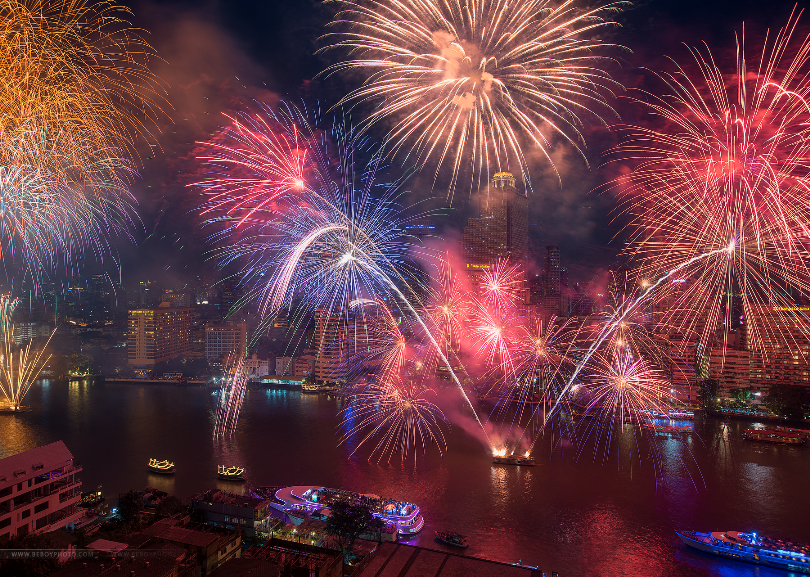 5 Riverside Restaurants in Bangkok to Celebrate Loy Krathong Festival
Celebrated annually on the night of November's full moon, Loy Krathong marks the ancient Thai tradition of honouring the Water Goddess. On lakes, canals and rivers throughout the country, people float small lotus-shaped vessels, known as Krathong, to 'wash away' their sins and ask for good luck in the coming year.
Celebrate Loy Krathong in truly memorable fashion with traditional dance show, delectable feasts and a spectacular firework display over the Chao Phraya River at Mandarin Oriental, Bangkok.

RIVERSIDE TERRACE
The sound of live traditional Thai music will greet you at the Riverside Terrace, where waiters dressed in traditional Thai costume will help you choose from their magnificent buffet. While enjoying the Thai cuisine, you can also watch a classical Thai dance performance, a beautiful parade and Krathong contest. After dinner you can float your own Krathong on the river while fireworks light up the sky.
Adult: THB 6,000 net per guest / Child: THB 4,000 net per guest
TERRACE RIM NAAM
Traditional Thai folk musicians and dancers will perform as you enjoy a delicious Thai Market-Style buffet. Later, float your Krathong underneath the glow of an unforgettable fireworks display.
Adult: THB 4,600 net per guest / Child: THB 3,000 net per guest
LE NORMANDIE
Celebrate Loy Krathong with contemporary French cuisine by 2 Michelin Stars Chef Arnaud Dunand-Sauthier at Le Normandie. Pure and precise flavours, wonderful taste combinations and the subtlety of herbs and seasonings offer a genuine and unique experience of haute cuisine.
Adult & Child: THB 9,500 net per guest

LORD JIM'S
The traditional of Loy Krathong meets the vibrant and elegant ambience of Lord Jim's. Enjoy classical Thai dance, marvelous views over the Chao Phraya River and their spectacular firework displays, all while savouring a special set menu created by Lord Jim's resident Chef Tijn Bremmers and his talent team.
Adult & Child: THB 5,250 net per guest

CIAO TERRAZZA
Enjoying an idyllic setting on the banks of the Chao Phraya River, Ciao Terrazza offers alfresco classic Italian dining with an unparalleled intimate view of the Loy Krathong celebration. Ciao features wood fired artisanal pizzas and home-made pastas, which are guaranteed to appeal to savvy gourmands and those with the most discerning palates.
Adult & Child: THB 4,000 net per guest