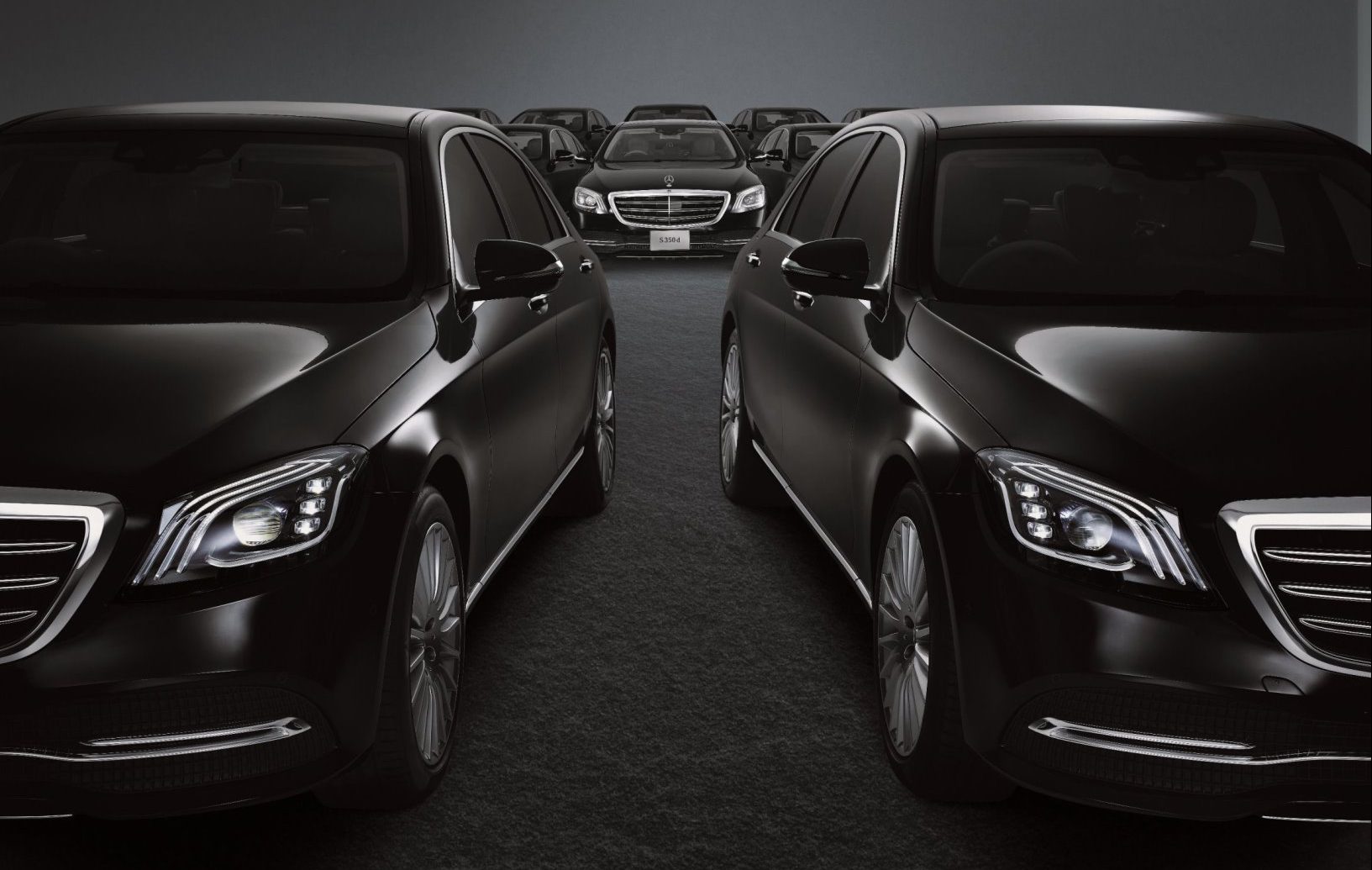 Mercedes-Benz Delivered More Than 40 S-Class Limousines to 6 Leading Hotels
Mercedes-Benz (Thailand) Limited strengthened its image as the foremost luxury brand with "The Taste of Legacy", a special event in which a major vehicles for corporate customers business partnership with six five-star hotels across Thailand was sealed. More than 40 Mercedes-Benz S 350 d Exclusive were simultaneously handed over to all six signatories for use as luxury limousines for guests.
Mr. Roland Folger, President and CEO of Mercedes-Benz (Thailand) Limited, began "Mercedes-Benz (Thailand) has been in the premium vehicles for corporate customers business for more than 20 years under 'Mercedes-Benz Corporate Solutions' branding and we currently offer our services to corporate clients across various industries. Our clients benefit enormously with the finest Mercedes-Benz passenger cars, superb after-sales teams, and tailor-made packages to suit all business demands.
"Many leading corporations worldwide give their trust to us as owning a Mercedes is not just about business credibility, but also involves the ultimate in luxuriousness reflected in our material choices and class-leading safety systems on board. In Thailand, we are recognized as the number one luxury limousine for five-star hotels and the S-Class is the preferred vehicle family of our corporate clients. Vehicles in this family are distinctive in every aspect and are recognized as passenger limousines closest to 'perfection' in the automotive industry.
"We present 'The Taste of Legacy' today as a celebration of partnership and a milestone for Mercedes-Benz (Thailand) Limited, Belle Transport Limited—a foremost limousines operator, and six five-star hotels namely Capella Bangkok, InterContinental Bangkok, Siam Kempinski Hotel Bangkok, The Okura Prestige Bangkok, The Sukhothai Bangkok, and W Bangkok. This partnership allows all parties to present 'THE BEST' to their customers as more than 40 Mercedes-Benz S 350 d Exclusive limousines are handed over," elaborated Mr. Folger.
Mr. Frank Steinacher, Vice President of Sales and Marketing, Mercedes-Benz (Thailand) Limited, continued: "The handover of Mercedes-Benz S-Class to our partners in the industry of hospitality today is our most phenomenal delivery of
the year with a total value of 300 million baht. Many of these hotels and private residences are recognized by us as corporate clients that have been served by us since our very first day in corporate customers business and they use
Mercedes-Benz as their limousines accommodating their honored guests for more than a decade—with presence of many limousine models through time from Mercedes-Benz S 320 CDI and now Mercedes-Benz S 350 d Exclusive that we are more than pleased to deliver today. This longstanding partnership means our corporate clients are always certain that the three-pointed star marque is a symbol of meticulousness befitted for their guests. At present, Mercedes-Benz S-Class is Thailand's most premium limousine family and all S-Class models should impress every guest at first sight."
"Our vehicles for corporate customers business under 'Mercedes-Benz Corporate Solutions' is designed to suit needs and support operations of business units, firms, or agencies with a complete range of Mercedes-Benz passenger cars from all key categories namely Compact Car, Contemporary Luxury, SUV, as well as luxury and ultra-luxury models like the S-Class and the Mercedes-Maybach S-Class.
Mercedes-Benz Corporate Solutions is serviced by our experienced team of 'Corporate Client Consultants' and comes with flexibility in packages to ensure we can fulfill every possible need. A Three-year unlimited mileage warranty is inclusive with every package and customers can also choose to extend the warranty or add maintenance add-ons to maximize their benefits. 'Star Assist' 24-hour roadside service is also available to our corporate clients and their vehicles will be maintained by our technicians stationed at 33 authorized service centers across the nation.
Mercedes-Benz S 350 d Exclusive is an undeniable resolution of comfort as its cabin—furnished with premium materials—features a centralized, intelligent ENERGIZING Comfort Control for a perfect journey as occupants can adjust every key comfort feature such as colors of Premium Ambient Light system, cabin temperature, sound volume, or six preloaded massage programs in a single control panel. Occupants will be pampered with a preinstalled Chauffeur Seat Package as they can recline and stretch their legs in a manner unlike other passenger cars. The package allows a front passenger seat to be slid forward by up to 4 centimetres and they can be lifted by 3.7 centimetres maximum compared to standard setup, resulting in larger space and legroom for a left rear occupant. The S 350 d boasts best-in-class infotainment systems including compatibility with Apple CarPlay™ and Android Auto, a wireless charging pad for compatible smartphones, Burmester® surround sound system, as well as a dedicated infotainment system for rear occupants with two screens.
Mr. John Blanco, General Manager, Capella Bangkok, said of the partnership that "The Capella Bangkok, an exclusive new urban luxury riverside resort on Charoen Krung Road, is poised to establish a new landmark for Bangkok. We are now working hard to ensure everything is perfect and ready to accommodate our guests in time for our grand opening later this year. We believe that convenience must come with perfection in all aspects of our product and service. Limousine selection is one of the key elements to complement and enhance our customer experience and the S-Class will provide the ultimate vehicle for our guests."
Mr. Thane Kuhlman, General Manager of InterContinental Bangkok, said "As a member of InterContinental Hotels Group, InterContinental Bangkok always welcomes guests by emphasising our unyielding 'True Hospitality' philosophy.        Every guest is the center of our business and is treated in the exact same way and standards at every hotel of ours. A limousine of Mercedes-Benz S-Class complements our superior services particularly in offering an exclusive experience to our honored guests throughout the journey."
Mr. Alex Pichel, General Manager, Siam Kempinski Hotel Bangkok, said "Siam Kempinski Hotel Bangkok is a spotless combination of the brand Kempinski—a marque of European expertise and precision—and astonishing service standards in a Thai manner. We are pleased to impress our guests with best-in-class lodging experience whether they are here for business or pleasure. Presenting the S-Class to our guests gives them the opportunity to travel in style in a 1st class limousine from the Stuttgart maker and is in sync with our service philosophies as the S-Class is a symbol of detailed elegance, comfort, and safety."
Mr. Masaya Hasebe, Executive Assistant Manager, The Okura Prestige Bangkok, revealed "The Okura Prestige Bangkok upholds a simple yet effective axiom of 'Best A.C.S.' comprising 'Best Accommodation', 'Best Cuisine', and 'Best Service'. We are pleased our axiom is reinforced today and we are more than happy to partner with Mercedes-Benz to provide the S-Class as our hotel limousine since we understand the three-pointed star brand satisfies our guests with the ultimate vehicles."
Mr. Alexander Schillinger, Executive Assistant Manager of The Sukhothai Bangkok, expressed "The term 'Sukhothai' literally means 'a blissful dawn'. This definition coined for eternal happiness is perfected with bountifulness, good spirits, serenity, and privacy as these concepts are core philosophies that make sure our guests benefit from only the best while they are staying with us. We are fully aware that our hotel and Mercedes-Benz share the exact same objective on offering only the best to customers. We thus are certain that our guests will have a memorable and relaxing experience travelling with the S-Class."
Ms. Tina Liu, General Manager, W Bangkok, elaborated "Our residence is honored to be one of the signatories under this auspicious partnership. We have been a partner with Mercedes-Benz since our first day in 2012 as we share the same goal of delivering first-rate innovations and services. The S 350 d Exclusive outshines with technology, design, and comfort for everyone on board so it is a perfect choice for a design luxury lifestyle hotel like W Bangkok."
Mr. Hudsadin Eamsherangkul, Deputy Managing Director of Belle Transport Co., Ltd., said "Safety and comfort are top priorities at Belle Transport since our inception in 1987 and we are trusted by various clients including hotels, government agencies, and private firms. Limousines we provide for each client must answer their needs and Mercedes-Benz is the most-trusted brand among our customers as its image reflects their own. Aside from superb services at reasonable prices, our decade-long collaboration with the three-pointed star brand proves Mercedes-Benz as a true business partner with a brand that fits with our business objectives and those of our clients."