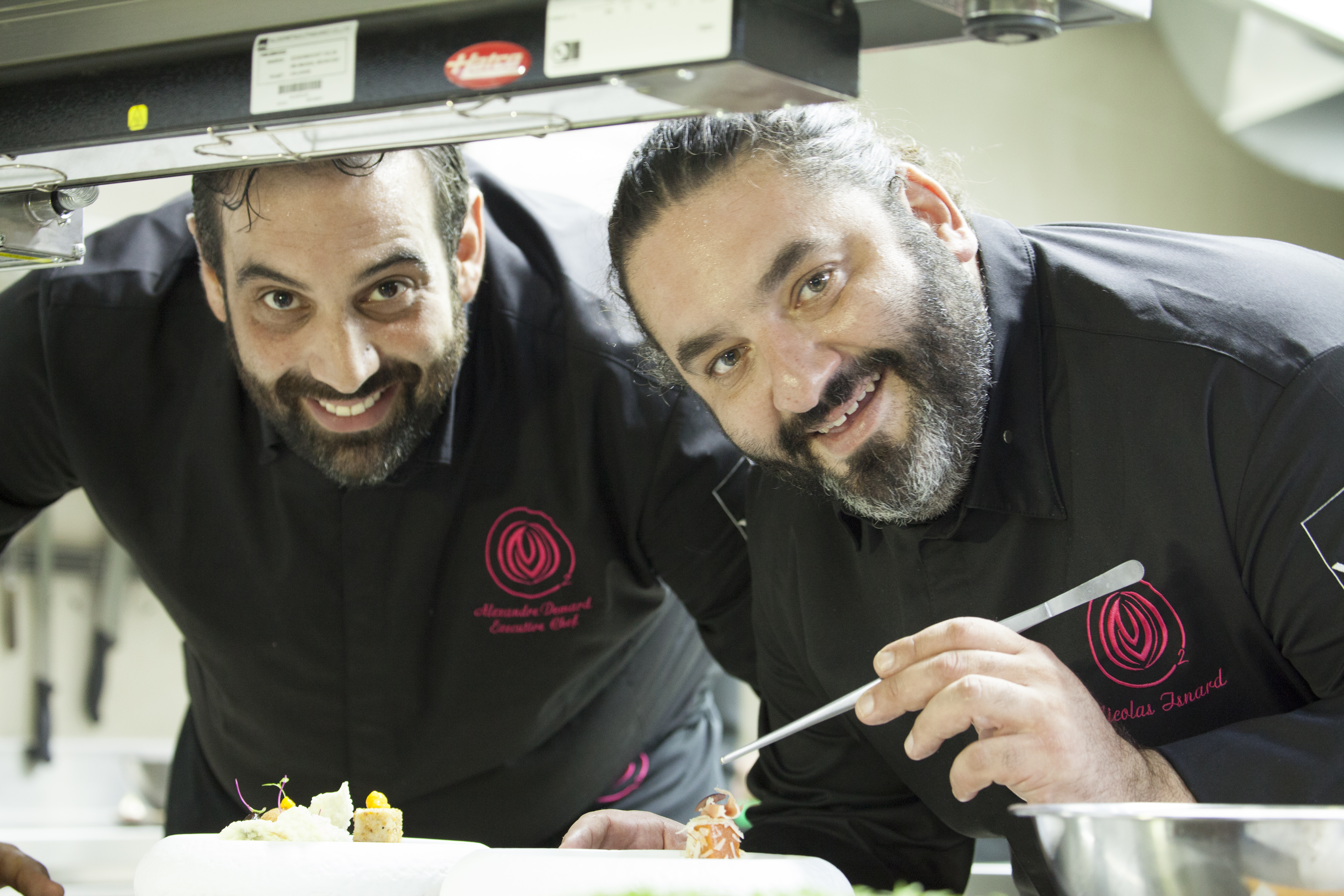 More Than Just Food: An Interview with the Oxygen Dining Room Chefs
Chef Nicolas Isnard, Oxygen dining room's Consulted Michelin Star Chef
Alexandre Demard, Executive Chef Oxygen dining room, X2 Chiang Mai Riverside Resort
X2 Chiang Mai Riverside is an exquisite urban resort nestled on the banks of the Ping River in Chiang Mai, Thailand's cultural heart and the capital of the ancient Lanna Kingdom. Perfectly positioned on the tranquil east bank of the river, just outside the ancient city walls, its elegant low-rise resort balances romantic seclusion with close proximity to the city's main attractions.
The resort's Oxygen Dining Room is overseen by Michelin-starred French chef Nicolas Isnard together with an Executive Chef Oxygen dining room, chef Alexandre Demard, creating an acclaimed new dining experience in Chiang Mai. Let's get to know both of them with this exclusive interview.
Where did you train to cook and how long have you been cooking professionally?
Nicolas: 25 years. I trained in Paris and worked in different restaurants around there for over 10 years. I opened my own restaurant in 2008 in Paris, France.
Alexandre: Not the same as Nicholas, but I started at the age of 13 years old and I used to work with my father who was a pastry chef in France. I had more than 10 years of experience working in a pastry then later I started to learn on how to cook in a kitchen. So I have been cooking professionally for about 17 years.
How would you describe the style of your cooking?
Alexandre: Fresh! A lot of color and flavoury.
Nicolas: One thing I always do is that I put my passion into every single dish I cook. I make sure that it's delicious, if it's not then I won't serve my guest that dish.


Is there a secret for a successful restaurant?
Nicolas: Again, it's all about pleasure, if you can put your pleasure into your work then the food will be delicious. And of course the guests come to your restaurant because of yummy food and that should indicate a success of your restaurant. It's that simple. Over 25 years being behind the kitchen, I often ask myself these questions; What can I do to give to a restaurant and to my guests? When you make your job so special and enjoyable then people can sense it.
What is your funniest experience in a restaurant?
Alexandre: The first two years when I started to cook were the funniest time because I started to learn something new everyday in the kitchen and the organization I was part of at that time.
Nicolas: For me, the funniest time is now! Because when I remember how difficult it was for me during the first year. But with my current job position now, I get to travel a lot. As a matter of fact, I'm flying to China and Vietnam next week. So it's very fun to meet new people and get to know them.
Is there any other chef that you admire now?
Alexandre: My favourite chef at the moment is Nicolas. (laugh)
Nicolas: Many of them around the world but as of right now are the German twin chefs of Suehring restaurant who just received their 2nd Michellin star for Bangkok eatery last November. I come down to Bangkok to eat at their restaurant once a month!
Any advice you would give to someone who wants to become a chef one day?
Alexandre: Learn hard, train hard, but take pleasure and do it with passion.
Nicolas: If you don't have the passion, don't make dishes. Everybody else works 8 hours per day but we work 15-16 hours per day. When I was younger, I had only 4 hours of sleep, my life has been in a kitchen, basically. My chef life is very similar to the story in the movie, "Burnt." If you're passionate with your job then you'll be passionate with your life.
Any new development in the restaurant?
Nicolas: A lot! Our first baby is Oxygen Dining Room at X2 Chiang Mai and we have a Michelin star chef there. The second one is in Koh Samui and the third one is in Vietnam. There are several new projects that have been proposed to us and we are so excited to work on them. Again I love Thailand and Vietnam. I've been traveling to Thailand for the past 12 years now. Thailand has become my second home and my playground because it has many good products and vegetables that I can work with.
Alexandre: We will keep getting better and better. Nicolas is the head, and I'm the hand in this work!

How do you find Chiang Mai?
Alexandre: I love the city. It's the nest of all the good foods you can find in Thailand. I'm so happy that I can work in Chiang Mai.
Nicolas: I go to the market at least 2 times a week every time I visit Chiang Mai.
Your last thought?
Nicolas: The key to success at this job is generosity, if you do not have generosity then you're not going to make it. When your mother cooked for you, she would taste and add more ingredients to make that perfect dish just for you! All the cooks and chefs should be like that when they cook. It's truly all about the family food.
Text by Siwakorn Khemthorn
Photos by Siwakorn Khemthorn and X2 Chiang Mai Riverside Resort