Terminal21 Pattaya: A New Destination for The Greatest Shopping Experience In Thailand!
Terminal21 Pattaya, the ultimate shopping destination of the East, proudly presents a shopping terminal with a concept "The Whole World is Here". The grand opening ceremony will include various highlights that are sure to bring happiness to Eastern residents such as a special show by Thailand's superstar "Aum" Patcharapa Chaichua, a mini concert by handsome actor Nadech Kugimiya, and duo "Krist" Perawat Sangpotirat & "Singto" Prachaya Ruangroj. Special activities are planned for shoppers to enjoy throughout December. The grand opening will be attended by Terminal21 founder Anant Asavabhokhin and Pattaya mayor Sontaya Kunplome on November 30 at Terminal21 Pattaya.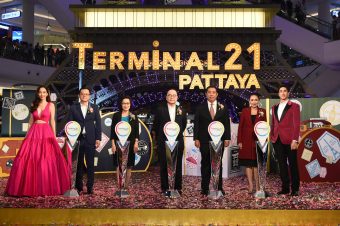 Prasert Sriuranpong, Managing Director of LH Mall & Hotel Co., Ltd., a management executive of Terminal21 Asok Shopping Mall, Terminal21 Korat Shopping Mall, Fashion Island, The Promenade Ramintra, and Life Center Q House Lumpini, said, "Since opening its door earlier in October, Terminal21 has received great feedback from Thais and visitors, welcoming more than 60,000 visitors per day."    



"Terminal21 Pattaya is the latest project by Land and House in the regional market. The project size is 33 rai and the location is in the heart of Pattaya, under the concept of shopping terminal with a World Market Street style and 'Happiness East' concept to bring happiness to the East of Thailand and Pattaya. The shopping complex offers everything for every lifestyle need, such as East Entertainment, East Dining, East Lifestyle and East Shopping. We are confident that it will be the new landmark of the East and bring endless memories."
In terms of concept and highlights, Terminal21 Pattaya, the new shopping destination, features atmospheres of six major cities from around the world – Paris, London, Tokyo, Italy, San Francisco and Hollywood – with each city's respective icons. They are all connected through a dazzling design. Two highlights include an actual airplane in front of the shopping complex, on a 250-meter runway by a man-made beach, with a jet bridge.  Another highlight is the 39-meter freestanding escalator connecting Level G – PARIS and Level 2 – Tokyo, which is the longest shopping mall escalator in Thailand.
Terminal21 Pattaya covers an area of six floors and offers various products and services for every need: fashion, dining, supermarket, cinemas and spa.
Level G – PARIS stands out with a 27-meter Eiffel Tower at the center. The fashion capital is home to over 100 fashion and beauty stores such as H&M, EVEANDBOY, UNIQLO, JASPAL, RADLEY LONDON, LACOSTE, CHARLES & KEITH, and more.
Level M – LONDON presents London vibes with the iconic London bus and red phone box.
It offers various fashion labels, sport brands and street brands such as Adidas, Under Armour, Rev Runnr, Sport World, KEDS, HYBRID, AllZ, F LAB, and more. It is also the location of Foodland Supermarket which spans across 2,000 square meters and is open 24 hours a day.
Level 1 – ITALY brings together iconic landmarks of Italy such as the Leaning Tower of Pisa, gondola of Venice, and Romeo and Juliet's hometown Verona. The floor offers more than 30 health and beauty stores such as PANPURI, HARNN, and Let's Relax, as well as banks, IT shops and mobile shops.
Level 2 – TOKYO presents the atmosphere of Tokyo, the world's favorite shopping city, such as a Shinkansen Station, sumo wrestler sculptures, and paper lanterns. It is packed with over 250 shops in a market street style, as well as many restaurants and cafes such as Bangkok's famous steak shop Arno's Butcher and Eatery, shabu restaurant with seven delicious dips Seven Sins, and Pattaya's famous seafood restaurant Amporn Seafood, which is available in a shopping mall for the first time here.
Level 3 – SAN FRANCISCO presents beautiful colors of San Francisco and the iconic Golden Gate Bridge as well as the city's railroad. It features international cuisine and famous restaurants such as Thai restaurant Savoey, Asean restaurant So Asean, and affordable food court Pier 21 which brings together 30 famous eateries, starting from only 28 baht per dish, spanning across 2,500 square meters of space.
Level 4 – HOLLYWOOD is home to seven SFX cinemas on 5,500 square meters of space under a new concept, as well as Active Z, the most advanced playground in the country, the first in Thailand.
Special Offer! Win a package tour in three dream destinations – London, Tokyo and Paris, when spending 500 baht at Terminal21 Pattaya. Present the original receipt or credit card slip to redeem an entry coupon and drop it in the drop-in boxes available on G floor – Paris from today to January 6, 2019. Winners will be announced on Facebook.com/Terminal21Pattaya.
Terminal21 Pattaya is located near the Dolphin Roundabout on North Pattaya Road, accessible via three main routes: Pattaya Sai 2, North Pattaya and Pettrakul roads, surrounded by the highest density of 4 or 5-star hotels in Pattaya.
Enjoy a dazzling shopping experience in every floor and feel the vibe of major shopping cities around the world at Terminal21 Pattaya. Discover a new definition of shopping in Pattaya and enjoy endless memories here. Terminal21 Pattaya is open daily at 11am-11pm.