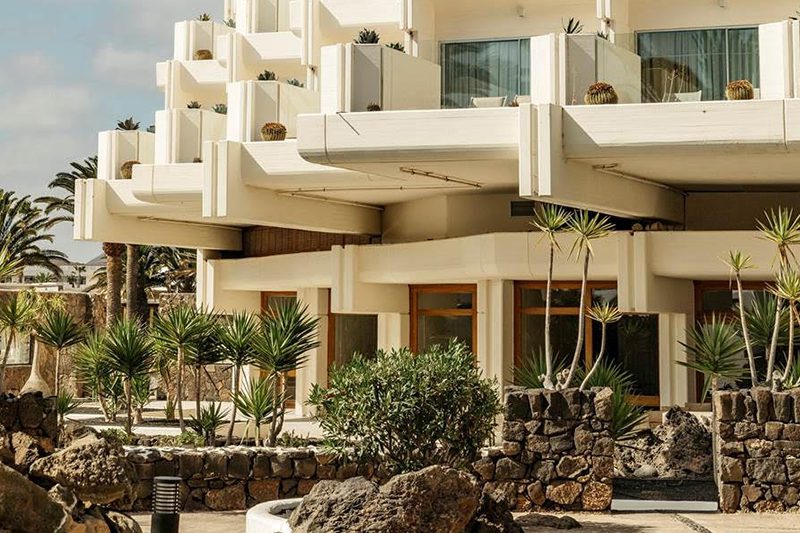 If the idea of escaping to Spain involves basking in the sun, savoring a wide range of foods, and immersing yourself in Spanish architecture, Lanzarote could be your ideal destination. Meliá Hotels International has recently introduced the Paradisus Salinas Lanzarote in Spain, an establishment originally envisioned by the renowned Spanish architect, Fernando Higueras. The building itself is a genuine architectural gem, having been designated as an Artistic and Cultural Heritage site in Lanzarote. This experience is truly a journey through time. Over 40 years ago, Higueras undertook the principal building with the concept that concrete, formwork, and the geometry of folds, along with their monumental emphasis, would seamlessly blend with the surrounding nature and environment. Simultaneously, Manrique took on the responsibility for the hotel's swimming pool, the striking tropical gardens featuring more than 300 species, as well as the frescoes and sculptures that infuse the building and its interiors with color and warmth. In 1979, the hotel received the International Prize for Architecture. Now, the newly unveiled Paradisus Salinas Lanzarote offers 282 rooms and villas, an expansive 1,800 m2 swimming pool, beautifully designed tropical gardens by César Manrique, and a selection of seven dining venues. It's undoubtedly a paradise discovered for discerning travellers. website: www.melia.com/paradisus.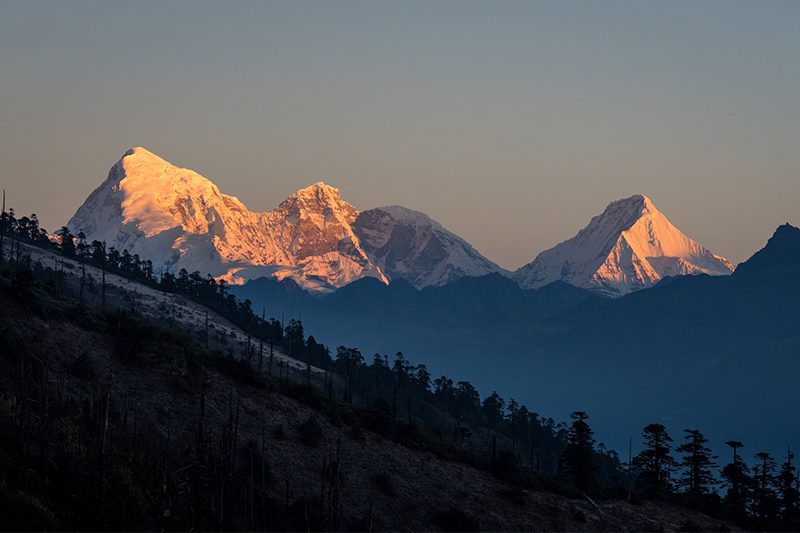 Bhutan expands its tourist incentives for visitors, with the daily Sustainable Development Fee reduced by 50% for another four years, until 2027 The Royal Government of Bhutan is pleased to announce additional incentives and policy measures to boost its tourism sector, introducing a 50% reduction on its tourism levy, known as the daily Sustainable Development Fee (SDF). The new incentives and measures shall consist of the following: 1. A fifty per cent (50%) reduction will be granted on the prevailing SDF of USD 200 for US Dollar-paying guests visiting Bhutan. The effective SDF with the discount will be USD 100 per person per night for US Dollar paying tourists. 2. In addition, a fifty per cent (50%) reduction on the SDF shall be granted on the rates applied to children aged between 6 and 12 years for US Dollar-paying children visiting as tourists. The effective SDF with the discount for children will be USD 50 per person per night for US Dollar-paying tourists. Children who have not yet turned six years old are eligible to visit Bhutan without paying any SDF. 3. The 24 hours SDF waiver for tourists staying in the border towns shall continue. The above incentives will come into effect from Friday, 1 September 2023 and shall remain effective for four years until 31 August 2027.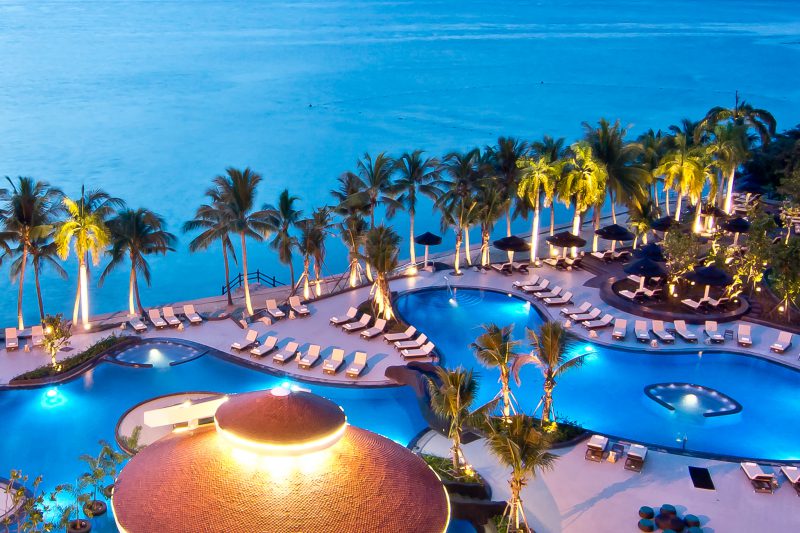 Royal Wing Suites & Spa recently shared great news after scooping one of the most prestigious awards as the best resort destination from the renowned Tripadvisor for the 9th time. Based on reviews and opinions collected from travellers and diners around the world on Tripadvisor over a 12-month period, Royal Wing Suites & Spa has been recognised as a 2023 Travellers' Choice Best of the Best award winner in the luxury and top resort category. The Best of the Best award winners are among the top 1% of listings on Tripadvisor, distinguishing them as travellers' favourites for 2023 and being the highest honour that this digital platform could offer. This remarkable achievement is a testament to the services and facilities that cater to the guests and exceed their expectations. Congratulations on the excellent work you continue to provide, and we wish you the best. Royal Wing Suites & Spa Website: www.royalcliff.com. Email: reservations@royalcliff.com Tel: (+66) 38 250 421 ext. 2732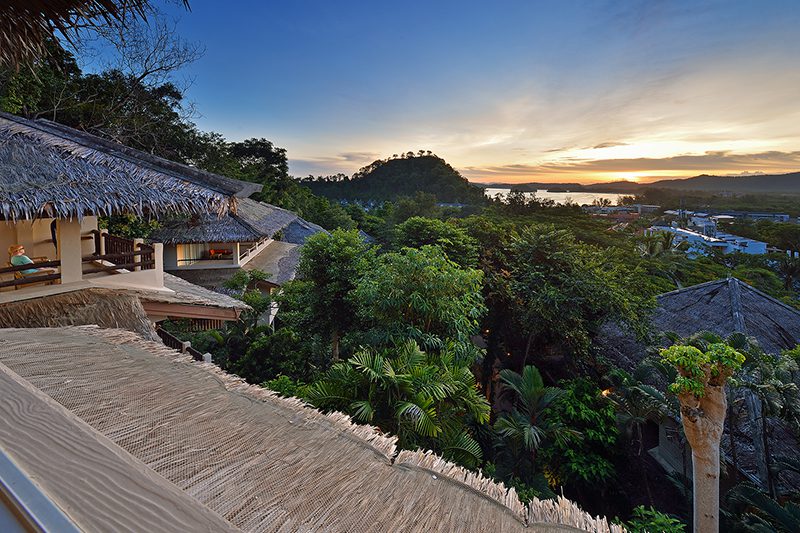 Pakasai Resort has recently announced its latest collaboration, entering into a strategic partnership with Tolani Hotels, a renowned management company in the hospitality industry. The resort will now be known as Pakasai Resort by Tolani. Situated on Ao Nang beach in Krabi and surrounded by lush tropical greens, Pakasai Resort by Tolani aims to enhance the eco-friendly guest experience through its notable sustainability efforts. Embracing the concept of ZERO WASTAGE FOOD, the resort aspires to become Krabi's first Green Star Michelin restaurant. By providing delightful culinary experiences and exceptional service while minimizing its ecological footprint, the resort caters to the growing demand for sustainable dining, with the goal of establishing itself as Asia's leading eco and sustainable hotel. Mr. Pumin Yuvacharuskul, Owner of Pakasai Resort, expresses his enthusiasm and shares the vision for sustainability, stating, "We are thrilled to join forces with Tolani Hotels to manage our property. This partnership will propel Pakasai Resort by Tolani to new heights of success and establish it as a leading eco and sustainable hotel in Asia." In addition to its sustainability initiatives, Pakasai Resort by Tolani is also home to a renowned traditional Thai medicine clinic, offering guests a unique wellness experience. By combining ancient healing practices with modern techniques, the clinic provides a range of traditional Thai therapies and treatments, promoting holistic well-being and relaxation. www.pakasai.com www.tolanihotels.com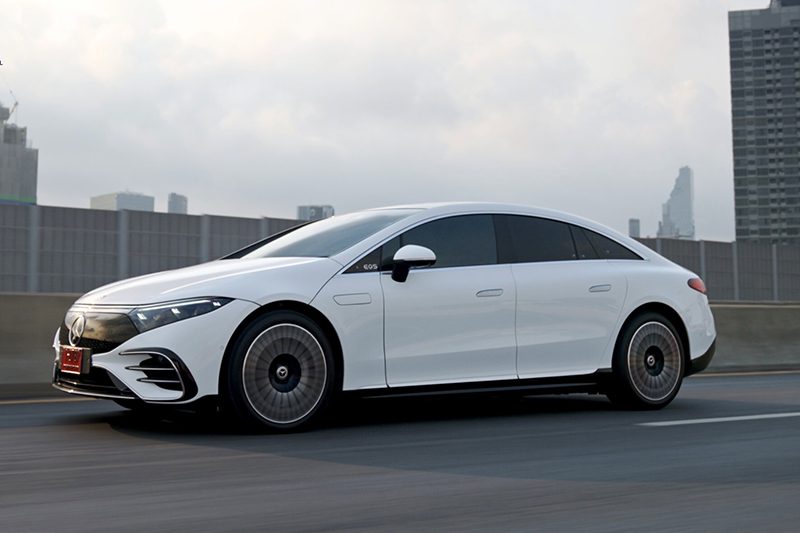 Because every journey is about creating the ultimate work of art. Lifestyle + Travel takes our readers on a journey with a new companion: the EQS 500 4MATIC AMG Premium, the first electric car from Mercedes-EQ wavers as smooth as the tip of the paintbrush in each stroke and seamlessly smooth with seamless design to allow every stroke of the movement to be smooth with the curve all over the car. It is fashioned in a fast-back manner from the front to the back. Fulfilling the pleasant day completely and comfortably with the multi-contour front chairs that significantly reduce travel fatigue. Driving through the old road, enter Charoen43 Art & Eatery, a hip part of the old town district, to discover the creative space embraced with cafés, 90s music bars, bike clubs, and countless shops, and indulge in the atmosphere of a Charoenkrung district that never sleeps. Pamper yourselves on any ordinary day, and it's truly a good choice for any kind of urban lifestyle with the EQS 500 4MATIC AMG Premium, which could take you any distance because it can take up to 702 kilometers per full charge. It's convenient, easy, and saves time. It comes with functions including BURMESTER 3D surround sound system and a MBUX Hyper-screen with a MBUX rear display in the car for additional entertainment, bringing fun and perfection to every journey. Moreover, the EQS 500 4MATIC AMG Premium takes safety to another level. Be confident in every route with the Digital Light ULTRA RANGE High beam that illuminates the way for up to 600 meters. Every journey always creates a new inspiration with the EQS 500 4MATIC AMG Premium, a new travel companion, an electric car that gives the answer to every aspect of your lifestyle with high technology and full safety, as well as a design that catches everyone's attention and inspires them to take a journey. https://www.youtube.com/watch?v=xawPwHSny0k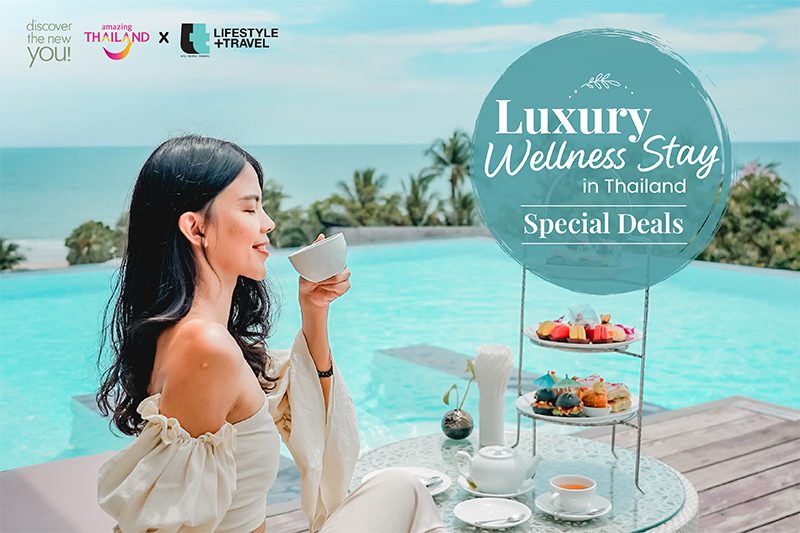 Lifestyle+Travel, in collaboration with the Tourism Authority of Thailand (TAT), invites you to indulge in the utmost relaxation and luxury during a wellness stay in Thailand. Immerse yourself in the opulence of world-class facilities and personalized services that cater to your every need. From lavish spas with rejuvenating treatments to gourmet cuisine that nourishes the body and delights the senses, come and experience the pinnacle of luxury wellness in Thailand, where indulgence meets well-being. 1. Intercontinental Khao Yai, Nakhon Ratchasima InterContinental Khao Yai Resort is an invitation to luxury and tranquility amidst lush greenery at the heart of Khao Yai. Being the country's prime location for clean air and oxygen, this enchanting oasis offers a unique escape into nature's embrace. The contemporary architecture has been designed in harmony with the surrounding beauty, providing panoramic views of the breathtaking scenery. Indulge in a luxurious spa experience where expert therapists offer personalized treatments for rejuvenation and wellness, catering to the preferences and lifestyles of avid travelers like yourself. At our resort, we value sustainability and strive to preserve Khao Yai's pristine environment while positively impacting the local community. Whether you are seeking a romantic getaway, a family vacation, or a solo retreat into nature, our promise is an unforgettable experience where luxury, tranquility, and the environment converge. Join us on a journey of wellness in connection with nature's wonders at the InterContinental Khao Yai Resort. https://www.facebook.com/theblacktieservice/posts/pfbid022cZU67AYax4hyTqMejQqyuf1gy9HSeiT4AsHnWj27i3AbkciJFeUQ9GA7TJxxzkLl 2. Trisara, phuket with rejuvenating experiences. At Trisara, every aspect of your well-being is taken into consideration. The spacious and elegant rooms provide a cozy and peaceful haven with stunning views of nature. Immerse yourself in luxury, where attention to detail and personalized services are paramount. Indulge in a wide array of wellness activities designed to invigorate your mind, body, and soul. From active yoga sessions overlooking the turquoise waters to soothing spa treatments using traditional Thai techniques, Trisara offers a holistic approach to your well-being. The property's dedication to luxury extends to its culinary offerings. Savor healthy cuisine crafted from locally sourced ingredients—a true gastronomic delight. Experienced chefs will curate menus that nourish your body and fascinate your taste buds. Discover a sanctuary at Trisara, where luxury and wellness seamlessly intertwine. Experience the epitome of rejuvenation and leave feeling renewed, refreshed, and inspired. https://shop.line.me/@876zirzf/product/1004800059 3. COMO Point Yamu, Phuket Como Point Yamu is a luxurious wellness resort nestled in Phuket, Thailand, offering a serene escape for travelers seeking relaxation and rejuvenation. With its stunning location on the eastern coast of the island, the resort provides breathtaking views of the Andaman Sea and lush green landscapes. The accommodations at Como Point Yamu are elegantly designed, featuring modern amenities and a touch of Thai luxury. Guests can choose between rooms, suites, and private villas, each offering a peaceful sanctuary for a restful stay. The Como Shambhala Retreat is a standout feature, renowned for its holistic approach to well-being. Highly trained therapists provide a range of therapeutic treatments, from massages to detox programs, promoting a sense of inner balance and rejuvenation. Healthy dining is a priority at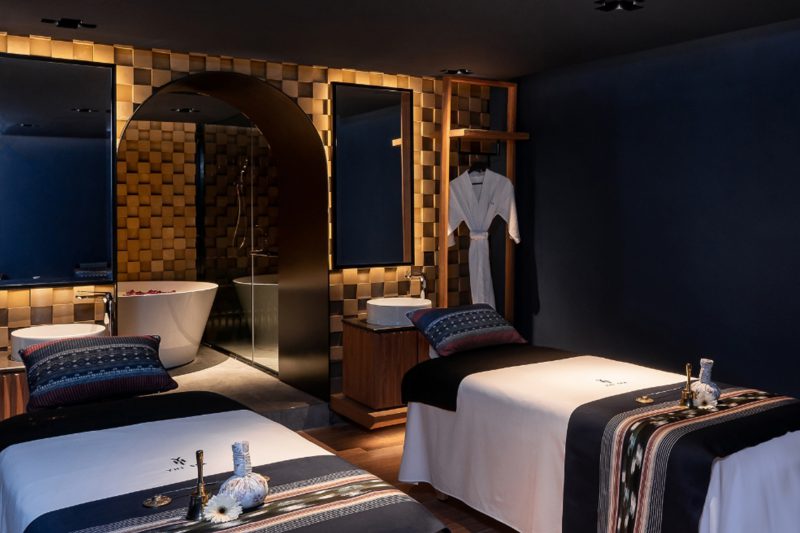 There is always a good reason to go to the spa. It is not only about making time for yourself to relax your body and mind, but also about discovering a new scene and experiencing a new spa treatment created with local wisdom and a touch of modern wellness techniques. 1. This newly opened spa in Chiang Mai is the third outlet after a successful launch in Koh Samui and Phuket. 2. The 'YHI' was inspired by the goddess YHI, responsible for life and light and personified by the sun for the Karraur First Nations people in Australia. 3. The conceptual treatment at YHI Spa is derived from ancient Asian healing wisdom combined with modern wellness techniques. 4. Its extensive spa menu includes massages, body scrubs and wraps, hydrotherapy facials, manicures and pedicures, and more. 5. The seven treatment rooms are spacious and designed with an underwater theme, with a touch of a Thai herbal sauna and steam. 6. The signature spa menu here is the 90-minute treatment that combines an ancient Northern Thai massage (Tok Sen) with a Spanish massage aimed at relaxing muscles and providing fatigue relief. 7. YHI Spa pays homage to Thailand with designated massage treatments such as "Traditional Thai," which focuses on the body's pressure points, and "Thai Lanna," which uses a Thai herbal ball. 8. "Kid Therapy" is a 45- or 60-minute treatment for children aged six to twelve years that aims to prevent hyperactivity. 9. YHI Spa uses products from HARNN, an organic Thai wellness brand. Their products are known for their natural ingredients and the wisdom of Thai artisans.
Designed for travellers of younger generations, Ying'nFlo, an upper midscale hospitality brand capturing the dashing spirit of of Millennials and GenZ excursionists, has been officially launched in Wanchai, Hong Kong, marking Langham's Hospitality Group's 20th anniversary, with more hotels in various cities in its roadmap. Ying'nFlo is designed as a place which feels like a friend's apartment, but better, with spaces that invites people to connect and recreate in style, focusing on state-of-the-art design, arts and music, as well as facilities that brilliantly meet the needs of young travellers. Brett Butcher, Chief Executive Officer, Langham Hospitality Group said "Ying'nFlo is a bold colourful canvas for the younger urban travellers, at an affordable price. It's a smart guest experience for a generation that has grown up with digital. The concept combines simple stylish design with brilliant basics which are efficiently executed with a strong social vibe." "We will locate Ying'nFlo in destinations where our guests want to travel. These locations would be the front door to cultural, entertainment and tech hub districts," he added. "There is a strong opportunity to grow Ying'nFlo in Asia-Pacific and beyond where 50% of the population are millennials or GenZers." For more information on the Ying'nFlo (Hong Kong), visit yingnflo.com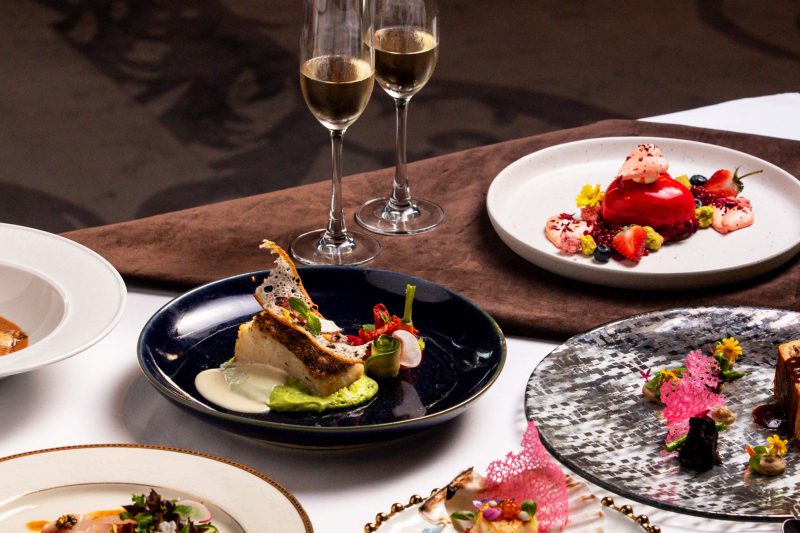 At @stregisbangkok, the spectacular VIU restaurant has a specially curated 5-course set menu for Valentine's Day that you can spoil yourself and a loved one with and tick every taste box imaginable. Opening with the Amuse Bouche of Pan-Seared Sea Scallops before floating along to the fresh taste of the Yellow King Fish Ceviche and Caviar with a Beetroot Lemon Dressing that brings a wonderful zest to the freshness of the fish, and this, closely followed by the pre-main soup of Poached Langoustine with Lobster Cream with Truffle Foam that has the most warming aroma. For the main course, you will choose between a beautifully soft Beef Wellington, the ever-delicious Australian Wagyu cased in a puff pastry that is cooked with a touch of excellence and just melts in your mouth perfectly, or the freshly Baked Snow Fish with a creamy brandy lemon sauce that brings a delicate citrus flavour to the tenderness of the Snow Fish. Dessert brings this 5-course feast to an elegant and loving close with the heart-shaped Rose Bavarois, which is executed to creamy and fruitful perfection. The Champagne Jelly Sable Breton is the finishing touch that this exquisite dessert truly deserves. This Valentine's Day, VIU is serving one of the finest menus in the city, and with stunning views and a calming atmosphere, it is the ideal setting for romance.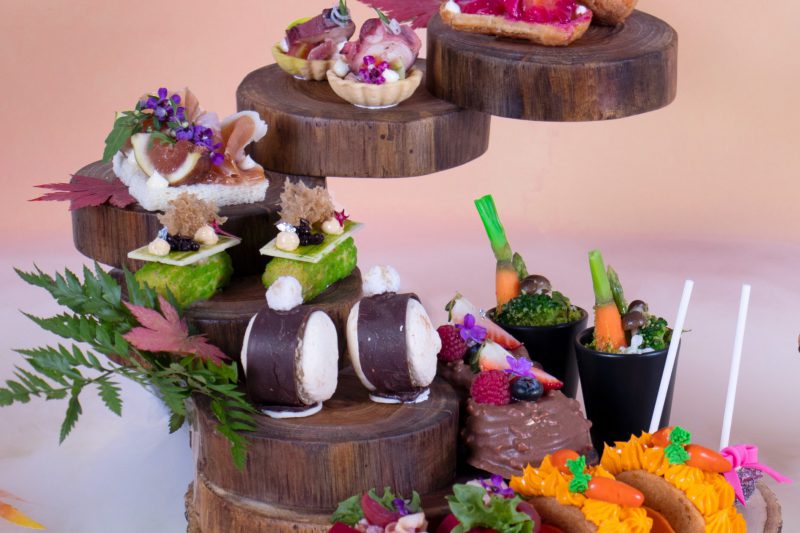 The St. Regis Bangkok has recently unveiled its new afternoon tea experience, the 'Autumn Afternoon Tea', featuring tempting savouries and sweet treats made with seasonal ingredients at the side of the classics, reflecting the earthy shades of the season. The Autumn Afternoon Tea set includes specials like Pistachio Éclair and Raspberry Pate de Fruit; as well as Red Velvet Bread; Smoked Duck and Berries Sauce; Octopus and Heirloom Tomatoes; Beetroot and Mustard Marinated Salmon on Éclair/ and Organic Root Vegetable, Hummus; Green Olive Crumb; chocolate indulgences; and more. The afternoon tea experience is priced at THB 1,800++ per set including tea or coffee for two persons, served from 14:00 to 17:00, available until 20 November 2022 at The St. Regis Bar and The Drawing Room. Reserve your seats at +66 (0) 2207 7777 or fb.bangkok@stregis.com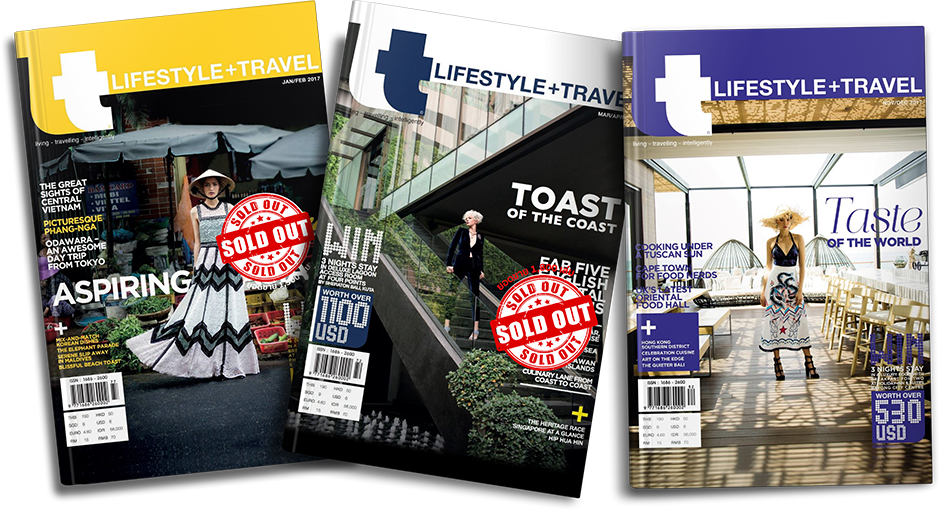 6 ISSUES FOR USD58!
Subscribe now and get your favourite magazine delivered anywhere in the world for this special price
Delivering the latest in style, inspiration, helpful tips and tricks for your next epic escape!