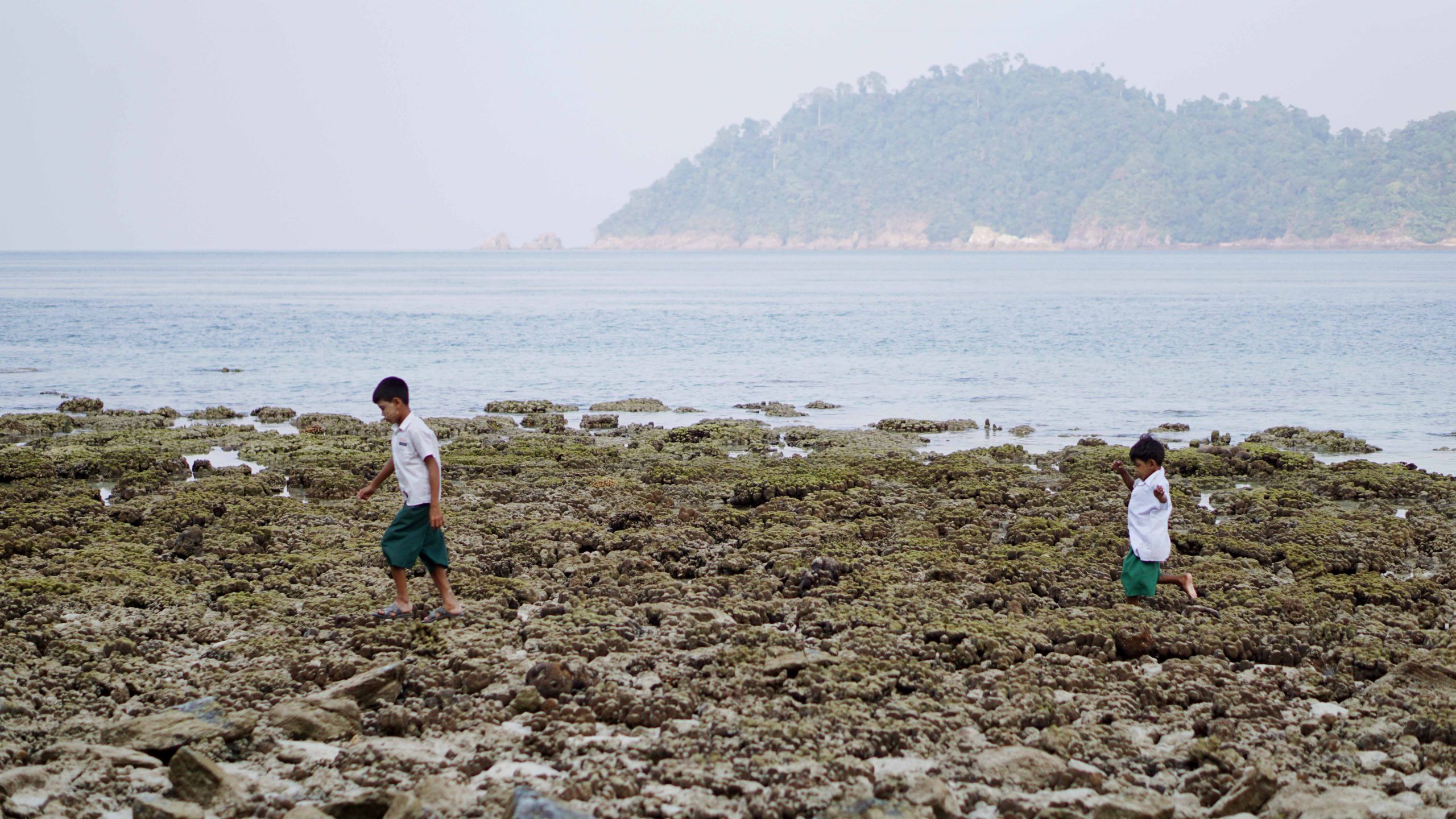 Taking A Closer Look at The Lives in The Mergui Archipelago
ON THE FAR SOUTH COAST OF THE ANDAMAN SEA, THE MERGUI ARCHIPELAGO
REMAINED UNTOUCHED UNTIL THE 1990s WHEN IT OPENED TO TOURISTS. HOME
TO JAM-PACKED WOODS, VAST CORAL REEFS, DENSE MARINE AND ON-GROUND
LIVES, WONDERFUL GEOMORPHOLOGY, HEALTHY ECOSYSTEMS, AS WELL AS
OVER 1,000 NOMADIC PEOPLE, THE MERGUI ARCHIPELAGO DOES NOT OFFER JUST
A DAZZLING BEACHFRONT GETAWAY, BUT THE "REAL" WAY OF RECONNECTING TO
THE EARTH, AND GETTING TO KNOW MORE ABOUT IT ON A DEEPER LEVEL.
Out of over 800 islands in this archipelago, I luckily got to spend relaxing days amidst awesome quietude on Kyun Pila or the Pila Island, where birds joyously sing, the forest remains dense, and the beach stays naïve. It feels so hopeful to know that a land this pristine still exists.
ASHORE AND AQUATIC CREATURES
The area that is presently Myanmar has long been dense with precious natural resources, marine lives and flourishing forests. Many parts of the country, luckily, are still left unscathed, but also many of
them are run-down, mainly due to insufficient information on their significance provided to the locals, as well as inadequate proper plans to protect and restore them.
Ecosystems work in a variety of ways in different parts of the world, and Mergui Archipelago, being distant from the mainland, has unique ones. On the Pila Island, it is an ideal spot to observe healthy onland and underwater lives, which are not as disturbed as other easilyaccessible scenes.
As the sea is indeed inseparable from the land, keeping them both robust is a vital act. Even though "leaving nature alone" might as well be the best strategy to get them to revive, it can take too much time, and human beings can be very helpful with the right means, competent knowledge, and respect for the lives out there.
INTO THE WILD
I have been to many islands before, but on this wonderful Pila Island, it is an experience like never before. As a private island with an environmentally friendly resort, every spot comes with serenity and natural wonders!
Strolling on the soft sands, I am stunned by captivating, enigmatic rock formations on the shore, which looks especially breathtaking when the tide is low in early morning. Stepping closer, I find the rocks are home to countless crabs. I keep coming back on this tiny adventure of mine, observing the crab community I have never seen before. Aside from rock crabs, hermit crabs hidden in artsy shells are another magic of the island.
Birdwatching is a thing to do when you are at Awei Pila Resort. Mitch Hawkins, the recreation manager at the resort will bring you around to spot birds, explain their lovely behaviours, and distinguish the sound of their songs from one another. Chances are you'll find some kingfishers, white-rumped shamas, racked-tailed drongos, and other tuneful creatures. Along the birdwatching way or the hike to nearby villages, soaring trees with its own ecosystem are all over the places, warranting the robustness of the nature of this distant island.
Wildlife such as meerkats, wild pigs, and more are still there in the forest, but they do no harm to the people. In order to help protect their neighbourhood of various species, the resort uses technology to keep
track of the on-land animals while giving them no disturbance.
INTO THE BLUE
Biodiversity in the Mergui Archipelago is still going strong and its pristine beauty makes people understand why we should reserve them.
Nearby Awei Pila Resort are a number of snorkelling spots where you can enjoy vibrance of corals and fish. The resort also offers scuba diving excursions to stunning dive sites. However, not only there are recreational sea activities, but you can learn a great deal from their environmental projects.
Even though corals can naturally recover from bleaching, it takes so much time, and as coral reefs all over the world have long suffered from unsustainable fisheries and dramatic global warming, the damage done is way too much to just sit down and wait. Creating abundance is one of the best ways to save the world's reefs, and we can really help.
To help maintain the ocean's health, Awei Pila Resort, in partnership with Burma Boating, collaborates with Ocean Quest, an environmental organisation that has been working in Southeast Asia and the Indian Ocean. Throughout the past decade, Ocean Quest has done researches and has created its own simple way to effectively resurrect broken corals. Such methods have been successful in many places, expecially at the famous Maya Bay in Thailand, where the organisation partners up with Thailand's governmental agencies to recover the underwater.
Naturally, for some types of coral, fully-grown ones can break, and the broken parts will be swept by currents to elsewhere. They can grow again if the environmental condition allows, and most of the time, it's not that simple. Coral nurseries help corals grow in optimal circumstances, and this is what Ocean Quest has been doing here in the Mergui Achipelago.
Apart from corals, marine creatures around here are to be protected as well. I am told that sometimes the staff get to meet dugongs right on the beach. Those lives that seem far-off are actually this close to us, so it is very important to be their friend, mainly by eliminating human-made wastes from their habitats, which is a major principle of the resort.
SEA GYPSIES
Back in 2004, the tragic phenomenon, tsunami, blitzed the shores in Indian Ocean so furiously that it cause drastic numbers of casualties and deaths. However, there are a group of hundreds who managed to escaped uninjured, even though they lived where the wave hit the hardest, because they could see the signs before it arrived – they are the Mokens.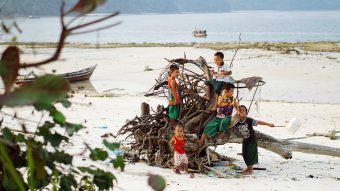 For thousands of years, the Mokens, also known as the sea gypsies, has been living inseparably from the sea in Myanmar and Thailand. Despite worldwide modernisation, they still keep on living in semi-nomadic ways, owning very few materials, and make a living with hunter-gatherer approaches. Fishing is their very strong suit, and they do it sustainably. The sea is their gigantic home, and they know its disposition so well.
The Mokens are one of the very few tribes left to live this close to the nature, and have time for "all that matters". In other words, they live a truly simple life, which turns out to be a fascinating thing in these days. What's also stunning is how they pass on their wisdoms from generation to generation only with spoken words, as they have no written language.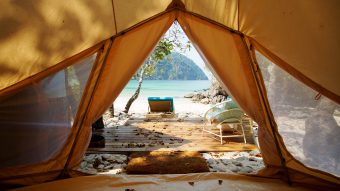 Even though they have lived in the Mergui Achipelago for centuries, on the Pila Island, the Mokens here are actually newcomers, but they still bring their lores with them to this new location. The guided tour to the village arranged by Awei Pila Resort opened my eyes to the rarely seen lifestyle of living on foot and on kabang boats. Kids in uniform walking from rock to rock back from school, while some of them are
playing while the grown-ups are simply socialise, looking over the restful sea in front of their wooden homes. We communicate with hands and smiles. I see a kid shouting out loud happily, trying to greet the visitors in her own way.
Having been lit up by a big metropolis since I was young, I learn a lot from the simple lives I witness as I travel, especially on what really matters to me. And, the closer I am to nature, the more I understand
my own nature and how life works – filled with unpredictability, and most of the time, it is wonderful. Besides, as there is nothing much to do here on this remote island, we learn a lot about important things.



FACTS
---
GETTING THERE
The Mergui Archipelago is close to Thailand. The best option to get there is landing in Ranong and get on a boat crossing Kawthuang border to Kawthuang (20 minutes) and then straight to the resort (1.30 to 3 hours, depending on weather conditions and location). The closest airport is Kawthuang airport, but it may take as long as 3 flying hours to get here from Yangon.
WHERE TO STAY
Awei Pila Resort, A luxury within cosy huts or tented camps, with impressive environmentally-friendly policies and projects to protect their surrounding nature, as well as five-star service and knowledgeable staff.
ENTRY REQUIREMENT
Thai people are allowed to travel visafree for up to 14 days only by entering from Yangon, Mandalay, and Nay Pyi Taw airports. For other checkpoints like Kawthuang border, a visa is required. To obtain an e-visa or for information for other nationalities, visit evisa.moip.gov.mm
GOOD TO KNOW
Even though at resorts, credit cards and US dollars are accepted just like in major cities, only Burmese kyats are accepted at local shops on the island and in Kawthuang.
---
Text and Photos by Pakvipa Rimdusit