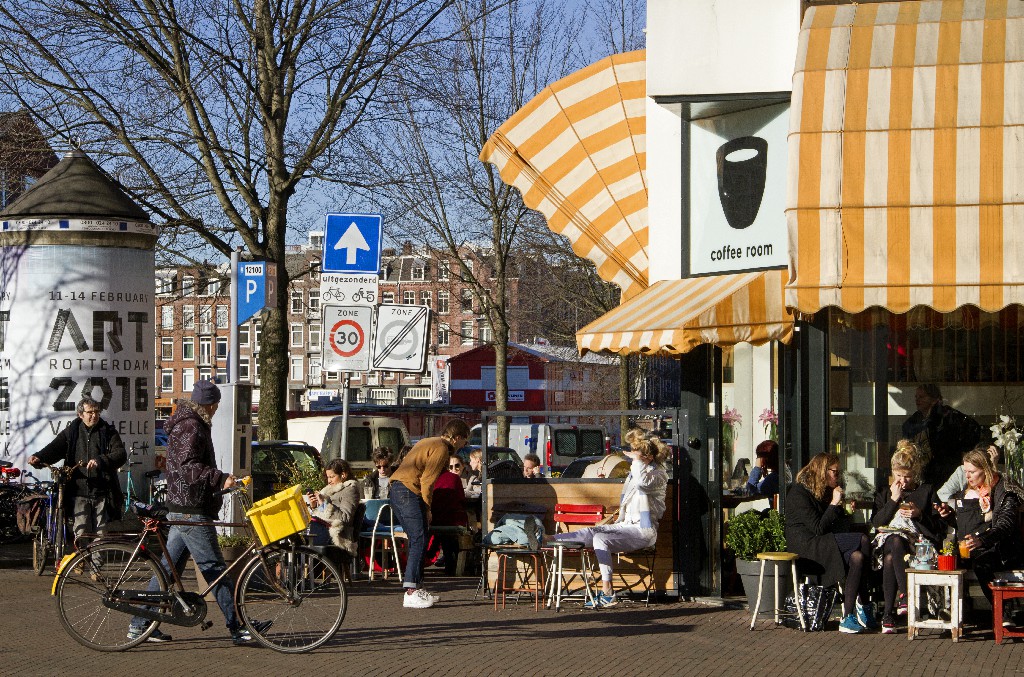 A Slow Walk Through Central Amsterdam
Amsterdam is a lively city with a central downtown district that does not find time to rest. Here, remnants of the city's maritime past are interwoven with elements of contemporary life that include bars, shops, cafés and vices with a broad spectrum of appeal.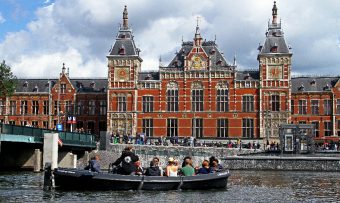 The liberal Dutch society tolerates cannabis usage and prostitution, much to the delight of those from neighbouring countries who travel here to celebrate buck's parties or inquisitive tourists hailing from countries that are more conservative. While the legality of cannabis is hazy, this raunchy side of Amsterdam appeals to some while most are simply inquisitive and curious onlookers.
When most travellers think of Holland and its largest city Amsterdam (The Hague is the capital), images of windmills, wooden shoes called clogs, wheels of Gouda cheese and fields of multicoloured tulips spring to mind. However, the reality is that the closest encounter most visitors will have with these Dutch icons is the endless rows of souvenirs displayed in tourist precincts like Bloemenmarkt, a floating flower market. However, visitors will definitely encounter bikes, dykes and lights while exploring the sights of this lively, multicultural and cosmopolitan city of just 800,000 residents.
CENTRAL AMSTERDAM
Holland has always intrigued me and even more so, when I realised that a quarter of the country is below sea level with its gateway Schiphol Airport situated on a former lake, several metres below sea level. As my KLM plane approached Schiphol, I checked beneath the seat for the lifejacket, just in case.
Of course, planes do not land on water thanks to Holland's ingenious network of ancient dykes and polders that keep the seawater at bay. I checked a map of Amsterdam to appreciate that the city and surrounding areas are indeed a network of canals, lakes, rivers and dykes holding back the waters of the North Sea. Amsterdam's famous dykes are not so obvious but without retaining walls and floodgates to keep out the seawater, there would not be much to see of Amsterdam as basically it, and much of Holland, has been reclaimed from the sea.
This reclamation has been ongoing for centuries and explains why the Dutch are such great hydrological engineers. I also discovered that one of the functions of windmills in days gone by was to pump water from the land out to sea to keep the seawater in check.
Canals are one of the main attractions and a canal cruise is the best way to admire just how important these were for Amsterdam's original settlers. While the River IJ divides Amsterdam, most visitors do not appreciate it as the main tourist attractions are in central Amsterdam just to the south of the river.
From an elevated vantage point at the rear of the main railway station, I appreciated that the River IJ waterfront divides central Amsterdam and Amsterdam Noord. Both parts of the city are visible from the Centraal Station located in a lively port precinct where large ocean-going cruise ships moor at the nearby docks.
Visitors emerge from the city side of Centraal Station on the Damrak to be greeted by hundreds of cyclists and bike storage racks next to the entrance. Visitors need to exercise caution as cycle paths are for cyclists and footpaths are for pedestrians. Cyclists weave through the traffic while visitors cautiously cross their path.
CENTRAL AMSTERDAM ON FOOT
Central Amsterdam is mostly flat and can be explored on foot with the aid of a map, guidebook or Google Maps. What first appears as a maze turns out to be more organised with streets dissecting the canals like spokes of a wheel. Cruising along these canals on a sleek pencil-thin boat is highly recommended as a way to explore the downtown. All manner of craft depart from the docks located along the Damtrak, in front of Centraal Station.


Souvenir shops line the Damtrak, as do restaurants and cafés selling almost every international comfort food known to humankind. This lively thoroughfare is full of energy with street vendors and buskers doing a brisk trade.
Just beyond the canal cruises docks, the infamous red light district with its crowded narrow alleyways appears to attract the curious rather than dedicated patrons. Known as De Wallen, window shop prostitution and dimly lit, brown cafés clouded in cannabis smoke are novelties, but there are other restaurants, bars and boutiques where the inquisitive can also spend time.
Another highlight of a self-guided tour includes the view of 15 Bridges near Rembrandtplein where it is possible to see all 15 old bridges crossing the canal in a row. Some canal cruises will pass the same location.
While not the city's most picturesque open space, Dam Square is important, as it was here in the 13th century that Amsterdam was created when a dam was erected on the Amstel River.
CULTURAL ASSETS
Culture vultures will enjoy visiting some of the 140 art galleries and 40 museums in the city, but a word of warning: you will need to book well in advance to get see the more famous paintings in the Rijks Mueum and the Van Gogh Museum.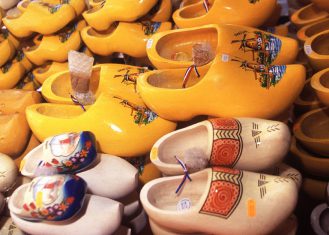 The Rijks Museum houses Holland's largest collection of Dutch artists such as Rembrandt, Vermeer and Van Gogh from the Golden Age (15th – 19th centuries). The piece de resistance is Rembrandt's Night Watch. If you travel to Amsterdam in winter (December to February), you can ice skate on the pond in front of the museum.
Nearby, the Van Gogh Museum houses the world's largest collection of the great master's works while contemporary Dutch art can be admired in the adjoining Stedelijk. Another gallery exhibiting the 'rock stars' of contemporary art is Moco Museum. Visitors should be prepared to be confronted by often controversial art including the permanent Banksy exhibition.
DE HALLEN FOR FOOD AND CULTURE
Amsterdam Oud-West had been suggested as a precinct to explore, especially an old tram shed that has been revitalised as De Hallen. This mixed development site is now a venue for eating, drinking, shopping, art, film, fashion, design, music, markets and generally catching up with friends over a drink. Take tram 17 from Centraal Station, alighting at Bilderdijkstraat and then walk to Bellamy Square.
The heart of this development is De Foodhallen with over 20 dining and drinking concepts with food originating from almost every corner of the world. A word of warning though: it gets quite crowded here and groups may struggle to get a table. Persevere as the large shed has a great vibe and innovative food to match the ambiance. Individual outlets serve wood-fired pizza, Mexican tacos, Vietnamese spring rolls, Greek mezze, artisanal burgers, brownies and homemade fudge. Dim sum, sushi, Iberico jamón and even some local dishes such as bitterballen served at De Ballen Bar. A gin and tonic bar does a lively trade as does the bar serving local craft beers. The Kanarie Club does a lively trade with its creative cocktails. Some outlets only accept credit cards.
J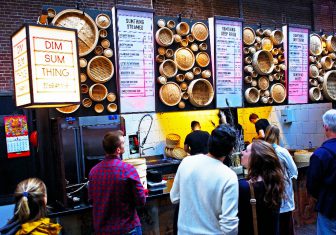 ust outside the Foodhallen, the Maker Store exhibits some of Amsterdam's most innovative designers who offer a range of fashion, footwear, jewellery and recycled products. If the De Hallen outlets fail to impress, shop in other parts of the city for some iconic Dutch gifts. There are many cheese shops throughout the city with Henri Willig and the Amsterdam Cheese Company. Another very Dutch treat is stroopwafels (two wafer-thin cookies with a layer of caramel filling) and bakers such as Van Wonderen along the Kalverstrasse having taken their cookie making to an art form.
The I Amsterdam Visitor Centre at Centraal Station is a one-stopshop for all things Dutch. Seek out Tony's Chocolonely (designer and sustainably sourced chocolates), organic craft beer from Brouwerij and Marie Stella-Maris skincare products.
A CITY THAT NEVER SLEEPS
Amsterdam is a tale of two cities – Amsterdam by day and Amsterdam by night. The one most visitors enjoy is during the day when people are at work or enjoying shopping along pedestrian-only areas like Kalverstraat.
The city is so popular with tourists that its narrow streets become jam-packed especially in summer and during lunch when office workers head off for to snack. A popular Dutch snack is frites (chips), which are, unlike French fries, chunky and thick and served in a paper cone with several choices of sauces including mayonnaise. Reputedly, Amsterdam's finest are served at Mameken Pis Vlaamse, centrally located along the Damtrak – the long queue is a giveaway.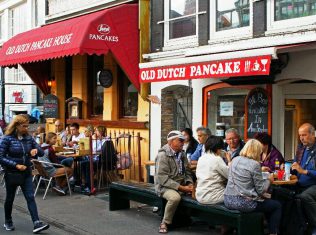 When the sun sets, Amsterdam becomes a city for pleasure, play and relaxation. Two of the liveliest evening districts are Jordaan and the Leidseplein with their cosmopolitan and colourful nightlife. Rembrandtplein is more subdued and frequented by restaurant diners or those seeking a venue for a quiet drink.
Heineken has made its mark with discerning beer drinkers and, while there is a sea of it in its place of origin, other brands such as Amstel and Grolsch plus a wonderful range of local craft beers are also to be enjoyed.
---
FACTS
---
ARRIVING
KLM Royal Dutch Airlines has direct flights to Amsterdam from several airports in Asia. Schiphol Airport is an airport city and one of Europe's leading hubs with an extensive European and global network. There are many restaurants, bars, retail outlets, and extensive facilities including a display of famous artists from the Dutch Golden Age of painting. The famous Rijksmuseum maintains a display here and it is free to view. www.klm.com
GETTING ABOUT
Travel from Schiphol to downtown Amsterdam by rail (the train station is beneath the airport and ticket machines are located at the main airport concourse). Travel to Amsterdam Centraal and purchase one to seven day passes on the GVB tram, bus and metro system. Visitors can hire a bike and become a local for the day in exploring the streets along with most other people who live and cycle around the city's historic heart (check out Yellow Bike Rental at Amsterdam Centraal). Be careful when walking the streets as there are bike lanes everywhere and cyclists do not take kindly to gawky tourists getting in their way. www.public-transport-holland.com
WHERE TO STAY
Mövenpick Hotel Amsterdam is a great choice for many reasons with one being that it was within walking distance of the main train station and my link to Schiphol Airport. Guests can book the hotel's complimentary shuttle service should they not want to walk the 300 metres to the hotel. The hotel is ideally located facing the ever-busy River IJ overlooking the Passenger Cruise Terminal. I enjoyed watching the daytime activity along the river. The hotel's facilities are perfect with each room having either a river or city view. The breakfast served here is excellent and the ideal way to commence a day's sightseeing. Guests can pay extra for executive lounge access where complimentary evening snacks and beverages are served. www.movenpick.com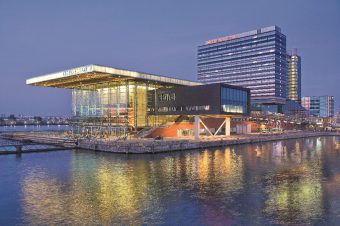 For those travelling on a more modest budget, Mercure Hotel Central Canal District offers cosy accommodation in an authentic canal-side neighbourhood. Classic rooms have a double bed, bathroom and complimentary Wi-Fi. Relax over a cocktail in the evening in the Boutique Bar. The hotel is just around the corner from Metro 52 Vijzelgracht Station. www.mercure.com
FURTHER INFORMATION
www.iamsterdam.com
Text and Photos by David Bowden