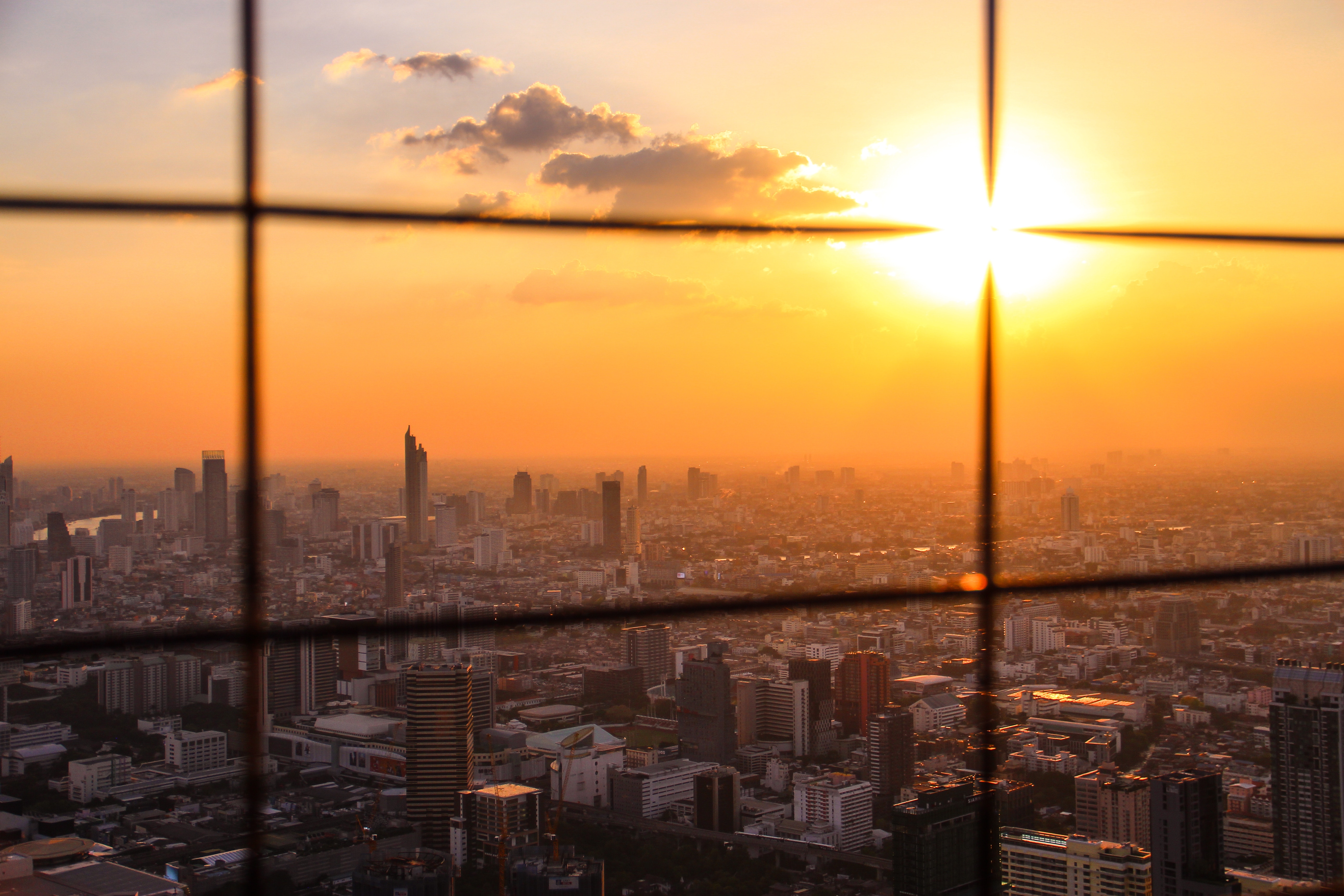 Best Rooftop Bars in Bangkok for Unbeatable Views
THERE IS JUST SOMETHING ABOUT SUNSET.
WHERE THE FADING MOMENTS OF THE DYING DAY
REVEAL, IN GOLDEN LIGHT, THE ESSENCE OF
MAGIC AND MELANCHOLY,
A MIXED POTION OF ANTICIPATION, SADNESS AND
CANDLELIGHT… BEFORE A NEW DAY DAWNS.
DESTINATION: VERTICAL
Bangkok's long-lauded iconic sundowner destination, Lebua, still does not disappoint.
Since Sirocco and Sky Bar, the city's first rooftops, pierced the skyline back in 2003, they have been on everyone's sundowner list. And with delicious cocktails, yummy food, lavish views and avantgarde designs by Thai architectural and design firm dwp, the kudos continues. Deepak Ohri, CEO of Lebua Hotel and Resorts, tells me: "People have come for years now, from all over the world, to experience romance, and the magic of our bars and restaurants. Being up here is like a dream."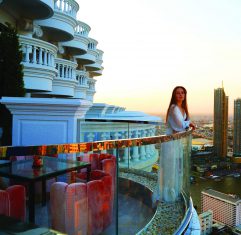 And the destination is about to get bigger. Much bigger. With the opening of Lebua No.3, Pink Bar and Chef's Table (and more exciting announcements to soon follow), Lebua is creating the world's first
vertical destination.
Pink Bar is the newest on the scene and, with such an enchanting name, we decide we cannot possibly resist a pretty-in-pink moment. Taking our places on the spacious balcony, Bangkok's twinkling lights and traffic far below form a moving theatre. Plush pink velvet chairs and champagne gold features create an intimate and feminine atmosphere that soon matches the colours cast by the setting sun. Pink Bar is the only place in the world you can get Rare Champagne by the glass and features exquisite but little-known bubbles like Comptes de Dampierre. We decide upon the cocktails however.
Stan, the cocktail man, is the hero of the moment. He explains: "The moment I saw Pink Bar I was inspired. I wanted to use unique and premium products like rare vermouths, liqueurs with rose and flower essences to create cocktails that complement champagne."
Obviously it is impossible to choose so we leave it to him to surprise us. I enjoy a twist on a Hanky Panky made from sweet vermouth, gin, fernet branca, orange bitters and a chocolate stick that represents the lebua bridge. My friend enjoys what can only be described as Japan in a glass. A "Sakura Garden" made from Choya Umeshu, Tio Pepe Sherry, Mancino Sakura limited edition vermouth and served with a slice of homemade mangosteen and raspberry rose edible 'paper'.
Lebua No.3 is the world's tallest gin, vodka and caviar bar. Laser blue, piano black and rich copper accessorise the high-tech dance floor as the sun sets over views of the city skyline and the Chao Phraya River. With cocktails from three circular bars to choose from, you can't go wrong.
+66 (0) 2624 9555 | reservations@lebua.com
DESTINATION: CHAROEN KRUNG
Bangkok's oldest road, Charoen Krung, is fast becoming the city's hotbed of cutting-edge gourmet cuisine, boozology bars and galleries brimming with Asia's most exciting art. It was in the 1860s that life first boomed in the area and shop houses soon homed a thriving community of artisans and businesses. The rows of shop houses stood watching over Bangkok's hustle and bustle as they slowly declined. But now, emerging from time's dust, we find multi-coloured doorways, vibrant street life lined with restaurants and bars. Thailand's first Creative District is an experience of fun, feasting and unforgettable flavours of every kind.

Sala Rattanakosin rooftop bar and restaurant
As the sun sets with tropical speed behind Wat Arun, refreshing cocktails and the Chaopraya River turn the colour of molten gold.
It is well worth the winding trek up to the top floor of the old shop house hotel to the spacious deck. This bar is no longer the hidden treasure it once was, so my best recommendation (after the exquisite tuna tartar and a plate of delicious oysters) is make sure to book a table.
The next recommendation, after your soul is filled with river and sun, is to turn your head to see Wat Pho shining in the dark.
Must try: The My Mai Thai with Blue Curacao and the Chaopraya Gin Fizz which, Barman Ice explains: "Kaffir lime leaves add a Thai twist on a classic cocktail. We only use premium spirits in all of our cocktails so that you wake up feeling as happy as you went to bed!"
DESTINATION: SUKHUMVIT
Maybe I'm jaded. But compared to 'South of Silom', Sukhumvit's hotel rooftop bars seem a little… same, same but different. Nevertheless there is always fun and beauty to be found! And these days there is so much competition, there is always a sunset happy hour near you.
There a few new kids on the block but my favourite amongst them (maybe it's the faux grass maze entrance to the bathroom) is Above Eleven.
Above Eleven
Piscos are different! The white brandy from Peru is the speciality here. And who is bored with Soi 11 is bored with life. The sunset over the hub of the vibey city with chilled jazz is bound to ease any jaded heart. Book the balcony seats and then, long after the sun has set over your PiscoSour, move with the whole crew to Havana Social Club.
Cin-cin!
Text and Photos by Debbie Oakes