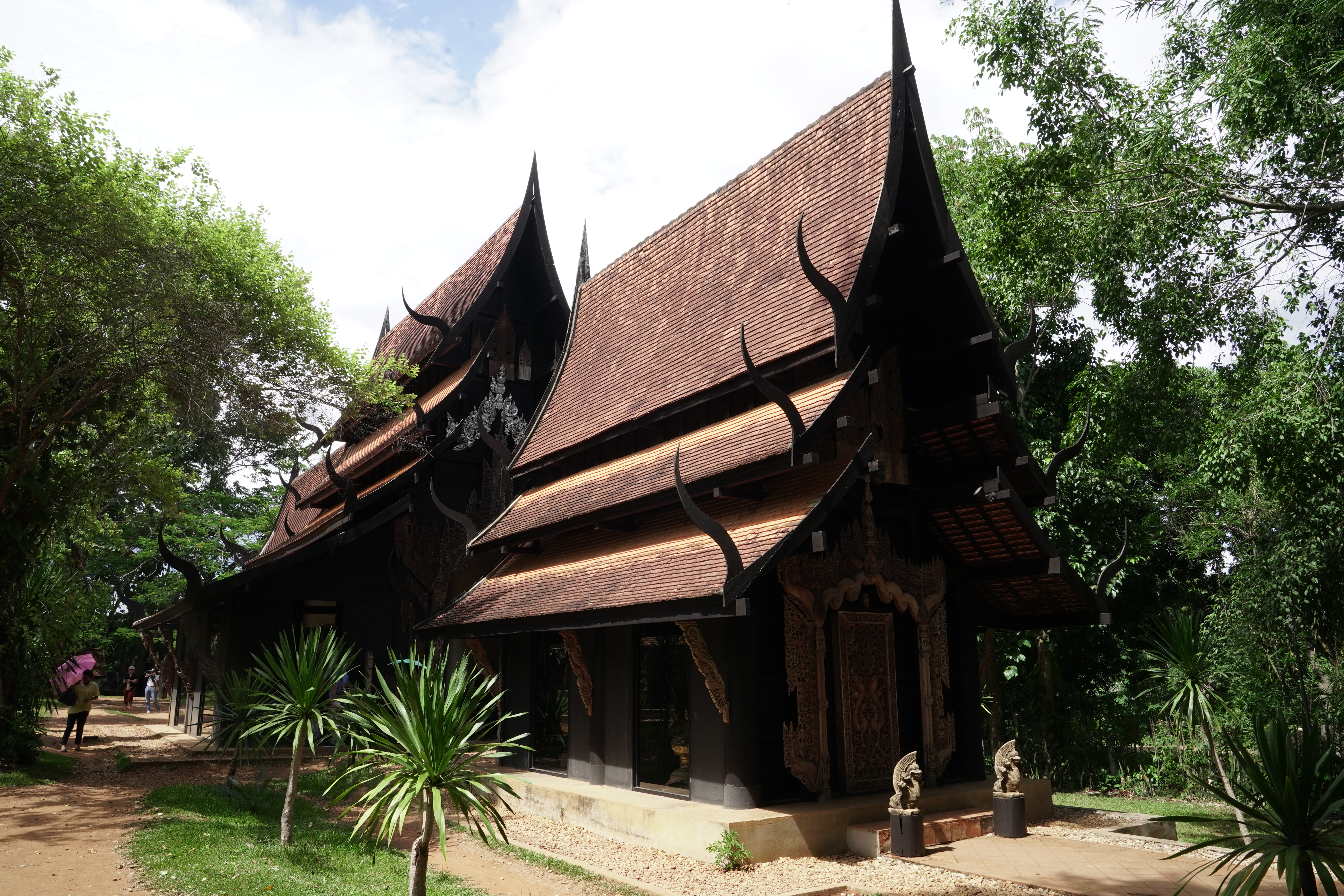 6 Best Places to Visit in Chiang Rai for Art Lovers
Love art and traveling? Why not combine your two passions by visiting some of the best art destinations Chiang Rai has to offer. Whether you're inspired by the work of old masters, love contemporary art, or you just want to soak up some healthy creative energy, here's our list of the 6 best places to visit to satisfy even the most insatiable art lover.

1. Wat Rong Khun
Wat Rong Khun is one of a considerable number of religious places in Chiang Rai. Originating from the great devotion of renowned Thai artist, Chalermchai Kosipipat the temple is dedicated to Lord Buddha with the intention to construct an attainable paradise on earth representing righteousness and the encouragement of good karma. With regard to outstanding quality in art and tremendously elaborate architecture, the consecrated assembly hall in Wat Rong Khun is different from any other temple in terms of having both carved gable apexes and tooth-like ridges. The hall itself is mostly constructed in pure white, illustrative of the Buddha's purity. Glittering clear-mirrored glass serves as the Awakened One's wisdom shining over the earth and the universe. Together with these elements, there are sophisticated murals by Chalermchai himself that should not be missed.

2. Wiang Ka Long
Wiang Ka Long was a lost city which is recently being developed to be a tourist attraction. Once archeologists have found ancient kilns which were used to produce terra cotta pottery and utensils, they estimated that Wiang Ka Long was one of the oldest Lanna cities founded as old as 2,500 years ago. Lots of tourists decide to stop to check out Wiang Ka Long during their trips from Chiang Rai to Chiang Mai as it is located along the way on Doi Saket Highway No. 1014.
Wiang Kalong pottery is underglazed ceramic pottery that features various food containers, dinner service, kitchenware and household objects such as dinner plates, footed trays, cups, vases, jars, khontho (long-necked water vessel), nam ton (water pots), as well as underglazed ceramic figures, such as human and animal figures. The major source of production is in Wiang Pa Pao District, Chiang Rai Province.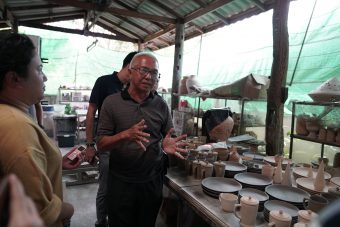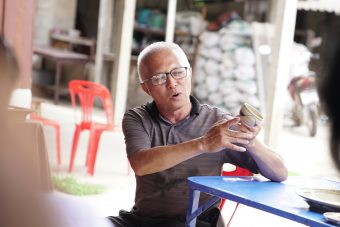 Don't forget to visit Thun Thijittung, the Guru of ancient way of  Wiang Kalong pottery to learn how to make the pottery and enjoy the demonstration.
3. Choui Fong Tea Plantation
Choui Fong Tea Plantation is a centre of high quality tea cultivation of the Choui Fong Company Limited, the biggest tea producer in Chiang Rai. With more than 40 years experience in tea cultivation, today the Company is a tea producer, distributor, and exporter. Its main clients include industrial users. The breathtaking vast landscape of more than a thousand rai featuring lines of tea growing along the curve of the mountain ridge and descending like a terrace make it more outstanding than other tea plantations.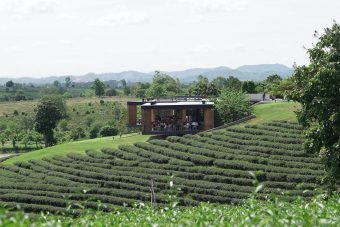 There are total two branches of Choui Fong Tea Plantation, one in Mar Fah Luang County and another one in Mae Chan County. Both of them are enormous. The one in Mae Fah Luang County is over 800,000 square metres large and about 1,200 metres higher than the sea level. The one is Mae Chan County is over 1 million square metres large.
You will absolutely fall in love with it if you go. The scenery around Choui Fong Tea Plantation is really beautiful. You will see millions of tea plants being grown in descending lots. And you will also see valleys from a great distance. Let's learn and enjoy the original way to brew the tea.
4. Baan Dam (Black House) Museum
Founded by Achan TawanDuchanee, a national artist in fine art and visual art, who created numerous pieces of paintings and sculpture artworks,the Museum is a cluster of houses in the Lanna style. Every house was painted in black,of which the placewas named after (Ban Dam means Black House) and it was a favourite colour of the artist as well. Each house was decorated with exquisite carved wood and animal horns; such as, buffalo's horn and deer's antlers, as well as animal bones like elephant's bones.

5. Wat Rong Suea Ten
In October of 2005, a small village in Chiang Rai turned their attention to building a distinctive blue and gold temple inspired by tradition. Full of surprises and named for the tigers that once roamed there, Wat Rong Suea Ten is a six-acre property located in Rim Kok, a subdistrict of Chiang Rai. More commonly referred to as the Blue Temple, its monastery and pagoda were built upon the ruins of an ancient temple, abandoned 80 to 100 years prior.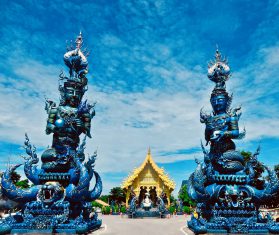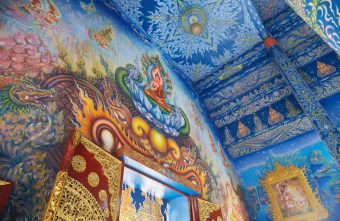 This lesser-known temple is still not widely promoted, so there are less tourists compared to both Wat Rong Khun (White Temple) and the Baan Dam (Black House) Museum. The monastery was designed by Phuttha Kabkaew, a protégé of Chalermchai Kositpipat, and derives its name from the inhabitants of Rong Suea Ten village. Unlike at the White Temple, visitors are allowed to take photographs of the viharn's interior.

6. Khua Silapa
Museum information "Khua Silapa" is a bridge to connect art to society." Khua Arts is an art gallery for exhibiting and promoting arts and culture. "Khua" in the northern language means "bridge". Khua Silapa is a 2-story building consisting of the First Floor Gallery, Second Floor Gallery is traveling exhibition room. The main exhibition is". Khua Silapa Exhibition which collects artist works in Chiang Rai Artist Fund, Thai Artist Exhibition, Chiang Rai Artist Exhibition and international artists. In addition, there are Artist restaurants, coffee shops, souvenir shops, as well as art schools.