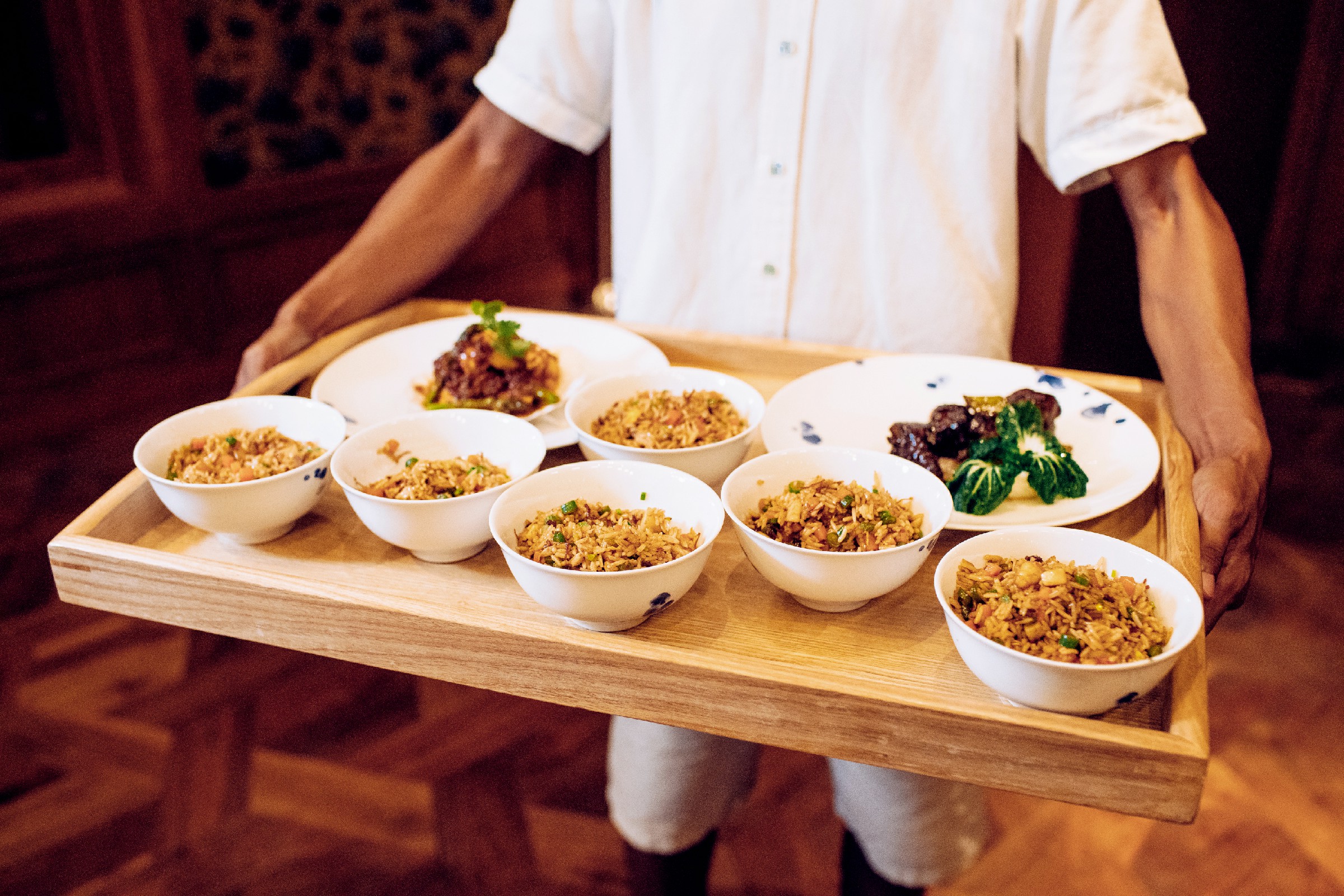 10 Epic Gastronomic Experiences You Absolutely Have To Try in Maldives
Some people travel to find a peace of mind, while some strive to recharge their inner batteries. For me, a complete memorable journey has to be able to put me at ease with a smile of satisfaction in every genre. And Waldorf Astoria Maldives Ithaafushi triumphs that and much beyond, especially its culinary lane. Dining here set a new standard to resort gourmet, and it's even more astonishing considering these fabulous dining experiences are set on an island! From its 11 food outlets, here are what we managed to experience during our short stay.

TASTING TABLE
A great place to kick off the day, Tasting Table creates an at-ease vibe by the beach with seating options on the balcony or inside near to the buffet line. Apart from what you could see on the extensive buffet line, there's also a menu from which you could opt for freshly squeezed juice or healthy living juice, eggs in a variety of styles, including the Waldorf Astoria Eggs Benedict which comes with English muffin, pork ham, and Hollandaise sauce. Waffles, French toast and Pancakes are on the menu as well. You would need at least three or four mornings to be able to taste a bit of everything on offer here. Don't forget to try the pressed fresh juice and the succulent yogurt in a petite jar that are lining in the chilled cabinet though. If you miss the sunrise here, give it a go once again at sunset. At dusk, Tasting Table transforms into a beachside dining venue with international favourites on the menu.



TANGLED
The earthy palate of the decoration with natural light that shines through the glass room wall generates a warm welcome to all. The chef was seen busy cooking at the showcase kitchen toward the back of the restaurant while the menu was handed to impress us with its assortment of Asian noodle creations and dim-sum, complemented with a selection of infused tea, beers and sake. The noodles and dim-sum are freshly made in-house and taste like heaven. The Wagyu beef in my noodle was jaw-dropping and the delicious soup was simply divine.



THE LEDGE BY DAVE PYNT
Who would ever imagine being on an island floating in the Pacific Ocean and could still be able to savour Dave Pynt's eminent food! His Burnt Ends, a Michelin-starred restaurant in Singapore, features endless waiting list, so grab your chance once you are at Waldorf Astoria Maldives to lavish his much-loved style of modern Australian barbecue. Our recommendations are Pork and Lobster Dumplings (USD 24), Jamaican Chicken and Lime Crema (USD 25), Beef Taco (USD 18), Kingfish Collar and Green Mango (USD22), Steak Sando (USD 45), Blackmore's Minute Steak (USD 65), The Ledge Sourdough (USD 8) and last but not least, Cheese Burger that creates a new meaning of burger to me and would certainly stop me from having one elsewhere! Do also spare some space for dessert as the Raspberry Donut (USD 4) and Hokey Pokey Sundae (USD 18) would surely light up your day.




GLOW
Emerged on a lush lawn under the concept of garden-to-table, Glow serves healthy and holistic cuisine made from the freshest ingredients, some of which are harvested from the resort's edible garden. You could choose to sit in the lawn, in the restaurant or on a high chair where observing the kitchen and the island kitchen is possible. The menu is interestingly healthy, but fear not, healthy dishes can taste great and this applied here at Glow. My grilled fish with bread crumble coating was perfect. Here, you could have healthy sweets to treat your soul guilt-free. The chocolate cake created minus flour and sugar was awesome and the plating was gorgeous.



LI LONG
The stunning Shanghainese ambience struck us as we entered the exquisite door of Li Long. The gigantic ceramic Chinese bell is the centrepiece of the room while the show kitchen and the Maldives' first wood-fire oven for Peking Duck sits on the right corner of the restaurant. Panoramic views towards the ocean compliment each and every seating while the elaborate private dining room features a wide window that opens up to the majestic view. Here you could go for a la carte menu or choose the Signature Tasting Menu: 5 Course (USD 148 per person), or 7 Course (USD 198 per person). Certainly, these two sets include the notable Peking Duck. My favourites are the Hot and Sour Soup with Seafood (USD 28), Sichuan Style Kong Po Chicken with Cashew Nuts (USD 42), Wok Fried Sliced Beef with Mushrooms in Oyster Sauce (USD 72), Wok Fried Fresh Maldivian Lobster with Ginger and Spring Onions (USD 110), Steamed Scallops with Vermicelli and Chopped Garlic (USD 62), Ma Po Tofu (USD 32), and X.O. Fried Rice with Seafood (USD 32).


Text by Urasa Chittamvanich | Photos by Santipong Choocharoen