Harrods is Bringing The Most Impeccable Sit-Down Dinner Experiences to Bangkok
Harrods is known for its outstanding dining quality, well-sourced ingredients, along with renowned chefs with high culinary experiences. It is undoubtedly a dining destination for everyone to have an ultimate Western culinary experience here in Bangkok.
More than 60 menus are felicitously selected by Harrods. The kitchen is nominated by Chef Nicholas Burel. The appetizer menu consists of Spicy Scallop and Mash, Truffle Cappuccino, and Diver Scallops and Mango Salad to make your mouth watered before going on to the main course.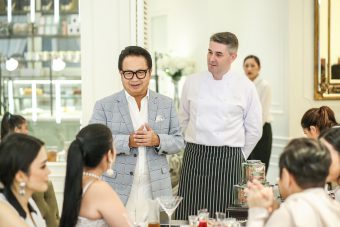 'Harrods Heritage Willington', the signature dish of Harrods, is the recommended main course offering both Beef Wellington and Salmon Wellington. The Beef Wellington is served with a great quality Australian beef tenderloin wrapped with foie gras and sautéed mushroom in a puff pastry served with sautéed vegetables and madeira sauce. For the Salmon Wellington dish, it comes with Norwegian salmon fillet wrapped with sautéed spinach and puff pastry, served with sautéed vegetables and beurre blanc sauce. 
Apart from the must-try entrée, Harrods also offers Pan-Roasted juicy Kurobuta pork chop in black pepper sauce, served with mashed potatoes and sautéed vegetables. On top of that, Deluxe Fish and Chips in beer-battered cod loin served with English fries, tartar sauce and malt vinegar is suggested.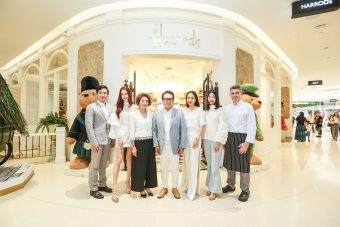 Harrods serves only the finest dishes cooked with traditional techniques by chef Nicholas Burel to reserve the authentic taste of Western culinary. Harrods, the temporary all-day dining restaurant, is awaiting for you to try the flavour of Western cuisine at Harrods at G floor, Siam Paragon, Harrods the Plantation Rooms at 2nd floor, Central Embassy, and Harrods Café and Ice Cream Parlour at G floor, Emquartier.