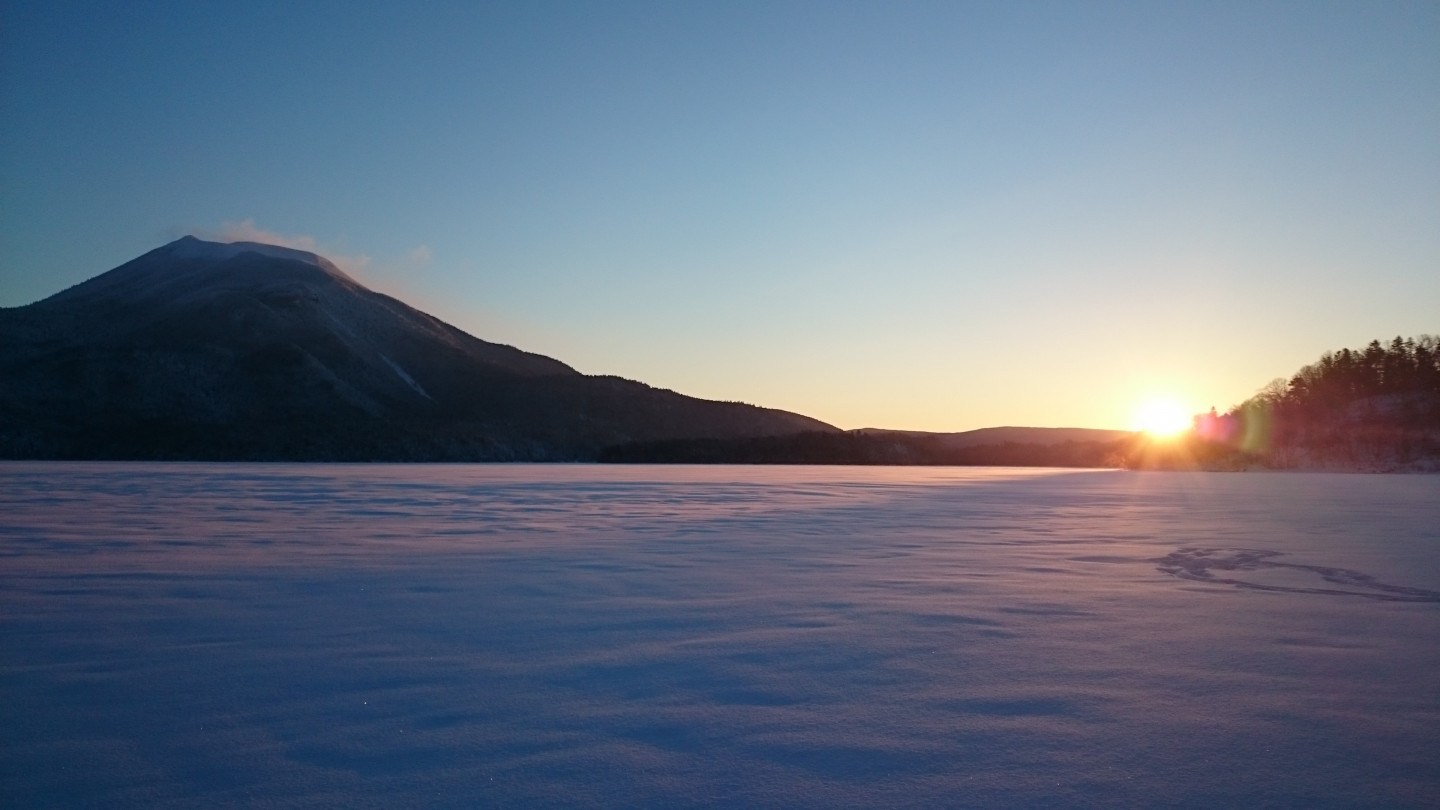 12 Top-Rated Tourist Attractions in Eastern Hokkaido and Tohoku
There's also a place to see the beautiful Autumn color and foliage together with your family, friends or your special one to capture the impression of unique natural scenery in Japan. The new experience that you will definitely love Japan in the angle that you have never been touched before. Here are recommanded tourist routes in Eastern Hokkaido and Tohoku – the region in North East of Japan.
Recommended tourist attractions in Eastern Hokkaido
There are charm and natural wonder that create with the exciting new tourist route of Eastern Hokkaido. You can visit here every season such as winter is extremely cold until the water becomes frozen, or in the spring, you will experience the beautiful flowers and lush green nature.
How to get there: Fly from Haneda airport (Tokyo) to Kushiro airport in Hokkaido
Recommended hotel:
Kushiro Prince Hotel (Kushiro, Hokkaido)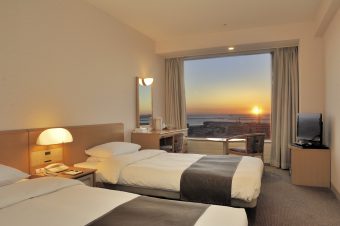 http://www.princehotels.com/kushiro/
Kushiro Prince Hotel is the gateway to Eastern Hokkaido where you can enjoy the magnificent nature of Hokkaido, including Kushiro Shitugen. It is located about 10 minutes' walk from Kushiro station. You can enjoy sunset of Kushiro from the guestrooms which is known as one of three most beautiful sunset in the world. It is also great access to walk around Kushiro city such as "Washo Market".
Travel around Kushiro
Washo Market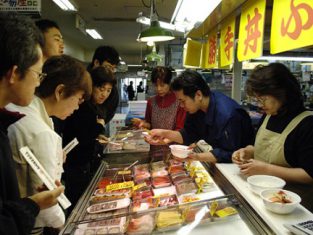 This market is like the kitchen of Kushiro people, founded in 1954 with over 50 stores. The special rice bowl menu of Washo market is "Katte Don" that let you buy a bowl of plain rice, then select raw fish or any seafood as you prefer to put on top of the bowl. You can also buy souvenirs such as processed seafood products, salmon flakes or canned fish roe, Kombu seaweed and etc.
(5 minutes' walk from Kushiro – JR station)
Nusamai Bridge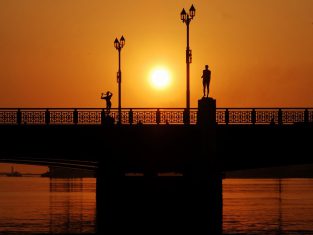 This bridge connects both sides of Kushiro river, it's 1 of 3 the most beautiful bridges in Hokkaido and also one of the most beautiful sunset spots in the world. Especially during Summer time, the heavy fog will cover the bridge mixing with the light of sunset which makes it even more beautiful. In the four corners of the bridge, there are four female statues in various chapters called the Statues of the Four Seasons which symbolizes Spring, Summer, Autumn and Winter of Japan.
(10 minutes' walk from Kushiro Prince Hotel)
Recommended hotel:


Kussharo Prince Hotel (Kussharo, Hokkaido)
http://www.princehotels.com/kussharo/
Activities:  
– Sea of mist  guide tour in Kussharo
Experience the beauty of the sea mist in early morning and waiting for the first light to touch the mist.
– Stars tour in Kussharo
The sky in Kussharo is so clear that millions of stars can be seen. Enjoy the Star–watching tour at night by stars' expert guides who will tell us the legend of star's gods while enjoying warm drink.
Travel around the lake
Lake Kussharo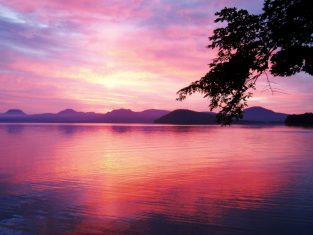 The crater lake in Akan–Mashu National Park in Eastern Hokkaido, one of the largest lake surface area with 57 kilometers' circumference. During the winter season, the lake will be frozen so that will be the largest ice surface in Japan. There are various outdoor activities that you can enjoy the fun and atmosphere at the same time, such as fishing, hiking, kayaking and cycling.
Lake Akan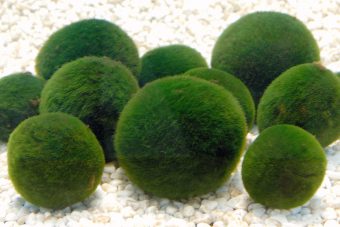 This lake is one part of Akan–Mashu National Park, width 13.28 square kilometers. It is a shallow lake that the water will totally freeze in winter. The scenery of the lake changes regarding seasons, making it a famous tourist attraction throughout the year. The Interesting activity is like Akan sightseeing boats that takes about 1 hour and stop by the Marimo Exhibition Center where the seaweed is round shape like a ball and growing little by little every year.
Travel around Abashiri  
Abashiri Drift Ice Sightseeing & Icebreaker Ship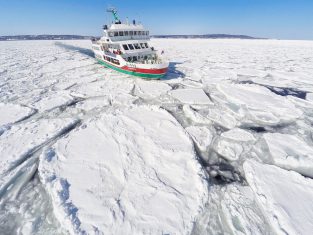 The icebreaker ship will sail into the midst of ocean ice sheets that flow from the North Pole. The cruise is services during end of January until early of April every year. You can experience the icy cold and beauty of ice sheets that cover the vast ocean.
Recommended tourist attractions in Tohoku
This beautiful region has unexplored nature, high mountains, great lakes and distinctive culture and unique food. Located in the northeastern part of Japan. You can travel comfortably either by train, Shinkansen, plane or drive by yourself.                                     
How to get there: Take Tohoku Shinkansen from Tokyo station.                 
Recommended hotel:  
Shizukuishi Prince Hotel (Iwate)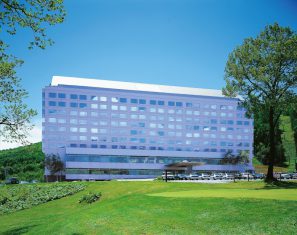 http://www.princehotels.com/shizukuishi/
Travel around Sendai, Miyagi Prefecture
Sendai Umino–Mori Aquarium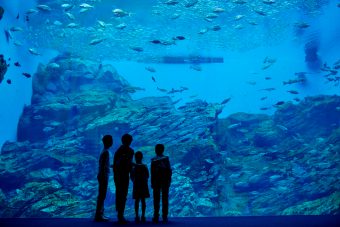 The museum located at Sendai Port which exhibits various kinds of fish, aquatic animals and underwater plants that can be found on Miyagi coast. The cute dolphin show is a highlight here.
Matsushima Bay
Surrounding by more than 260 islands, 1 of 3 the most beautiful island in Japan. It's famous for oyster farming so don't miss to try variety menus from fresh oyster.
Travel around Iwate Prefecture
Hiraizumi World Heritage Centre and Chusonji Temple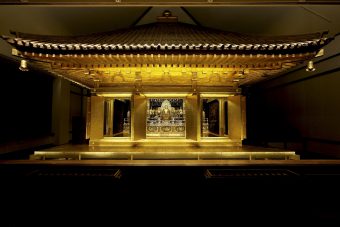 Hiraizumi a small town that had been the prosperous same as Kyoto. It's one of UNESCO World Cultural Heritage City which consists of temples, Japanese garden and traces of civilizations. The popular tourist attraction is the "Chusonji Temple", one of the oldest and most famous Buddhist temples in Japan that built in the year 850.
Travel around Shizukuishi, Iwate Prefecture
Koiwai Farm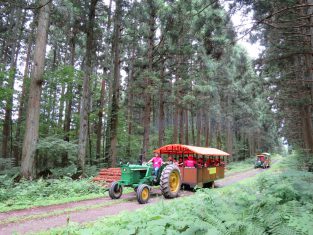 Koiwai Farm is the Japan's largest farm with approximately 3,000 hectares. In addition to farming animals here, it is also producing beef, cow's milk, egg and dairy products such as cheese, yoghurt and soft cream. There are many interesting activities such as milking cows, riding horses and etc. and you can enjoy the farm in every season.
Recommended hotel:  
Hakodate Onuma Prince Hotel (Hokkaido)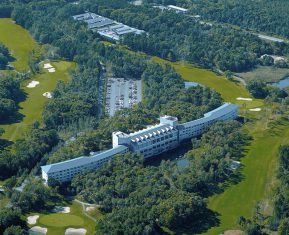 http://www.princehotels.com/hakodate/
Hakodate Onuma Prince Hotel is located in the Onuma Quasi–National Park, and also in the best location to travel around South Hokkaido area. It has huge golf course, onsen and surrounded by great nature. You can enjoy ZIP LINE and Segway ride tour in summer and activates on the lake in winter.
Recommended places to see the Autumn foliage
(Autumn foliage period: from Mid to the end of November)
Naeba Prince Hotel (Niigata)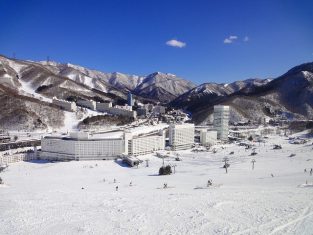 http://www.princehotels.com/naeba/
Naeba Doragondola, Niigata Prefecture
The Doragondola is 5.5km of the longest gondola in Japan that links Naeba Ski  Resort to Tashiro Ski Resort. It takes about 20 minutes one–way with the 6–seater cabins carrying you up and down several valleys along the way. The views of the forests below you and the surrounding mountains are fantastic.Once you reach Tashiro you can get out for a walk around the mountain.
(Autumn foliage period: End of October – Mid of November)
Nagoya Prince Hotel Sky Tower (Nagoya, Aichi)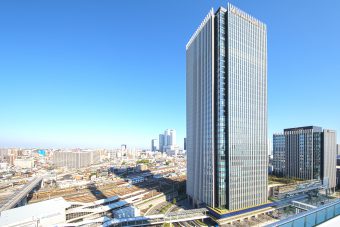 http://www.princehotels.com/nagoya/
Autumn foliage season in Obara – Aichi Prefecture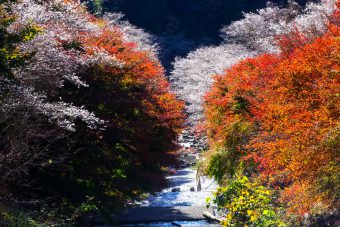 Enjoy Sakura blossom in the midst of the Autumn leaves color. There is a special Sakura species – Shikizakura, will impress you by scenery of pink Sakura blossoms blending the bold colors of red foliage. The mountain is beautiful as a painting. The perfect time to visit is November.
Grand Prince Hotel Hiroshima (Hiroshima)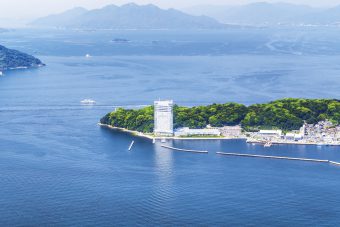 http://www.princehotels.com/hiroshima/
Miyajima, (Itsukushima)- Hiroshima Prefecture
Miyajima is a beautiful small island in Hiroshima, which is famous for Itsukushima shrine. The giant torii gate in Seto sea is the landmark and its beautiful maple trees are popular for autumn season.  The Itsukushima shrine was built in the sea, so it's made a difference view regarding water level. More over the shrine has registered as a national treasure of Japan.
Text and Photos by Prince Hotels, Inc
.