Celebrate Mid-Autumn Festival With These Exclusive Gifts
Celebrate Mid-Autumn Festival and express good wishes to family, friends and business associates with Handcrafted Mooncakes and a Special Afternoon Tea at Mandarin Oriental and PELLEVAH Mooncake Lover Bag at Anantara Siam Bangkok Hotel.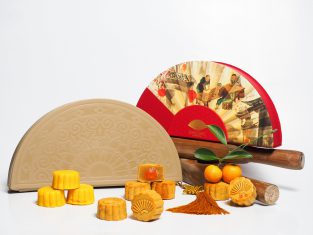 Handcrafted Mooncakes and a Special Afternoon Tea At Mandarin Oriental
Two elegant mooncake boxes designed to represent stylish fan-shaped clutch bags are available this year. 'The Oriental Classic' in red with a unique Oriental Chinese drawn pattern (THB 808) and 'The Luxury Box' in beige leather incorporating The Authors' Lounge architectural details with a gold tassel (THB 1,888) both feature eight pieces of delicious mooncake, each of which is lovingly handcrafted by Chef Andy Leong and his team, in the following flavours: custard; lotus seeds with egg yolk and flaxseed; durian with egg yolk, and our newest flavour, tangerine with 8-year-old dried tangerine peel.
'Mid-Autumn Festival Afternoon Tea' in The Authors' Lounge
From now until 13th September 2019 guests can also enjoy a special 'Mid-Autumn Festival Afternoon Tea' in The Authors' Lounge. Priced at THB 1,500++ per person, the afternoon tea includes a selection of savoury treats including Char Siew chicken pastries and gluten-free charcoal tart with pumpkin seeds and pastries including black sesame macaroons, matcha and strawberry choux, Custard-flavoured mooncake and The Authors' Lounge's famed warm confit pomelo scones with rose petal and raspberry jam and clotted cream. Guests can add a further sparkle to the experience by including a glass of Louis Roederer Brut Premier (set priced at THB 2,200++). The 'Mid-Autumn Festival Afternoon Tea' is available daily from 12:00-18:00 hrs.
For reservations or more information, please contact +66 (0) 2 659 9000 ext. 6811
---
PELLEVAH Mooncake Lover Bag At Anantara Siam Bangkok Hotel
Created from original Python skins combined with the finest Lamb leather, the materials for these Mooncake bags have been selected from the most exclusive leather suppliers of the world for their exceptional quality. Each metal element etched on the bag is plated in 18 carat gold.
Each bag contains two sumptuous mooncakes, carefully prepared at Mocha & Muffins. After the Mooncake festival, the bag can be used as a fully functional and stylish handbag. Only eight bags are available, exclusively designed for this event. Each bag will be marked with a limited edition number 1/8 to 8/8.
The retail price of each PELLEVAH Mooncake Lover Bag is THB 28,888 (Including 7% VAT).
Anantara Siam's bakery Mocha & Muffins offers two additional special designed mooncake boxes of 4 pieces:
– Siamese Fighting Fish Luxury Box, an elegant round burgundy box imprinted with golden
textures of Siamese fighting fishes. Priced at THB 1,688+ (150 g per piece).
– Premium Red Velvet Box, a standout half-moon design opens up to a full-moon shape
revealing a symbol of golden lotus. Priced at THB 1,088+ (150 g per piece).
For more information and reservations please call +66 (0) 2126 8866 Ext. 1226