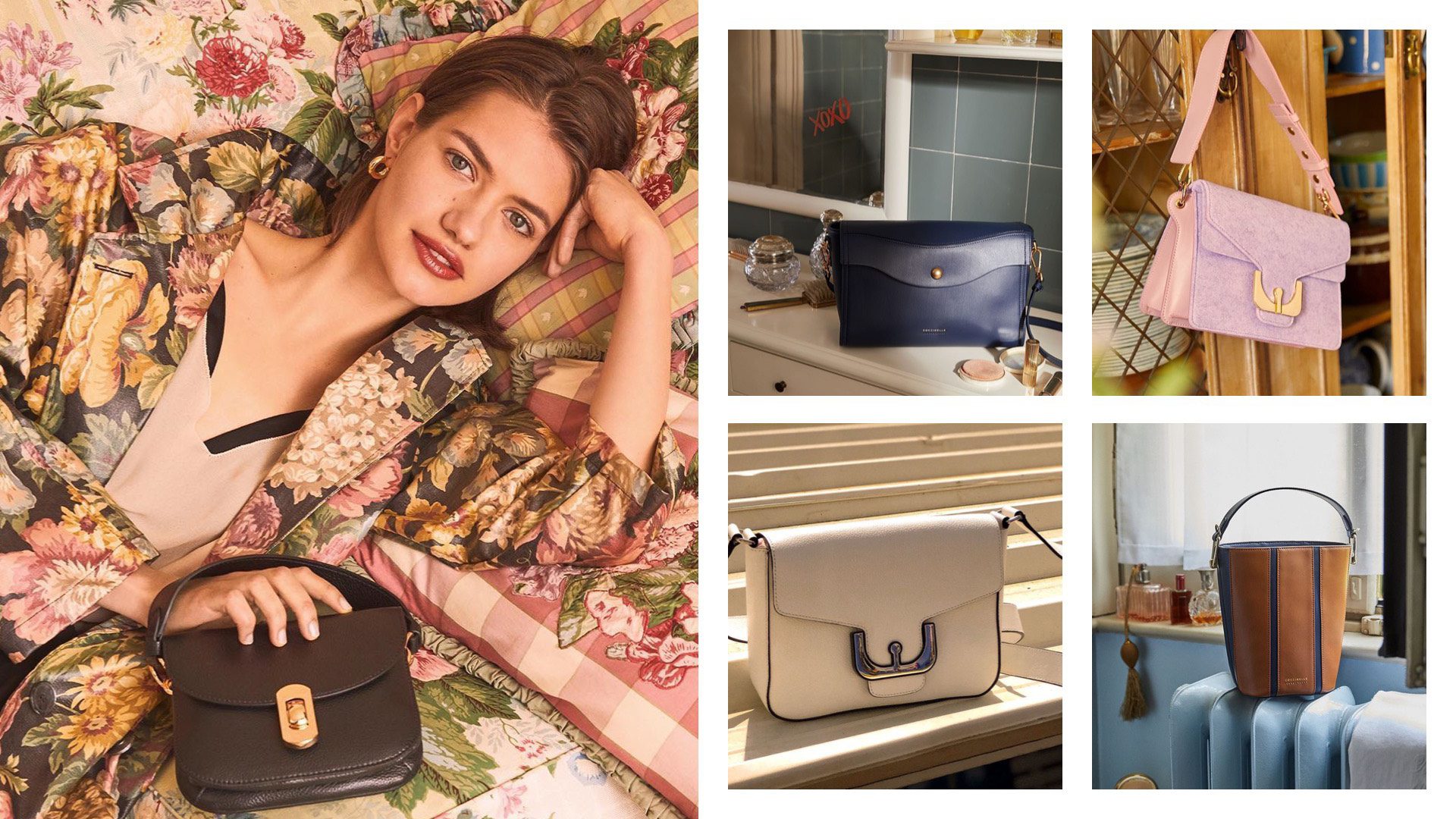 Unlock Coccinelle "Four Rooms" Fall Winter 2019-2020
Four Rooms is the film that Coccinelle has in store for Fall/Winter 2019-20: four rooms reflecting four styles of being a woman, four ways of living in the moment.
The longing to switch off, feel free and regain the pleasure of intimacy, friendship and the little joys of daily life. The plot: fully enjoying every second, life's greatest gift. The set: a whimsical Coccinelle apartment, where room after room reveals a new piece of contemporary femininity like in a board game. Independent, informed, happy.



LADIES ROOM: where beauty's in charge. It all begins with subtle gestures privately reflected in a mirror: combing your hair, quickly adjusting your make-up, dabbing a drop or two of perfume. Our muse is Maria Schneider's sensuality in Last Tango in Paris. Big stripes, brick effect, wording on store windows and tiles echo on new vintage bags, shoulder straps, wild and innocent reptile prints.
PINK LADIES: let's spend some time together. Girlish games in a total candy bedroom inspired by Grease. Posters on the walls, manicures and tulle prom dresses. A bit Frenchy with strawberry hair, a bit Rizzo in biker jackets: pink is the colour of shared secrets. But it's not sickly: black touches, neon flashes, gold, Vichy prints electrify the iconic Ambrine, Arlettis and Zaniah. New in miniature versions.



LIVING ROOM: In the footsteps of the divine Brigitte Bardot at Saint Tropez's Ermitage. Expect lounges, flames crackling in the fireplace, piano notes. Just set down your valise and beauty case and relax in the light and shadows: leopard print carpets, floral upholstery, soft lighting. Succumb to the objects of your desire: the crocodile-effect doctor bag with secret opening and the tapestry-patch shoulder bag.
KITSCH-EN: because the kitchen is the heart of your home. At Coccinelle there's no exception. The attention to detail is hypnotic: tiny flowers, needlepoint, cans and grandmother's china make up the recipe for everyday magic. Imagine if the tea ceremony were led by Bewitched's blonde superheroine Samantha. From the furry bag to chain shoulder bags, everything is pastel, gold, embroidery and adornment.
Irony, levity and amusement are the unique emblems of Coccinelle.