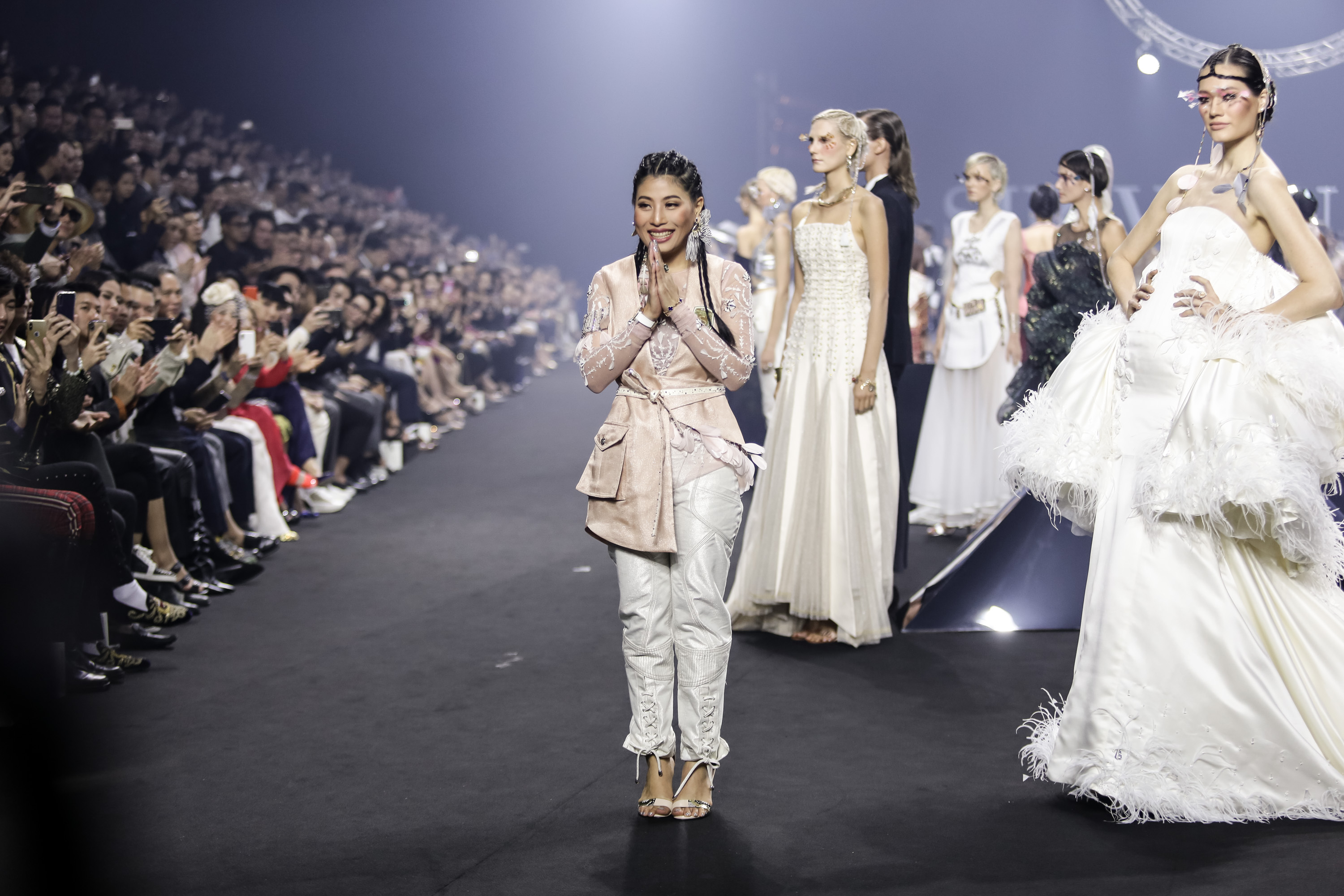 H.R.H. Princess Sirivannavari Just Launched Another Epic Collection!
"So far, from time that will not return

So far, from where I used to be

So far, from being away from home.

– – So Far – –

Written by H.R.H Princess Sirivannavari Nariratana, 2018
Imagine for a moment, in the far reaches of this universe, there is an undiscovered planet where the highest stage of Artificial Intelligence (AI) technology has been achieved while still maintaining a rich diversity of nature.  Though every living thing looks different and unfamiliar as a result of alien metamorphosis and mutations, all fauna and flora live in unison, happily ever after. This planet is called 'NARAVANNA' which was brought to the attention of HRH Princess Sirivannavari as the inspiration of SIRIVANNAVARI Spring/Summer 2019 collection, named 'Abode of Metamorphosis', capturing ultra-feminine silhouettes, exquisite embroidery and the Maison's signature graphic prints, created by
Her Royal Highness.
H.R.H. Princess Sirivannavari Nariratana, SIRIVANNAVARI Creative Director said, 'It is all about the journey to NARAVANNA, the undiscovered world in this universe where all lives coexist in peace.  Its creatures, especially the mutants, inspired me for this latest collection, featuring graphics inspired by the AI's mainboard, African-influenced craftsmanship and space-age details.



'The silhouettes and structures of this season are quite varied and complicated, from deconstructed looks to asymmetrical gowns.  In addition, I added some details and techniques to create new dimensions such as quilted pattern, pleating technique from Gérard Lognon's workshop in Paris and Maasai Mara – inspired embroidery produced in our own Maison's workshop,' said H.R.H. Princess Sirivannavari Nariratana.
SIRIVANNAVARI and S'HOMME Spring/Summer 2019 women collection features 67 looks (59 of womenswear and eight of menswear). The show commences with a parka look, which consists of a bolero Lurex tweed jacket paired with a dress of the same fabric, a cut-out midriff dress with the fluid silk chiffon skirt in the signature print, a cocktail peplum dress with the metallic quilt detail echoing the space-age theme.  For an ultra feminine look, the collection also includes a zebra-sequinned tulle blouse with hand-stitched feather details and a white corset dress with double layering of fringes: burgundy silk fringe and African beads fringe.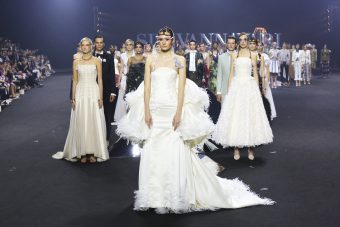 In addition, the princess established SIRIVANNAVARI Atelier and Academy, the in-house workshop of couture embroidery.  Thus, the spotlight also shines on the magnificent embroidery which can be seen from the feather appliqué blouse, the crystal and pearl encrusted gown to the African beads embroidery details.
As anticipated, graphic prints, one of the brand's DNA, remains a highlight. The Princess has created prints this season by visually translating her imagination, including those details signifying NARAVANNA, such as mutants, alien creatures, AI's mainboard, and gearwheels.  The prints are incorporated throughout the collection, from ready to wear, leather goods, shoes and scarves (120 cm x 120 cm and the mini-rectangular size used for handbag handles).






The spotlight shines on the Bijoux Collection, with both Fine jewellery and Fashion jewellery falling under the same inspiration.  The Fine jewellery collection – featuring the Maison's emblem 'S' and 'Peacock'–  offers rings, earrings and necklace in 18 karat rose gold adorned with mother of pearl, pearl, Lapis Lazuli and Malachite, where the key pieces include a peacock choker in rose gold.  The Fashion jewellery collection looks modern and fun in a silver and brass setting, coated with 14 karat gold, encrusted with Swarovski crystals, feathers, beads from Kazuri workshop in Kenya (such as a silver tiara adorned with crystal) and bangle featuring a tiger face.
To complete and complement a look of the day, the collection also features Italian leather goods, including a python bucket bag with a variety of shaped charms, a zebra bucket bag adorned with feathers and charms, and a clutch featuring the signature print of the season with the peacock badge.  The shoe collection offers some different stylings, from a casual sandal with African beads and feather embellishment, to a classic two-toned sling back shoes with a twist of material mixing – pythons and calf, to a sexy and elegant shoe with leopard print leather, gearwheel-shaped heels and crystal and fringe adornment.  
To welcome the summer, the beachwear collection also plays a key role.  SIRIVANNAVARI beachwear can empower all women to feel confident in their figures, with cut-out silhouettes.  A cover-up robe offers a finishing touch of elegance. In addition, an activewear line has been also launched for the first time.     
For S'HOMME, the menswear collection celebrates the luxe of an elegant gentlemen from NARAVANNA.  The key looks include a hoodie trench coat in beige with badges on the sleeves, a yellow safari jacket with navy blue cropped pants and a two button suit in sage green.  The signature look for shirts this season has pipping in African colour stripes while the pants are all cropped. The collection also features men's leather goods including loafers in signature prints, sandals with African beaded embroidery, and clutches and duffle bags in the Princess' signature prints.  In addition, this season offers both fine jewellery and fashion accessories, such as a white gold ring adorned with mother of pearl, lapis lazuli and malachite, leather necklaces with pendants, pin suit with 'S' and tiger emblem. Equally importantly, bathrobe and swimwear –launched for the first time-  have also been created in the Princess' signature prints.  





H.R.H. Princess Sirivannavari Nariratana further stated that, 'As a composer, Artistic Director and Patron of the Royal Bangkok Symphony Orchestra (RBSO), I composed  an original score for RBSO to perform at the show consisting of 5.5 acts: 1) Vanishing Inhabitation 2) Fragmentary Time 3) Abode of Metamorphosis 4) AI/Memorandum 5) Tribal Transcendence. I started to write the song with Marimba, originally from Africa, then I brought in the sounds of rhythm section such as bass, guitar, drums and synthesiser, and combined with the sounds of a classical section to perfect the score.  Furthermore, I created a new percussion instrument named 'Reform' inspired by gearwheels.'
'To make this score go in the same direction as my fashion collection, I incorporated sound design by adding the sounds of space, drones and ambient noise.  Moreover, I invited a noted female vocalist, Madame Rudklao Amratisha, to feature in the song by using the recitative technique, where the lyrics was written by myself,' the princess concluded.
"I've reconnected within elsewhere.

As a part of a whole, it's here in "NARAVANNA"

Where silence embraces me and restores beauty in such immensity"

Written by H.R.H Princess Sirivannavari Nariratana, 2018