Taste of Siam Burger: Burgers You Probably Have Never Eaten But Should!
Diners have a favourite casual American restaurant just steps away from Chaweng Beach. That is the essence of Stacked. Inspired by a beachside "surf shack" and American classic summer, the eatery itself is spacious and modern – the restaurant design of natural colours and materials reinforces the welcoming atmosphere with reclaimed tin roofing, playful wall decorations and a chic LED chandelier making for an ambience that is both funky and sabai sabai.



Whether you're opting for a traditional burger or one that is unique, Stacked has got it covered for those who are looking for a flavourful Thai taste. Stacked offers three iconic menus inspired by three renowned Thai specialities. "Taste of Siam" conjures up a trio of traditional Thai dishes that have been morphed into burgers. The "Kraprow Moo Burger" features warmly heated burger bread stacked with gently grilled spiced pork and the full flavour of aromatic Krapaw sauce and basil leaves herb aioli and chilli along with a fried egg on top. It definitely works. Similarly, opt for the popular "Tom Yum Pla Burger" with battered Alaskan pollock, or the "Larb Gai Burger", which is all about crispy chicken and northern-style spices. Each of these delicious burgers comes replete with French fries and Stacked coleslaw.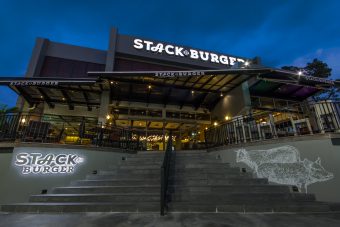 Stacked is open daily from 12:00 to 24:00. For reservations, please call +66 (0) 7791 5222 or book through www.stacked-samui.com.