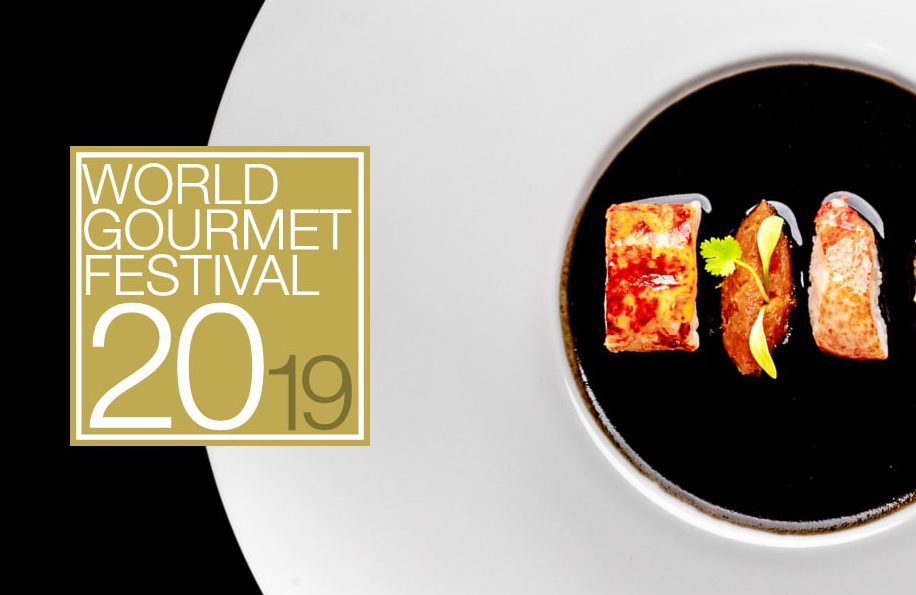 World Gourmet Festival Celebrates 20 Years of Extraordinary Culinary Journeys in Asia's City of Angels
Bangkok's oldest international culinary spectacular is returning to one of the capital's most exclusive addresses for a landmark 20th year with a star-studded line up of some of the world's leading chefs, and a tribute to the City of Angels' world-renowned street food culture.
From 2nd – 8th September 2019, sixteen acclaimed chefs from nine countries – from France to Japan and from Taiwan to Portugal – will present an international culinary feast at the 20th World Gourmet Festival at Anantara Siam Bangkok Hotel.  With no less than thirteen Michelin stars amongst them, the brigade of chefs includes:
Wolfgang Becker: Becker's Restaurant in Trier, Germany (2 Michelin stars)
Hervé Deville:  Momo in London, United Kingdom
Alan Geaam: Alan Geaam in Paris, France (1 Michelin star)
Kai Ho: Taïrroir in Taipei, Taiwan (2 Michelin stars)
Chiho Kanzaki and Marcelo di Giacomo: Virtus in Paris, France (1 Michelin star)
Hideki Ii: Shirosaka in Tokyo, Japan (1 Michelin star)
Richie Lin: Mume in Taipei, Taiwan (1 Michelin star)
Angel Zapata Martin: Barrafina in London, United Kingdom (1 Michelin star)
Hajime Otowa and So Otowa: Ciel et Sol in Tokyo, Japan (1 Michelin star)
Rui Silvestre: Vistas in Vila Nova de Cacela, Portugal (1 Michelin star)
Andrea Spagoni: BeefBar in Hong Kong (1 Michelin star)
Yoji Tokuyoshi: Tokuyoshi in Milan, Italy (1 Michelin star)
Each chef will host two dinners in the hotel's award-winning Biscotti, Madison, Spice Market and Shintaro restaurants.
On Friday, 6th September 2019, Taiwanese chefs Kai Ho and Richie Lin will be joined by the chef behind Thailand's much-loved and respected streets-to-stardom culinary tale, Ian Kittichai, whose restaurants include Issaya Siamese Club in Bangkok, Tangerine in Singapore and Spot Dessert Bar in New York City.  Chef Ian is an experienced hand when it comes to the World Gourmet Festival and his participation in the 20th anniversary celebration brings him full circle – in 2000 he was a member of the hotel's culinary team who led the visiting international chefs during the inaugural event.  The trio of gastronomic artists will prepare a six-hands collaborative dinner of six courses – two each of their signature creations.


In a first for the World Gourmet Festival, Anantara Siam Bangkok Hotel will showcase the City of Angels' enviable status as the best city in the world for street food on Thursday, 5th September 2019, when Bangkok's popular street vendors will prepare their fare in food stalls strewn around the Parichart open-air garden courtyard.  And as has become a tradition and crowd pleaser in recent years, the exclusive fringe events in the hotel's iconic lobby and Aqua Bar return, including the hugely popular World Gourmet Brunch on Sunday, 8th September 2019.
Foodies and budding and professional chefs alike can attend master cooking classes by all the visiting chefs, where they will have the opportunity to see and taste specially prepared dishes from the chefs' World Gourmet Festival menu repertoire.  Joining the stellar line up of chefs this year is famed Dutch chef Roger van Damme from Het Gebaar in Antwerp, Belgium, who was awarded the best pastry chef in the world honour at the 'Best Chefs Awards' in 2017.  On Thursday, 5th September 2019 and Friday, 6thSeptember 2019 he will present master classes of four desserts served with afternoon in the Lobby Lounge.
The 20th World Gourmet Festival is a proud supporter of HRH Princess Soamsawali Krom Muen Suddhanarinatha HIV Prevention Fund.  THB 600 per dinner ticket sold and proceeds from the auctions, which take place throughout the Festival, will be donated to the Fund.


Reservations for the 20th World Gourmet Festival at Anantara Siam Bangkok Hotel are essential and can be made by visiting www.worldgourmetfestival.asia, where detailed information and prices of all the events are available.
Anantara Siam Bangkok Hotel's Amazing World Gourmet Festival accommodation package offers gourmands a sumptuous opportunity to experience an extraordinary international culinary feast by some of the world's best chefs in the heart of one of the world's most enigmatic capital cities.  Starting from THB 18,000 per room per night, this special offer includes accommodation, a sumptuous daily buffet breakfast, and a table for two at a guest chef's dinner each night of the stay period.  Guests will also receive fifteen percent discount on treatments at the hotel's award winning Anantara Spa.  For more information about this special offer or to make a reservation, please visit www.anantara.com/en/siam-bangkok/offers