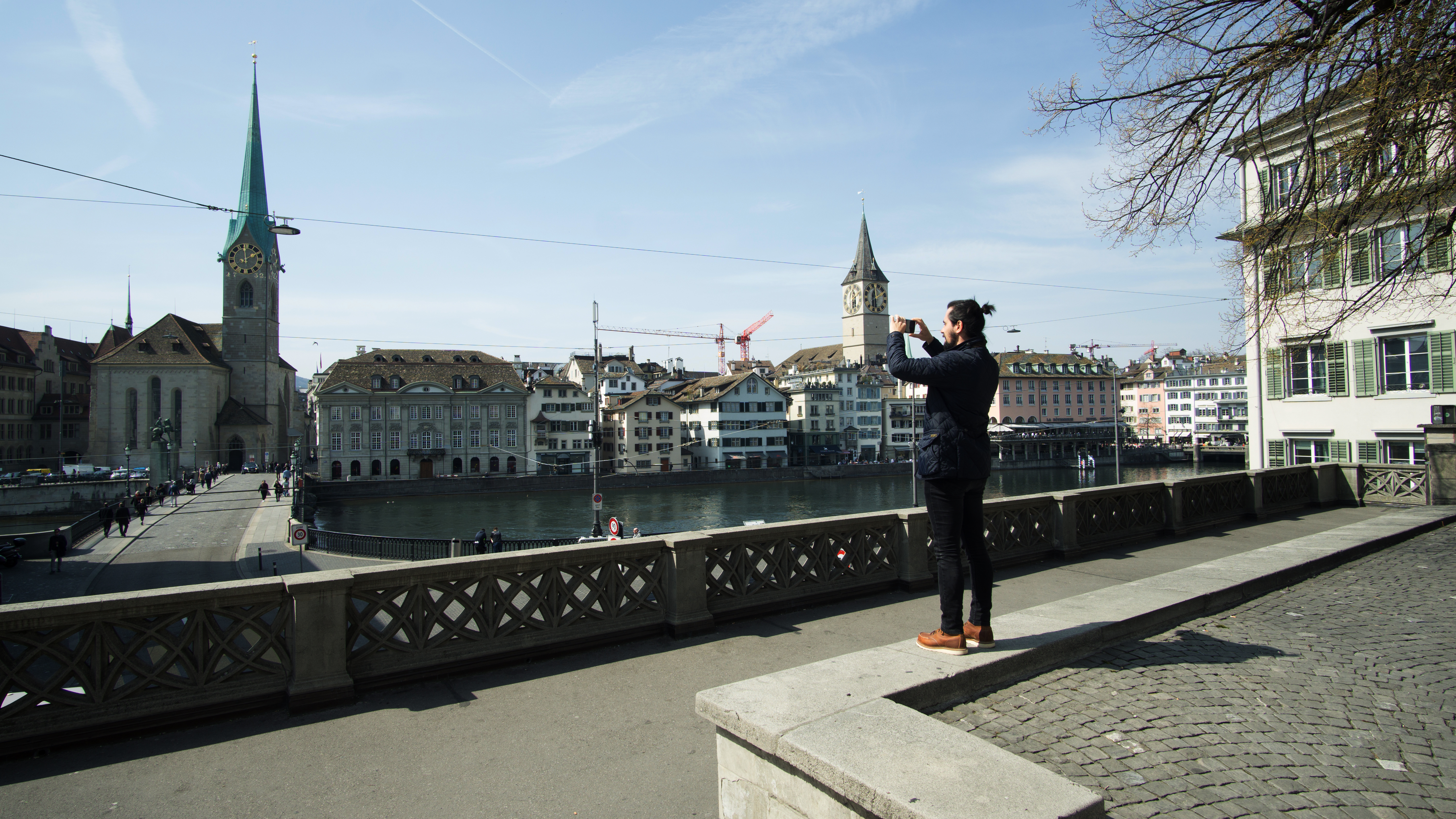 What Makes Switzerland Stand Out? Let's Find Out
Dazzlingly dreamy, Switzerland is where marvellous urban lives
and breathtaking nature trails come together in the middle of the
snow-clad Alps. Apart from the visual beauty, there is so much we
can learn about, and learn from, Switzerland.
What makes Switzerland stand out? Of course, there are other countries with eye-pleasing landscapes, stunning buildings, or tasty cuisines, but Switzerland is unrivalled for many reasons.
Not only a light-hearted vacation I enjoyed in Switzerland, but the lifestyles and the mentality were what I was compelled by as well. Being the only confederation on this planet, the unique political system makes Switzerland completely one-of-a-kind. Being neutral throughout the years, the country is barely damaged by wars, so historical buildings get through centuries, and the urban development runs its course, unscathed. Valuing equality and consensus, it could be said that Switzerland is a successfully egalitarian society. And, abounding more.
In less than a week travelling from French-speaking part to the German-speaking metropolis of Switzerland, I have seen a lot in between the days.

LAUSANNE
The present-day Lausanne has a long history of human settlement, which can be dated back to 6000 BC. When the Canton of Vaud was established as part of the Swiss Confederation, Lausanne was designated as the cantonal capital. Thanks to the antiquity and unceasing innovation, Lausanne comprises iconic Gothic constructions from the medieval days, as well as leading-edge buildings.
LAUSANNE AND THE THAI ROYAL FAMILY
Lausanne plays a good part in the lives of the Royal Family of Thailand. Back in 1933, the late King Bhumibol Adulyadej started living in an apartment on Avenue Auguste-Tissot 16 in Lausanne when he was in an early age, with his mother HRH Princess Srinagarindra, his sister HRH Princess Galyani Vadhana, and his brother HRH King Ananda Mahidol.
The late King in his younger years attended École Nouvelle de la Suisse Romande, Gymnase Classique Cantonal de Lausanne, and the University of Lausanne, before permanently returning to his homeland in 1951. During his Lausanne days, he had grown fond of photography and jazz music. Full of memories, the late King gave the Thai Pavilion, located nearby the Olympic Museum, to the city of Lausanne, marking the 60th anniversary of his accession to the throne, and honouring diplomatic relations between the two nations.
LAKE GENEVA: THE CITY'S CROWN JEWEL
Moving on from the city centre to Ouchy, a mesmeric port, which sits on the bank of wondrous Lake Geneva (also known as Lac Léman), is another magnetism of Lausanne. Lake Geneva is apparently so romantic that its azureness instills countless artists, and attracts world-famous people to visit the city habitually.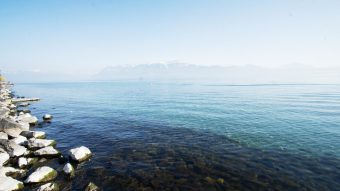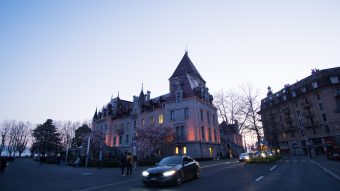 Beau-Rivage Palace, a prestigious historic hotel, has been doubtlessly favourited by famous people and discerning travellers from worldwide. It's an unparalleled privilege to be able to adore the flawlessness of the Alps right from the bed. Additionally, it is located just within the walking distance from the Ouchy and the Olympic Museum. Being able to delve into significant spots on foot, and with in-house scrumptious foods, it is crystal clear why this is the best place to stay in Lausanne.
For over a century, Lausanne has been the Olympic Capital, where the International Olympic Committee is. The interactive Olympic Museum is for everyone, no matter if you are into sports or not, thanks to its brilliant playfulness.
Despite the windy chill in the air, I decided to grab my windbreaker and went out for a morning run along Lake Geneva. It was, for what it's worth, the best decision, for an indelible experience of the daylight gradually revealing the frosted Alps, and the swans playing when no one else is around, feeling as if this whole, wonderful landscape is all mine.
WINE SOME, FOOD SOME!
The food and beverage scene of Lausanne is a major attractive part. Even though it is not a grand metropolis, dining in Lausanne is as well vibrant, with choices ranging from cosy restaurants serving local cheese fondue and cold cuts, to fascinatingly creative fine dining places.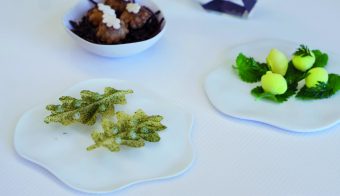 At Beau-Rivage Palace, the world-renowned French Chef Anne-Sophie Pic opens the namesake restaurant, offering creative fine dining experience. How fine? I must say, in every little detail. Even the glassware or the specially tailored knives, only the best is offered, and this is why the restaurant is awarded two Michelin stars and received endless acclaims. Her cuisine reveals the charming flavours of each wellselected ingredient, with a hint of oriental-ness popping up in her innovative French fares. Pure genius.
Indeed, Swiss wine is one of the world's finest, but it is not largely imported due to the limited production. Trying some local wines is a must-do, once you are in this gorgeous country. Lavaux, the UNESCO World Heritage listed wine region also lies on the bank of Lake Geneva, which can be easily accessed by cruise from Ouchy, or other land transportations.
Nearby the region are tiny towns to get to know. I called on Cully, a quiet and lovely townlette that loves Jazz so much. As perch fish, a Vaudois culinary icon, is a must-try while you are in Vaud, I tried some perch fillets mildly sautéed in butter at Auberge du Raisin in Cully and I loved it.
INTERLAKEN
Travelling through the gorgeous mountains on a clean and modern train is really worth experiencing. The GoldenPass Panoramic train, with sweeping windows and comfy seats, has made an indelible train ride experience, as it is not just transportation from one point to another – it's too scenic to miss it.
Before reaching Zurich, my next destination, I dropped by at Interlaken to have a midday meal in the middle of Lake Thun. I got to comfortably visit various places without having to carry heavy bags around, thanks to the helpful door-to-door luggage service provided by Swiss Travel System.
During the short time in Interlaken, I paid a visit to the famous Swiss Chocolate Chalet to try various treats. Along the way were people enjoying paragliding their way in the freshest air, with a backdrop of the silvery Alps. If only I had more time…
Soon enough, I was on an excursion on a lake cruise on the MS Schilthorn and had lunch on board. In summer, thanks to its crystalline freshwater, Lake Thun is where people happily soak themselves under the lively sun with the boundless Alps in sight. I can easily imagine how exhilarating it must be.

ZURICH
I am, indeed, not a fan of big city life, but there is something about Zurich that impresses me like nowhere else. Beautiful, organised, livable, lively yet placid – I just can't help loving this city more each day. There are various dimensions of Zurich to be discovered, maybe endlessly.
MAGICAL MELTING POT
Another compelling part of Zurich is its fusion between the old and the new. All over the city, buildings of medieval architecture neatly line up, mingled by contemporary architecture. Besides, Zurich is the hub of Switzerland's art and culture scene, bustling with amusing and educative museums and art galleries.
The modern city has been permanently settled for many thousands of years. The emergence of today's Old Town can be traced back since the Roman time, with Lindenhof as the site of many historical incidents.
Baur au Lac, where I spent the nights, is one of the old-time buildings, which has been functioning as a five-star luxury hotel overlooking Lake Zurich. Even though it has been there for over a century already, it quaintness doesn't look old at all, thanks to its being superbly maintained and the interior décor is kept up-to-date. That is how other buildings work in Zurich as well, and it's the remarkable strong suit of the city.
RAMBLING HERE AND THERE
Even though there are plenty ways to get to places in Zurich, to make the most of the experience, most of my exploration was done on foot. From Baur au Lac, I crossed the road to stroll along Lake Zurich. Along the way I found a guy who play iconinc alphorn with a backdrop of the distant Alps (thankfully, it's visible from here!), then a lady playing an accordion. Those euphonious sounds really sweeten the metropolis.
Soon, I found myself in Bahnhofstrasse, which is the best shopping downtown I have ever been to, bustling with shoppers and businesspeople. Goods and foods are being offered inside the gothic buildings in grey tones. Roaming around randomly, I ended up being on the Schulstrasse, which looked like a residential area. The crisp in the air, the peace, the carpeting petals here and there, the houses in pastels – I can't get enough of magnetism of this city. What a beautiful contrast in the very same city.

CUISINE ON THE SCENE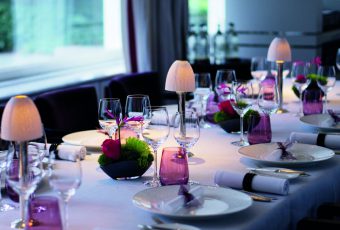 Bustling with top-notch tastes, Zurich is one of the exceptional cities when it comes to foods. Also, Zurich is deemed to be a paradise for chocolate devotees, with a myriad of luscious choices and fancy chocolatiers. Some of the famous names are Läderach, with a lot of frisky flavours such as Thailand's Tom Yam flavour, which is especially crafted in remembrance of the late King Rama IX; luxury Sprüngli, making freshest and finest cacao-driven bites; and Confiserie Teuscher with its special champagne truffles being the talk-of-the-town.
At Rive Gauche at Baur Au Lac hotel, I got to try a dish unique to the city, Zürcher Geschnetzeltes, sliced veal Zurich style in cream sauce, and it effortlessly became my favourite of the day.
Also at Baur au Lac hotel, two-Michelin-starred Pavillon is gleamingly dressed in white and platinum, and romanticised with shades of lilac and mint-green. Being one of the legendary restaurants, its praise for heavenly haute cuisine is very well-deserved.

FACTS
GETTING THERE
Flying long haul, direct flights are the best options. Thai Airways operates a daily flight to/from Zurich with full services on board. For booking and information, please visit www.thaiairways.com
GETTING AROUND
The public transportation network in Switzerland is one of the world's best. With all-in-one Swiss Travel Pass, tourists are allowed to travel by rail, road, or waterway, and are granted access to numerous sites and museums throughout Switzerland. Visit www.myswitzerland.com/rail for further details.
Travelling by train through the mountains is an unmissable experience once you are in Switzerland. Different trains offer difference experiences on board. My favourite is the GoldenPass MOB Panoramic train, with enormous glass windows all over the train allowing passengers to indulge into the gorgeous nature and villages along the way.
WHERE TO STAY
There are many levels of lodgings, from huts, B&Bs, hostels, standard hotels to palace hotels. Booking a place to stay is quite easy. However, for an ultimate experience of renowned Swiss hospitality, palace hotel is the one. In Lausanne, Beau-Rivage Palace has been standing majestically for over 150 years already. Facing the Alps of the Lake Geneva, the hotel promises the prestigious wake-up views like nowhere else. Everything about the hotel is compelling – the history, the architecture, the restaurants, not to mention the unparalleled services.
Another Switzerland's famous historic hotel is Baur Au Lac in Zurich, which has been running since 1844, and has flawlessly maintained high-standard hospitality throughout the decades. Being "historic" also means that significant events also occurred here, such as Richard Wagner's premiere of the Valkyrie opera. With ideal location, design, and top-notch restaurants, and its own "Baur au Lac Vins", the hotel is the big fascination.
ENTRY REQUIREMENT
Schengen Visa is required for certain nationalities, including Thai. To check whether your nationality is on the list, please inquire to your regional consulate or check out www.schengenvisainfo.com
Text and Photos by Pakvipa Rimdusit