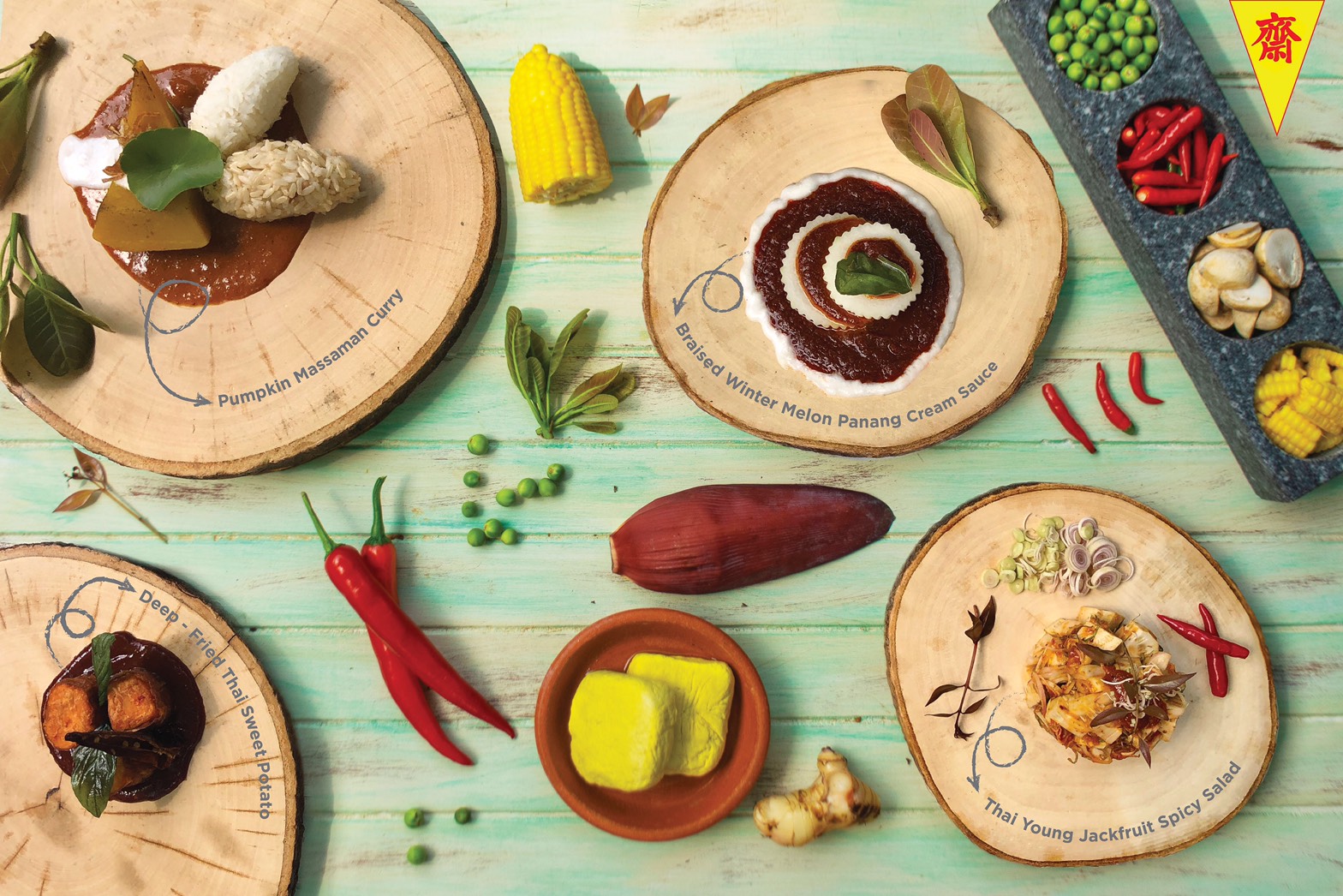 Celebrate The Nine Emperor Gods Festival With These Delectable Vegetarian Feast
JW Marriott Phuket Resort & Spa joins nationwide to celebrate the Vegetarian Festival by offering delectable dining promotion from 28th  September to 31st October. The Phuket Vegetarian Festival also known as the Nine Emperor Gods Festival, the century old festival honours the Chinese community's beliefs that abstaining from meat and other stimulants during the 9-day event, it helps to purify your body, mind and spirit as well as bring a good health and fortune into your life.
In celebration of the Vegetarian Feast, Andaman Grill and Ginja Taste restaurants create contemporary non-meat cuisine by experimenting with original and surprising flavour combinations.  Serving mouth-watering Thai and International combinations and offering a special menu specifically for vegetarians, guests will leave with a new sense of appreciation for vegetarian dining.
Phuket Vegetarian Set Menu: Ginja Taste, Thai restaurant invites you to try "Phuket Vegetarian Set Menu", ideal for sharing between friend or loved one.  Highlights menu include Som Tum Khao Phod Jay – Thai sweet corn salad with soya sauce and fresh lime; Phad Thai Jay – wok-fried rice noodle, tofu, mixed vegetables with tamarind sauce; Phad Prik Thai Dum Med Mamuang – wok-fried bell pepper and cashew nut with black pepper sauce and save some room for dessert, Bua Loy Nam King – sticky rice ball in ginger syrup.  This promotion is available from 28th September – 7th October 2019. Dinner commences from 6 pm – 10 pm. Price is THB 1,999++ per set/couple. This promotion is also available on the a la carte menu as well.



'Gin Jay' Thai Tapas Set Menu: Ginja Taste restaurant continues to celebrate the World Vegetarian day by offering the 'Gin Jay' Thai Tapas set menu throughout the month of October.  Gin Jay in Thai means 'Eat Vegetables / Non-Meat'. Our Thai chefs would like to encourage you to eat well and feel well by offering the sampling vegetarian menu of Thai tapas. The sumptuous dishes include Kien Mun Tes – Thai mashed potato wrarpped with tofu skin and tamarind chili dipping; Pha Kranoon – Thai young jackfruit spicy salad mixed with lemongrass and lime dressing; Panang Fux Kiew – braised winter melon with Panang cream sauce; Gaeng Massaman Fuxtong – Thai pumpkin Massaman curry served with steamed rice just to name a few.  Price is THB 1,299++ per set/person. Dinner commences from 6 – 10 pm.


World Vegetarian Day Set Menu: Andaman Grill also joins worldwide to celebrate the World Vegetarian day. The Andaman Grill chefs present the tasting vegetarian set menu that delight the palate without the need for meat. Price is THB 1,499++ per set/person. Dinner commences from 6 – 10 pm. This promotion is available on the 2nd October only.

Reserve your table, contact our Food & Beverage dining experience team.
Tel +66 (0)76 338 000