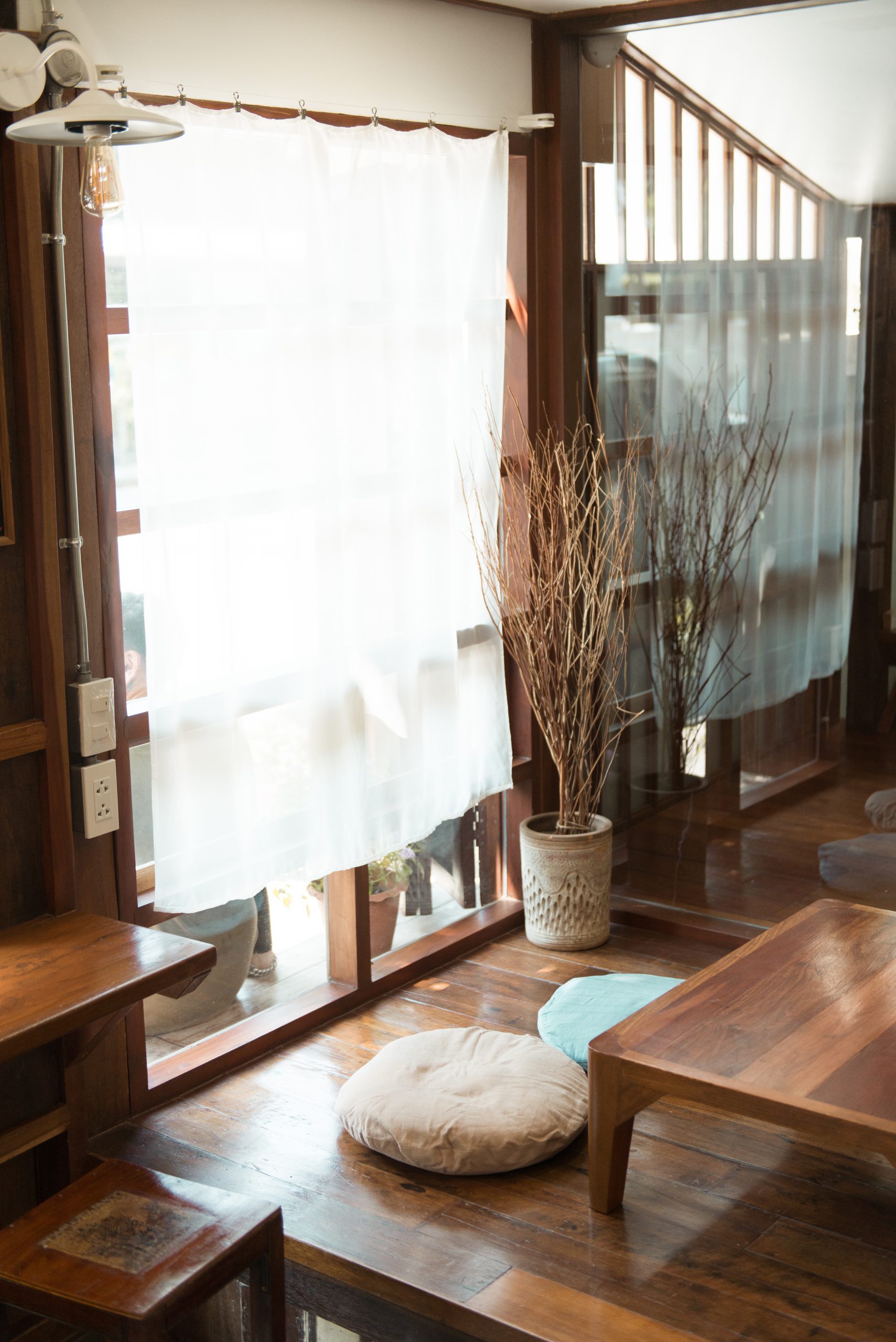 8 Cafés to Feel at Home in
As thailand's café culture gets increasingly worldly, new spots are emerging almost daily. Many are cool, possibly also dramatic places and undoubtedly visit- worthy. The ones that you will return to again and again, however, are likely those that give you a cosy feeling, as if you are at home sharing comforting drinks and tasty bites with your best friends.
DROP BY DOUGH
Udomsuk and Ari, Bangkok
A Donut House with Hygge Vibes
Speciality: Freshly-baked doughnuts with rich, indulgent fillings.
Setting: Cosy Scandinavian interior design that invites you to enjoy every minute there.
Must-tries: Classic Vanilla / Nutella & Hazelnut / Bacon Cheddar Cheese
Instagram: @dropbydough
MAGOKORO TEA HOUSE
Mueang, Chiang Mai
Tea in a Mini Japanese Zen Garden
Speciality: Heavenly green teas from an award-winning farm served in traditional Japanese style, as well as tasty Japanese sweets.
Setting: A mini Zen garden that transports you to a bucolic setting in Japan.
Must-tries: Ikigai Ceremonial Set / Cold Brew Tea / Matcha Roll
Instagram: @magokoro.teahouse
MORE THAN FEELING BREW
Ramkhamhaeng, Bangkok
A House of Hand-Crafted Coffee
Speciality: Coffee made with loving hands, from grinding to brewing in a Flair Espresso Maker to make the perfect cup for you.
Setting: Cosy and minimalist, good for long stretches of time with friends or for working in peace with a perfect cup of ambrosial coffee near at hand.
Must-tries: Dirty / Cold Drip / Cold Brew / Matcha Latte
Instagram: @morethanfeelingbrew
REMEDY CAFE AND STAY
Pom Prap Sattru Phai, Bangkok
A Vintage House by the River
Speciality: Speciality coffee made with beans of different origins, brewed with advanced equipment including a Flair Espresso Maker, AeroPress coffee maker, V60 Dripper, and more. If you don't like being too caffeinated, the milky frappés and fruity smoothies are also very good.
Setting: A small slow life riverside house with vintage décor and pleasant music coming from a vinyl record player.
Must-tries: Breezy Remedy Signature / Dirty Coffee / Lemon Drizzle Cake
Instagram: @remedy.bkk
WHISPERING CAFÉ
Sampran, Nakhon Pathom
Garden House of Your Dreams
Speciality: A variety of tastebud-pleasing drinks and sweets.
Setting: A vintage wooden house set in a vast idyllic garden by Thailand's top landscape designer, with a tranquil pond in which you can paddle around in a little boat.
Must-tries: Mint Chocolate / Matcha Latte Cold / Roselle Soda / Dark Beer Cake
Instagram: @whispering.cafe
POONYPOONY COFFEE
Sutthisan, Bangkok
Welcome to the Barista's Home
Speciality: Seriously good cups with wicked latte art by Poon, the owner, who has worked as a barista in Melbourne. The latte art in his Babycino is the talk of the town.
Setting: The very friendly atmosphere of Poon's house, sipping aromatic coffee made by the man himself. This is a café with a personal touch that makes you want to linger.
Must-tries: Dirty / Orange Tonic / Drip Coffee
Instagram: @poonypoonycoffee
BILLYBILLIES
Bangna, Bangkok
A Cosy English Tea Room
Speciality: Blissful home-made cakes and bakes inspired by English tea rooms, as well as original house blend teas specially created for this cosy house. The made-to- order birthday cakes will steal your heart, and the organised creative workshops will give you lots of fun.
Setting: The ambience of a cosy English tea room that attracts passers-by and, as you step inside, you will feel as if you are visiting your beloved aunt or grandma who offers the best tea break.
Must-tries: Toffee Coffee / Scone / House Blend Tea
Instagram: @billybillies
MA DOO BUA CAFÉ
Thalang, Phuket
Lotus Deliciousness in Thai-Style House
Speciality: Lotus stem is the special ingredient in a range of creative and delectable Thai dishes, drinks and desserts.
Setting: An airy Thai-style house surrounded by the unique and mesmerising vision of a pond full of giant Victoria Lily pads.
Must-tries: Bua Loy / Saku Melon Latte / Tom Yum Soda / Crispy Lotus Stem Salad
Instagram: @madoobua.phuket