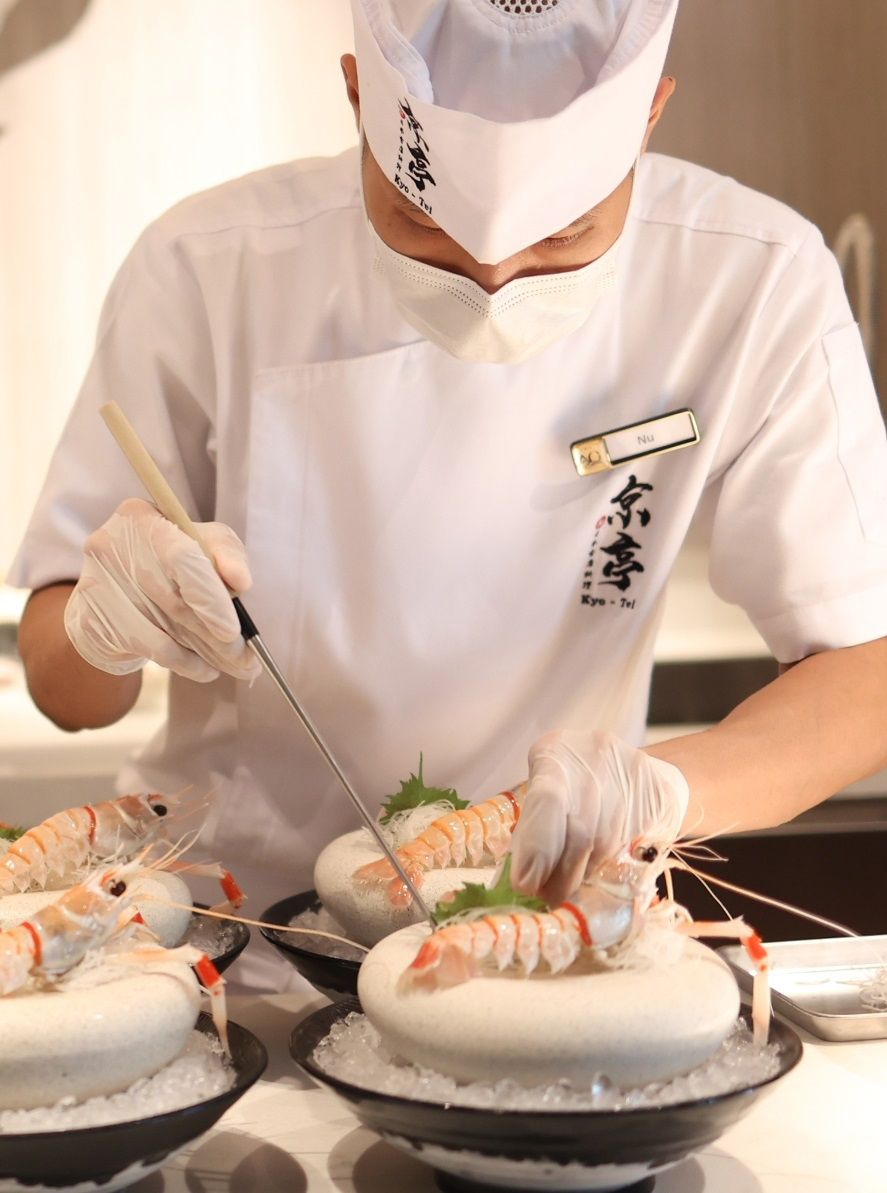 Bangkok's Latest Japanese Fine-Dining Experience 'Kyo-Tei' Has Debuted
AQ Gourmet & Dine brings the new elevated dining experience to the heart of Bangkok with the launch of Kyo-Tei, offering fine-dining Kaiseki, Teppanyaki, and Omakase crafted by highly-experienced Master Chef Ishinda Kinya from Kyoto, Henzan Hiroyuki from Okinawa, and a skillful culinary team.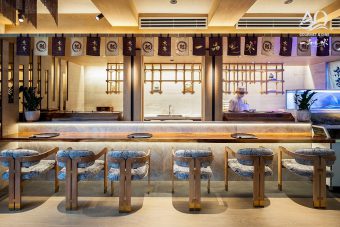 In a gorgeous setting with adorned with natural elements, Kyo-Tei features a modern twist on authentic Kaiseki cuisine made with freshest seasonal ingredients, a private room for Omakase experience, and an intimate Tepanyaki room. In addition, 2 bars are in the house to surprise you with wonderful concoctions influenced by Thai and Japanese zests alongside finest spirits.
Kyo-Tei by AQ Gourmet & Dine is located at Sukhumvit 38. Visit www.aq-gourmet.com/en-TH/dine-detail to find out more.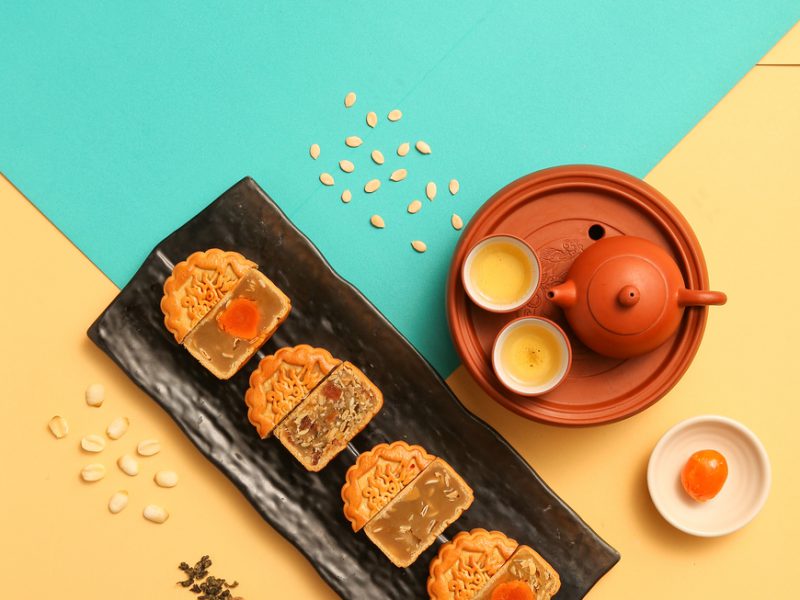 By Lifestyle+Travel
The long-awaited Mid-Autumn Festival is approaching, which means it's high mooncake time! Despite the situation that get you to stay home for much longer than usual, you can still enjoy the heavenly tenderness of the rich-in-flavour seasonal treats or send good wishes to your loved ones with one of these marvelous sets of mooncakes. The Athenee Hotel, A Luxury Collection Hotel WHAT'S SPECIAL: Luxurious mooncakes inside artistically designed boxes with auspicious meanings FLAVOURS OFFERED: Sea salted caramel, red bean and red ginger, lotus seed with egg yolk, rich custard with egg yolk, mixed nuts with egg yolk, Chantaburi durian with egg yolk, and Mandarin yuzu and macadamia PRICES: THB 239 apiece, THB 988 for an Athenee Hotel Signature Box, THB 1,688 for a Bouquet Amor Art Box AVAILABILITY: Pre-order now for collection from 1 September 2021 onwards ORDER VIA: + 66 (0) 2 650 8800, fb.theathenee@luxurycollection.com Pagoda Chinese Restaurant at Bangkok Marriott Marquis Queen's Park WHAT'S SPECIAL: Handcrafted traditional and signature mooncakes with creative twists inside a stylish box FLAVOURS OFFERED: Traditional selection (150g) - white lotus seed and macadamia nuts, pork bak-kwa and assorted nuts, white lotus and melon seeds with a single yolk, and Chanthaburi durian and white lotus seeds with an egg yolk Signature selection (50g) - salted egg yolk vanilla custard, and malted chocolate Rocher mooncake made with French Valrhona chocolate and almond praline More details here PRICES: Starting from THB 188 apiece, from THB 988 for a 4-piece box of traditional mooncakes, from THB 888 for a 6-piece box of signature mooncakes AVAILABILITY: Now - 21 September 2021 (pre-order only) ORDER VIA: + (0) 2 059 5999, restaurant-reservations.bkkqp@marriotthotels.com, LINE: @pagoda The St. Regis Bangkok WHAT'S SPECIAL: Classic rich-in-flavour mooncakes inside an elegant vegan leather box with exquisite design FLAVOURS OFFERED: durian, mixed nuts, lotus seed, and red bean, each with an egg yolk PRICES: THB 198 apiece, THB 1,288 for a 4-piece box AVAILABILITY: Now - 21 September 2021 ORDER VIA: +66 (0) 2 207 7777, fb.bangkok@stregis.com  La Patisserie at The Okura Prestige Bangkok WHAT'S SPECIAL: Delightful mooncakes inside an eye-catching bento-style wooden box wrapped in gorgeous Japanese Furishiki cotton FLAVOURS OFFERED:  Special flavours inspired by different seasons - Sakura for spring, Lavender for summer, Orange for autumn, and Sweet Potato with egg yolk for winter Traditional options - Monthong durian and egg yolk, delightful homemade custard PRICE: THB 1,288 for an 8-piece box AVAILABLE: Now - 21 September 2021 ORDER VIA: +66 (0) 2 687 9000, fb.concierge@okurabangkok.com Shang Palace at Shangri-La Hotel WHAT'S SPECIAL: Mouth-watering classic mooncakes made with time-honoured recipe, using finest ingredients FLAVOURS OFFERED: Mixed fruits and nuts, durian, lotus seed and red bean with single egg yolk, cream custard mini mooncakes, and snow skin cream custard & bird's nest mini mooncakes PRICES: THB 398 - THB 2,198 per box AVAILABLE: Now - 23 September 2021 ORDER VIA: +66 (0) 2 206 8605, mooncake.slbk@shangri-la.com, shangbkkmooncake.com  Zing Bakery at Centara Grand at CentralWorld WHAT'S SPECIAL: Tasty mooncakes of 6 beloved traditional flavours FLAVOURS OFFERED: Monthong durian with salted egg, lotus seeds with salted egg, jujube with salted egg, mixed nuts with fruits and salted egg, black bean and green tea, and purple sweet potatoes with salted egg PRICES: THB 118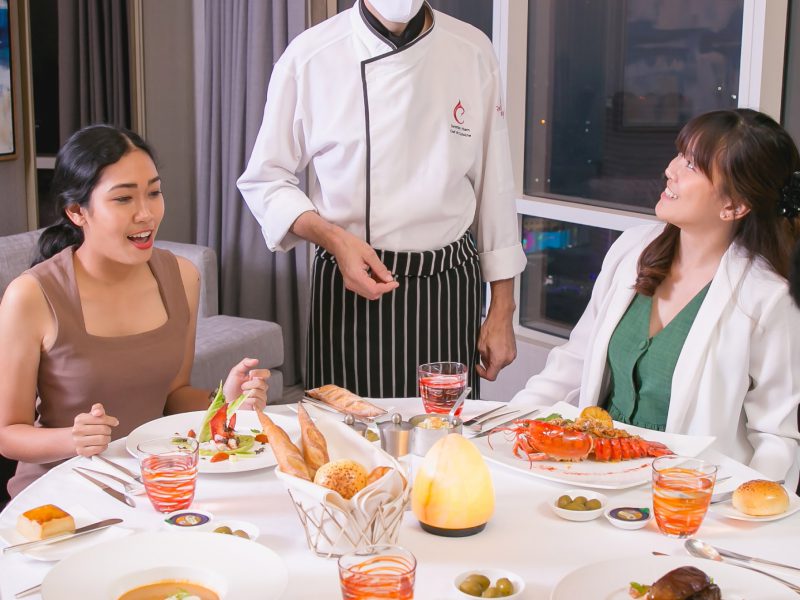 By Lifestyle+Travel
To satisfy the needs of gourmands, Centara Grand at CentralWorld is now offering an 'Exclusive In-Suite Private Dining' with a range of 3 or 4-course meals from the hotel's top dining experiences, including Red Sky, Ventisi, and UNO MAS, so you can take delight in freshly cooked dishes with ensured safety in the comfort of a home-like suite where you can bring your own bottles, enjoy the sound of your own playlist, or savour delicacies as you watch your favourite TV series. The private dining features set menus from Red Sky (international fine dining) at THB 4,200++ per person, Ventisi (Italian & Thai) at THB 2,200++ per person, and UNO MAS (Spanish & Mediterranean) at THB 3,800++ for 2 persons. Spend a minimum of THB 9,888 on F&B and receive a night in the suite free of charge! (Terms and conditions apply) For more information or reservation, please contact diningcgcw@chr.co.th or call +66 (0) 2 100 6255.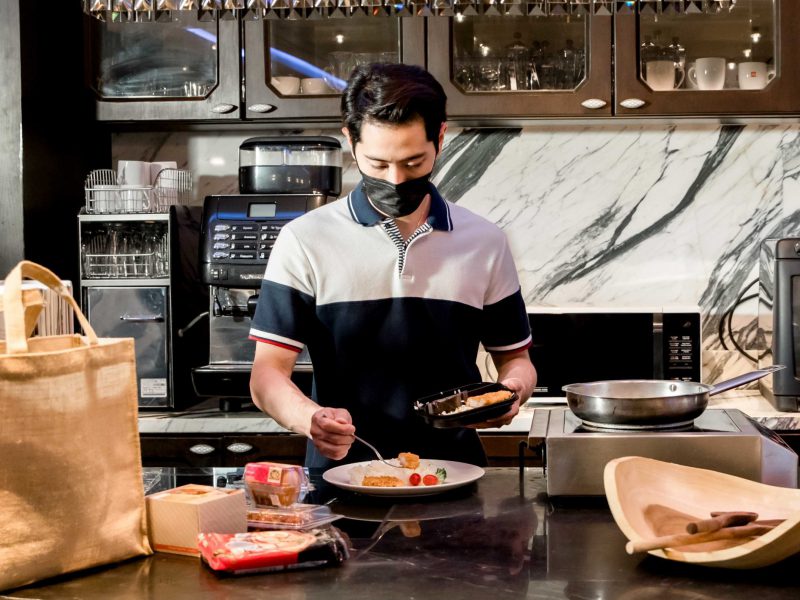 By Lifestyle+Travel
After having launched the private Dinecation package, The Athenee Hotel, a Luxury Collection Hotel, brings together more experiences to make the place optimised for working and to make it truly your home away from home, offering a complimentary access to an Executive Office Suite and the new Residents Kitchen! Ideal for guests who opt for a bit long staycation, you can work at a luxurious office with a view to let your creative juice flows, and appointed with creature comforts to make your important online meeting runs smoothly. After having done with your working hours, you can enjoy cooking with your loved ones, as if you are right at your own home. All rooms are thoroughly sanitised before your arrival, so you can feel completely safe while staying sound. To creatively adapt to the current situation, The Athenee Hotel Bangkok will keep on curating new initiatives to meet all needs of guests to make their 'staying safe' as pleasurable as possible. For further information or reservation, please contact our 24/7 Guest Engagement Center at +66 (0) 2 650 8800, LINE: @theatheneehotel or GEC.TheAthenee@luxurycollection.com