BMA Speeds Up Increasing Bangkok's Green Areas
Mr. Chatree Wattanakhajorn, Deputy Permanent Secretary for the Bangkok Metropolitan Administration (BMA), revealed that presently, Bangkok has green areas in the category of public park and small garden of 8,917 locations covering the area of 25,893 rai 61.05 square wah. The ratio of public green area per capita is 7.49 sq.m. per person. It is essential to speed up the process of increasing public park areas and develop capacity of the existing public parks so that people can access quality public spaces with more convenience.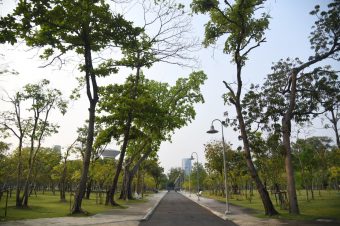 The BMA realises the importance of Lumphini Park, which is a large public park at the heart of the city and the year 2025 will mark the centennial of Lumphini Park. Thus, it is an opportune time for improving Lumphini Park to be the metropolitan public park for the future. This also enhances the capacity of the area to respond to city development and ways of life in the new era. The implementation of the plan for construction and renovation will be divided into various phases to avoid any impacts on service provision to the general public.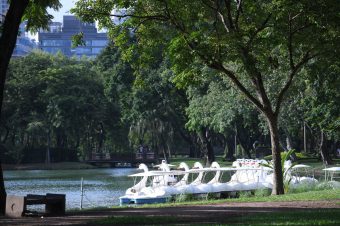 Lumphini Park is the first public park of Thailand. It has been open since 1925 with the area of 360 rai (576,000 sq.m.), located in the CBD of Bangkok. According to the survey on the current condition of Lumphini Park, buildings and premises are in bad and damaged conditions. In addition, designing public parks and public green areas in the cities all over the world has moved toward land use that is in line with the changing urban environment and ways of life of people. Other than being a place for relaxation, public parks also play an important role in reducing impacts of natural disasters. For example, the use of public park as a water retention area or to attenuate stormwater runoff before discharging to public draining system of the city to solve flood. There is also the use of bioengineering system for water circulation of the public park to treat wastewater. The treated water will be reused for park irrigation which can reduce the use of tap water. Moreover, large trees and various kinds of plants in the public park can help reduce the city's temperature, alleviate air pollution, and capture fine particles that are harmful to public health.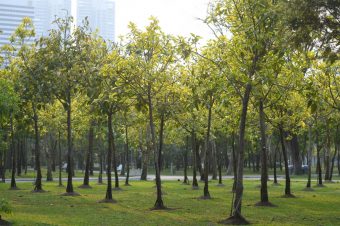 After the renovation of Lumphini Park is completed, it is anticipated that the park will produce various benefits for the people of Bangkok. It will become a quality public park, a comprehensive functional area for all activities, the 'Lungs of the City' in the heart of Bangkok, and a versatile solution for urban problem.
Read more: www.prbangkok.com/en