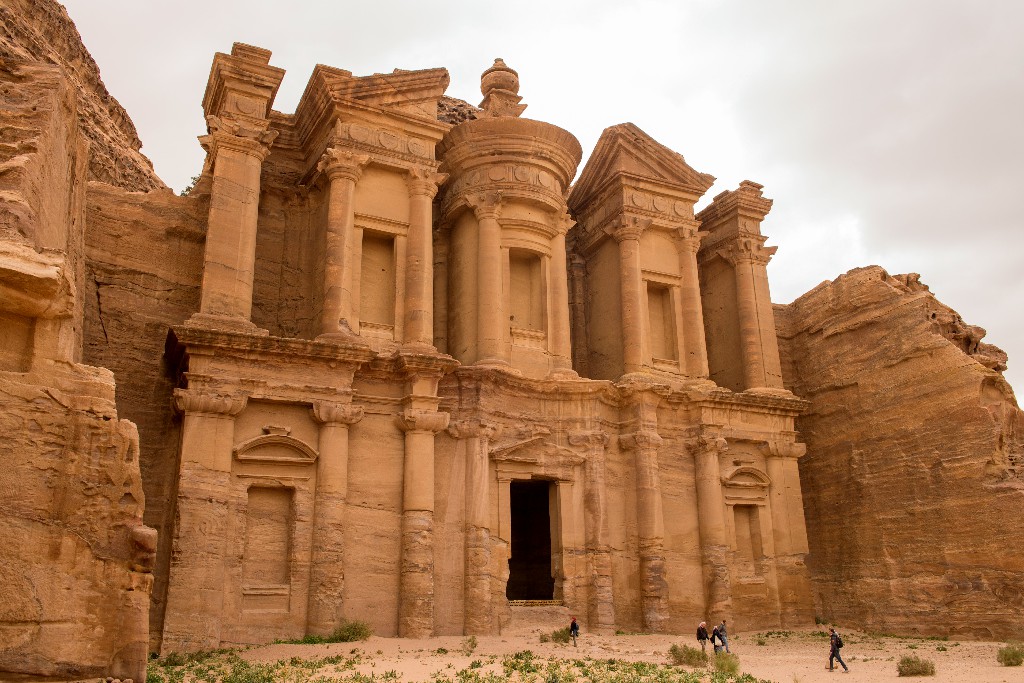 Jordan: Land of Wonders
Jordan is one of those countries that once existed for me solely in images in various shades of terracotta, ochre and apricot of the famous façade of Petra's Treasury, carved into the rose-tinted sandstone, and mysterious rock formations towering above the desert sands of Wadi Rum. These images alone were enough for the country to enter my wish list, and when I finally ended up booking a trip to Jordan with my partner, I wasn't quite sure what to expect beyond these beautiful scenes.
Jordan's capital of Amman was a great place to get my first taste of the country. We spent a few days in the hilly city, visiting museums and art galleries, eating our body weight in mezze dishes, sampling our first Jordanian wines and getting several layers of skin scrubbed off in a hamman (Turkish bath), as well as meeting our first friendly Jordanians. While walking in the streets of the city, people would come up to us to greet us and shake our hands and welcome us to Amman, making us feel like celebrity tourists.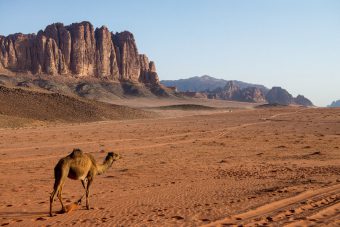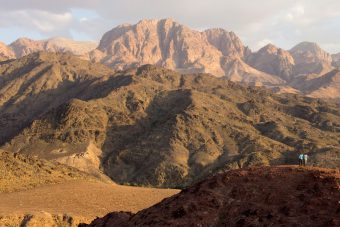 We took a taxi back to the airport to collect our car – a Mitsubishi Pajero – from a rental company, and then headed south out of the city towards the Dead Sea. From a dark brown beach in front of a hotel, we rubbed ourselves with thick strong-smelling clay and then blobbed about like star fish in the painfully salty water. The Dead Sea isn't the most scenic place in Jordan, but the experience of being weightless in water is definitely a memorable one.
Most travellers make a beeline from the Dead Sea straight to Petra, three hours south by car, but after our afternoon at the Dead Sea we decided to spend a few days in the Dana Biosphere Reserve. Jordan's second largest national park, Dana has remained under the international radar until now, when more visitors are starting to discover this glorious stretch of rugged mountain and desert wilderness.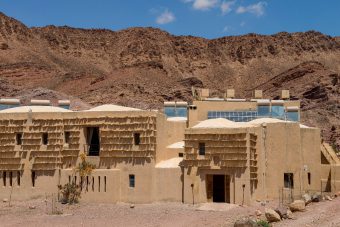 We spent two nights glamping in the upper part of the reserve at Rummana Campsite, which was a great starting point to explore the mountain section of the reserve. Our days passed on hikes along easy trails through the dramatic landscape: deep canyons, sandstone cliffs and carved caves, and green hills peppered with colourful spring wild flowers.
As the crow flies, it's only about 15km from Rummana to Feynan Ecolodge, which lies at the southern end of the reserve, but because of the mountains, the drive took us two hours. The reserve in the south is totally different: very dry and rocky with little foliage, with just a few bright pink oleander trees dotted about. We drove our Mitsubishi 4×4 on sandy tracks past a scattering of Bedouin tents and clumps of mountain goats to reach Feynan, an unusual-looking stone building almost the same colour as the desert sand.



As soon as we checked in, we realised that Feynan is not your typical ecolodge: the attention to detail that has gone into creating a truly environmentally-friendly and sustainable place is inspiring, from the solar power and the vegetarian meals to the clay jugs for water in our room. All of the staff are from the local Bedouin community, and Feynan's bread is freshly baked by a woman in a tent a short walk away from the lodge. Our guides were keen to point out their family tents on walks in the area. Whenever we walked on our own, we were treated to the famous Bedouin hospitality – every time we walked past one of the black-and-white goat hair tents, we were invited in by the family for glasses of sweet black tea.
My favourite part of staying at Feynan was the evenings, when the entire lodge is lit up with hundreds of candles, flickering in the breeze. We ate dinner – a fabulous buffet of meat-free Jordanian food – and then climbed the stairs to the rooftop to stargaze with one of the guides and a powerful telescope in the clear desert skies.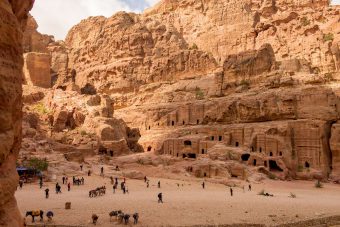 After the quiet calm of Dana, arriving in the small town of Wadi Musa, the gateway to the archaeological treasure of Petra, came as a bit of a shock. It was the Easter weekend and the streets were packed with buses, taxis, and huge tour groups who had come to see Jordan's most visited attraction. We entered the tourist scrum in the Siq, the curving canyon that leads into Petra. The Siq is as dramatic as it is atmospheric, but the real thrill is when you reach the end of it and catch your first glimpse of the Treasury through the gap in the canyon. Petra's most famous and most photographed monument is a 40-metre-high façade of Corinthian capitals, figures and friezes carved into the pink stone. In spite of the crowds of people, clusters of camels and donkeys and Bedouin guides hustling for business below the giant columns, the magnificence of the Treasury hit us with full force.




While you can lead yourself around Petra using a guidebook for some background information, having a guide makes a world of difference. After spending our first day wandering around the vast site on our own, we hired a guide, Bilal, for some more in-depth explorations the following day. Bilal was a phenomenal fount of knowledge on the ancient history of the region, and offered an endless stream of interesting facts about the Nabataeans, who established Petra in the 4th century BC as the capital city of their kingdom.
We walked about 20 kilometres around Petra with Bilal, exploring the Royal Tombs, the Street of Façades, and the Great Temple, and hiking up to the High Place of Sacrifice as well as the winding path to the magnificent Monastery, and going off the beaten track to discover caves with surreally beautiful natural colour waves in the rock. Petra is one astounding wonder after another, and Bilal's stories of the complex layered history of the city and the Nabataeans made the rock and stone ruins come to life.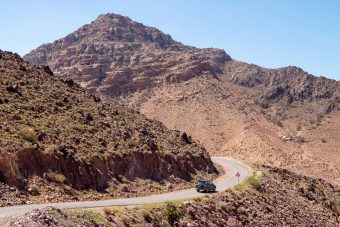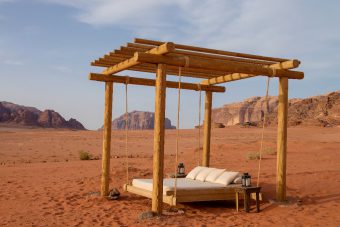 After getting our fill of ancient royal lineages and archaeological majesty, we left Petra behind to drive through sweeping panoramas of sand to Wadi Rum, the extraordinary desert valley made globally famous as the setting for the film Lawrence of Arabia. Parking our car in the village, we got a ride into the desert with a Bedouin from the local community, stopping off for glasses of what people here call "Bedouin whiskey": very sugary black tea. We explored some of Wadi Rum's rippled red sand dunes and giant sandstone formations before clambering atop some camels for a rather uncomfortable, lumbering ride to our luxury tented camp.
There are Bedouin-styled camps dotted all over Wadi Rum, but there definitely seemed to be something unique about Bespoke Hideaways' small and intimate camp, perched on a rise overlooking an enormous unspoiled view of the desert. There are just six tents in the camp, which made it feel wonderfully intimate. Muhannad and his small team were ever attentive, pouring drinks and topping up snack bowls as we watched the magical colours of sunset fading into dark from one of the open-air swing beds. Meals at the camp were a definite highlight: dinner in a traditional Bedouin tent was a feast of lamb baked slowly in an oven under the sand, warm pitta bread, endless bowls of hummus, salads, vegetables and rice, while breakfast on a table placed outside on the rocks featured a lavish spread of bread, freshly cooked eggs, olives, tomatoes, cucumbers, balls of sheep's cheese, yoghurt, honey and olive oil. Tucking into such a luxurious breakfast surrounded by what TE Lawrence called the "vast, echoing and God-like" splendour of Wadi Rum felt indescribably special.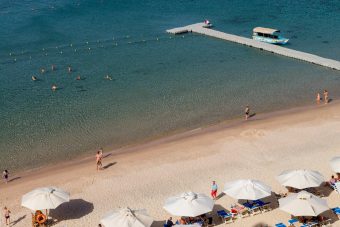 It's less than an hour's drive from Wadi Rum to Aqaba, which sits on Jordan's small sliver of coastline, but it felt like a world away from the desert. Our hotel, the beachfront Kempinski Aqaba, was a gleam of marble, glass, green lawns and sparkling swimming pools. After being surrounded by sand for days, seeing the gentle blue of the ocean felt like a restorative balm. We spent our two days in Aqaba going snorkelling in the Red Sea, swimming and getting massages – the perfect relaxing end to an activity-filled trip.
Drinking a Jordanian red wine at sunset on my last evening, I reflected back on 11 days of travel. From arriving with just a few images of desert landscapes in my head to experiencing some of the best of what Jordan has to offer, my journey far exceeded expectations. Friendly, hospitable people, delicious food, awe-inspiring landscapes, hikes among spring flowers, and a deep dive into Jordan's ancient past made for a remarkable trip – and convinced me that I will definitely be back.
FACTS
---
Where to stay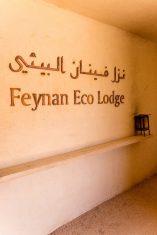 Located on top of Amman's tallest of seven hills close to the downtown area, the Four Seasons Amman combines stylish classical design and beautiful rooms with excellent service. Amenities include indoor and outdoor pools, three restaurants, a spa and a fitness centre.
www.fourseasons.com/amman
Rummana Campsite has the best location of any accommodation in the Dana Biosphere Reserve. Tents come with mattresses and bedding but not much else, but you don't stay here for luxury comfort – you come for the hiking routes through dramatic scenery right on your doorstep.
www.wildjordan.com
Named one of National Geographic's top 25 eco-lodges in the world, Feynan Ecolodge lives up to its environmental credentials. All electricity at the 26-room lodge is solar generated and the lodge is lit only with candles at night, water is sourced from a local spring, all meals are vegetarian, food waste is composted into fertiliser and drinking water in rooms is in clay jars rather than the usual plastic bottles. The lodge's architecture – a design inspired by ancient inns along the camel caravan routes of the Silk Road – even blends into the desert landscape. Activities change every day, and range from guided hikes and mountain biking, archaeology tours cooking classes, learning to make bread and kohl from local Bedouins, and stargazing on the roof at night with a telescope.
www.ecohotels.com
The Mövenpick Petra is right outside the entrance to Petra, making it a very convenient choice for spending a few days exploring the archaeological site. The hotel offers a huge number of rooms, which are comfortable but lack good views. After a day of walking around Petra, there's no need to leave the hotel when you get back: there's a gym, steam rooms, outdoor pool, several restaurants and a rooftop garden during summer.
www.movenpick.com/jordan/petra
Bespoke Hideaways Luxury Bedu Camp is a cut far above the rest of the Bedouin-style camps dotted about in Wadi Rum. Occupying a particularly scenic outlook with superb sunset views, the camp is made up of just six tented suites, so even when it's full it feels intimate and quiet. The suites are simple but comfortable, and feature en-suite bathrooms and heating. Staff are particularly attentive and meals – taken in the cosy Bedouin-style tent or outside on the rocks – are abundant spreads of excellent Jordanian food.
www.bespokehideaways.com
Situated on a private stretch of beachfront in Aqaba, the Kempinski Aqaba is a stylish, contemporary-designed hotel with balconied rooms that offer panoramic views over the Red Sea. Terraced swimming pools surrounded by shaded loungers cascade down to the white-sand beach, where you can laze on a daybed. There are a number of restaurants serving everything from pizza to mezze, and the buffet breakfast is superb. The spa features a sauna, steam room, Jacuzzi, rooms for massages and other pampering treatments with products using Dead Sea mud. The hotel also offers a range of watersports, including diving, snorkeling, jet skiing and kayaking.
www.kempinski.com
When to go
It's best to visit Jordan in spring (March to May), when temperatures are ideal and there are carpets of wildflowers. Summer (June to September) can be uncomfortably hot, and winter (December to February) can be extremely cold in parts of the country.
Entry requirements
Citizens of most countries can obtain a visa on arrival in Jordan for a maximum stay of two months. Visas cost 40 JD (US$56). If you're going to be in Jordan for more than three nights, consider purchasing a Jordan Pass online ahead of your trip. The pass, which starts at 70JD (US$99), waives visa entry fees, and gives you free entry to more than 40 attractions in Jordan, including Petra.
www.jordan.jo
Need to know
Jordan's local currency is the Jordanian Dinar, referred to as JD (jaydee), which is pegged to the US dollar (US$ 1 = 0.7 JD). US dollars are also widely accepted, especially in tourist accommodation and restaurants.
Check with your doctor to find what travel vaccinations you'll need.
Getting there and around
There are direct flights from Bangkok to Amman on Royal Jordanian Airlines. Flights from other Asian cities route through other Middle Eastern airports such as Dubai, Abu Dhabi, and Doha.
There are a number of rental car agencies at Amman's Queen Alia International Airport. Driving yourself in Jordan is pretty hassle-free: roads are generally good, and you can easily navigate using Google Maps.
It's not necessary to hire a 4×4, but if you have a sedan then you will need to make pick-up arrangements for some accommodation places such as Feynan Ecolodge (you'll leave your car in a nearby village and get a lift in a pickup truck).
Text by Sarah Duff
Photos by Sarah Duff and Joseph C Lawrence