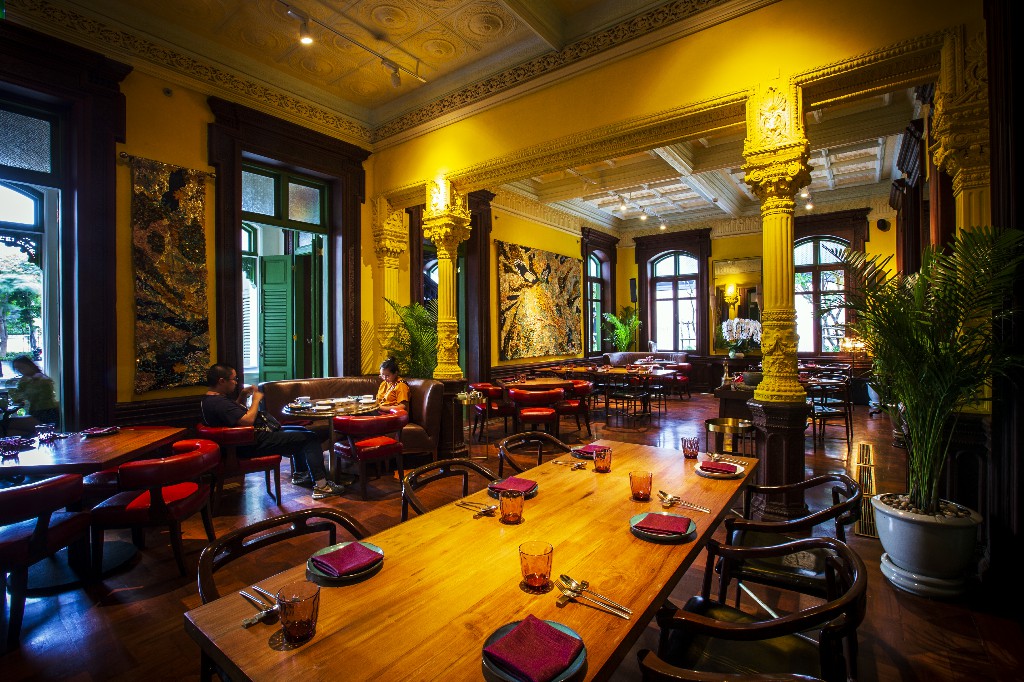 PAII: Seafood At Its Finest
Inside the lofty wooden house, you can now enjoy the finest seafood dishes both for lunch and dinner. A multitude of mouthwatering fares ensures you will enjoy the table par excellence. Hoy Lord Pad Sauce XO (THB 520) is French razor clams covered in homemade XO sauce and flambéed with Mekhong, resulting in a dish with a sophisticated aroma. For a more chewy sensation, try Larb Nhuad Pla Mhuek Yak Yang (THB 1,200), soft charcoal-grilled Spanish octopus with wonderful "larb" flavour, to be savoured with sour-and-spicy dipping.
If you come in a group, never miss having Khao Pad Poo (THB 2,200), which can be shared with four persons or more. This giant crab fried rice comprises 500 grams of palatable crabmeat, so be ready to be amazed. Choo-Chee Goong Mae Nam (THB 1,950) is another must, as head butter of the giant river prawns is an exceptional match with "choo chee" curry sauce, and the succulently grilled prawns themselves are nonpareil. On every table is the tempting huge Poo Ob Klone (THB 3,600), one kilogramme of giant mud crab aptly baked in natural clay and Thai aromatic herbs. The freshness of crab meat and earthy scents are an astonishing duet.




Apart from seafood, a beef dish like Nuea Yang Suea Rong Hai (THB 1,200) is also greatly recommended. It is a tender, juicy grill with heavenly tastes of Thai herbs, served with spicy sauce. It may sound simple, but your tongue wouldn't say so once you give it a chance. Sweet treats here combine Thai-ness with a Western way of making desserts, and it's fantastic. Lemongrass Panna Cotta (THB 400), with sago, mango, and a bit of lemograss, is completely refreshing. Sweetsmelling Thai Tea–ramisu (THB 450) has lively layers of the scents of cacao and Thai milk tea inside the fluffy tiramisu.
There are still lot more surprises here to make your meal one of the most special ones.
PAII
The House on Sathorn
106 North Sathorn Road, Silom, Bangrak, Bangkok 10500
T. +66 (0) 2 344 4025
IG. @paii.bangkok
W. www.paiibangkok.com
---
Text by Pakvipa Rimdusit | Photos by Rachapant Sukrattanachaikul
---