JW Marriott Phu Quoc Emerald Bay: Unsurpassed Utopia
The impeccable juxtapose of naïve stupendous nature and superfluity resort has been materialized on Bill Bensley's beachfront playground, aka JW Marriott Phu Quoc Emerald Bay Resort & Spa.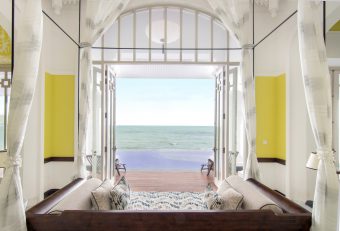 SETTING THE SCENE
Tucked on Vietnam's south coast of Phu Quoc island, JW Marriott Phu Quoc Emerald Bay Resort & Spa welcomed us with grandeur entrance, hinting that extraordinary experience was about to kick off. Vividly painted buildings with great details on the outside arrived our vision, affirmed that this is much beyond-average place. The van docked at a sleek all-white lobby and the staffs from the table filled with variety of bells in different sizes on one corner of this roomy lobby escorted us to a bulky sofa set. Observing around, I began to wonder where exactly we were! The ambience was top-notch in style, rubbing shoulders effortlessly with those five-star hotels in Europe. Each and every showcase decorated item tells the story and reckon the fun of Bensley in creating this place. He mapped this piece of land to be the abandoned 1890s French university – Lamarck University he called it, hence, the design and every bit was craft alongside the theme to make you really feel you were in one.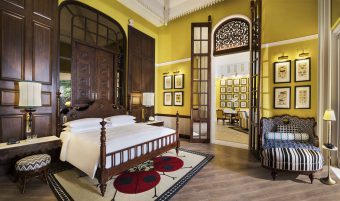 GETTING COMFORTABLE
Each accommodation building is elected to be a different department of this university. The chosen hues used for each of them were so attractive, contrasting with the bright blue sky as the backdrop of these on-ground fun elements. You have got to test your luck of which department you would be landing in as all rooms in each building features their very unique decoration. My assigned room was a real bliss, spacious, stylish and super contented. The panoramic view towards the turquoise sea and the horizon could be imbued from the expansive balcony, armed with a set of comfy sofa. The toilet is separated from the main bathroom which was the largest one I ever encountered. The oversized tub posed classically as the highlight of the marble large bathroom, while the gigantic rainshower was equally tempting. In-room amenities were of upscale and I began to wish my time here would be longer!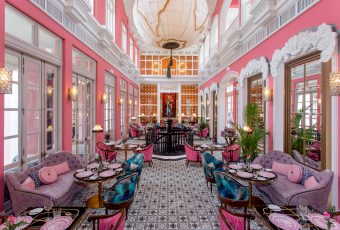 DINING OPTIONS
As a beachfront resort on a pristine island, you can be sure of fresh seafood which Red Rum – the dock-to-dish restaurant could cook and serve in perfection. This open-air by the beach features at ease ambience with professional service and interesting list of wines. On another note, Tempus Fugit has authentic local and international dishes on its menu. This is also where extensive breakfast that could lavish you from early morning till almost lunch time dwells. I was told French & Co. serves decadent and delectable freshly baked pastries and the inviting aroma of it invited me in wholeheartedly. Little was the space left in my stomach that I could only tried the croissant and I could second that it's one of the best! Another cannot-miss spot in this resort would be the pinkish Department of Chemistry Bar with its innovative list of drinks, as well as tapas and so. The round cluster seating facing the beach was the most popular place to unwind. If you were there too late for that, move inside and leisurely squat on one of the giant swings, I attest you adhere that it would be equally enjoyable.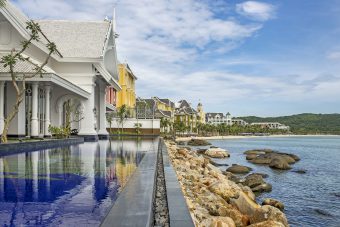 WHY I'D RETURN
I don't have any reason why wouldn't I, seriously.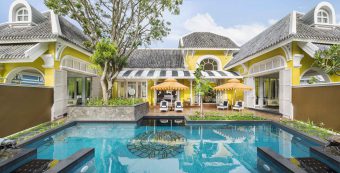 ONE OR TWO QUIBBLES…
To me, it was a real pity that I could not imbue all Bensley's dedications to this massive place, no matter how hard I tried – visiting all toilets in the public area, to start with! Every corner has its very own story to tell and I would say it excessed in a great detail that I would simply find something new on the path I went by before. It would be just awesome if there would be a guided walk through the resort, showcasing all, or most of, the gimmicks being placed here.
JW MARRIOTT PHU QUOC EMERALD BAY RESORT & SPA
Bai Khem, Phu Quoc District, An Thoi Town, Vietnam
T: +84 297 377 9999
W: www.marriott.com/hotels/travel/pqcjw-jw-marriott-phu-quocemerald-bay-resort-and-spa
FACEBOOK @jwmpqgastronomy
Text by Natasha P