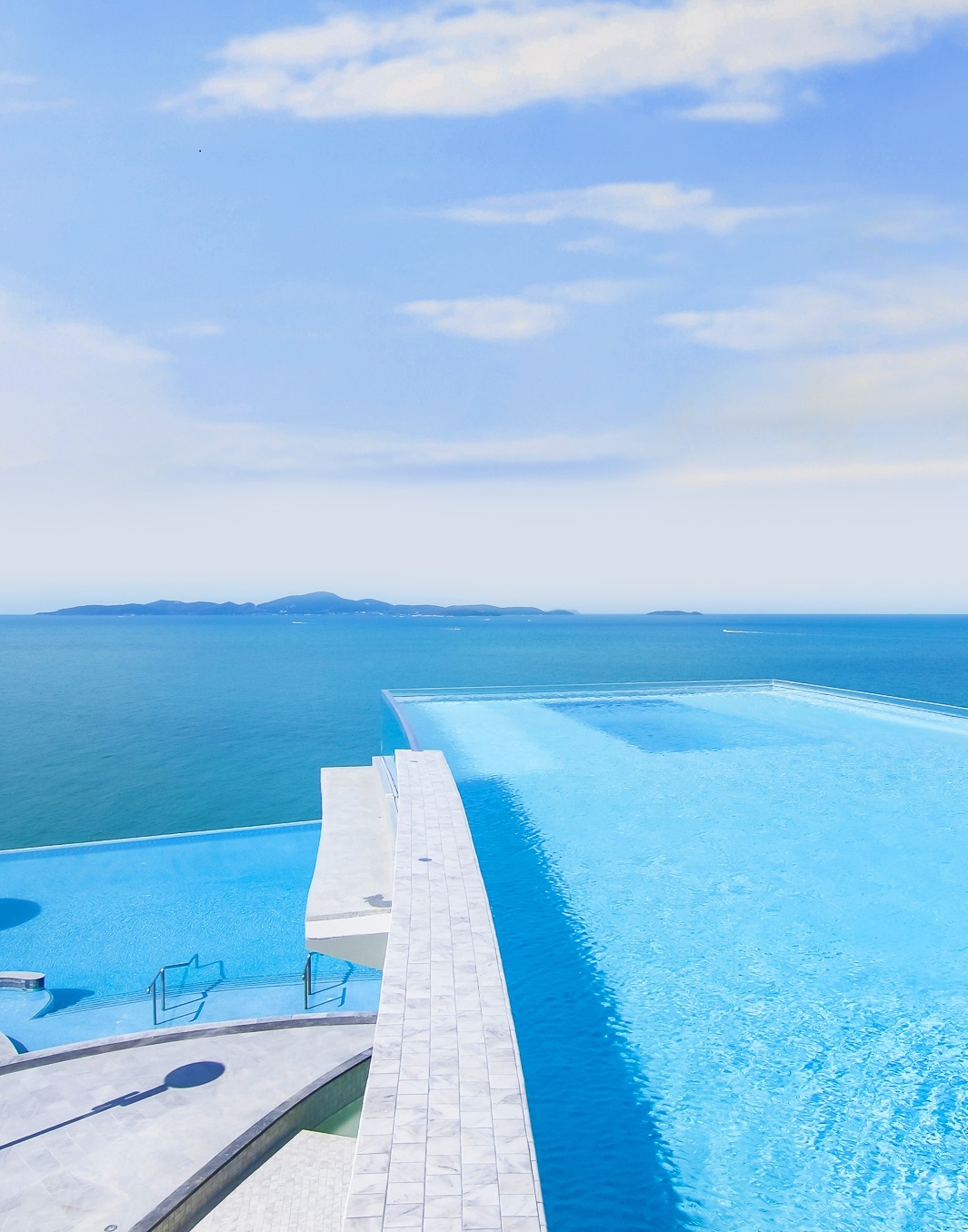 Magical Holidays and Extraordinary Experiences at the Royal Cliff Pattaya
The multi-award winning Royal Cliff Hotels Group has been a hospitality landmark in the vibrant city of Pattaya for more than 4 decades and it is well loved by guests from around the world. Constantly upgrading, it is a safe haven for travelers to spend quality time with their loved ones, enjoy total relaxation or stay active with multiple sport facilities on-site.
Offering different types of accommodations, the resort continues to adapt its facilities to ever-changing customer demands and tirelessly upgrades while keeping its heritage spirit alive. A recent major makeover in the rooms and suites at the Royal Cliff Beach Hotel has elevated the property to a new level of modern luxury.

Superb Family-Friendly Facilities
Experience Royal Cliff's new spectacular infinity-edged pool, Sky Aquarium at the Royal Cliff Beach Hotel! This incredible pool features an exciting kids' pool along with multiple spots for various activities, including outdoor massages, surf skating, and many more. Guests are able to take a refreshing dip while immersing themselves in the awe-inspiring panoramic sea views and the new sensational surrounding landscape. Chill out at the adjoining pool bar where you can treat yourself to a dizzying array of refreshing ice-cold mocktails and other alcoholic beverages!   It is the perfect place to bask in the sunshine while enjoying delicious cocktails during the day or experiencing unbelievable sunsets in the evening. 
 The Royal Cliff also successfully hosts popular family-friendly events that have become part of Pattaya's most anticipated events every year.  It offers family–friendly accommodations along with on-site amenities that keep both parents and kids happy and entertained at all times. Funtasea – Kids World and The Verge – Games, Pool and Karaoke offer productive and fun activities for families to enjoy.

New 2-Bedroom Thai Modern Theme Suite
This beautiful suite is inspired by beautiful white sandy beaches, glowing pearls, and the mystique of ocean corals. Luxury reigns supreme inside these new modern 2-bedroom theme suites. Experience an elegant minimalist white theme with a contemporary twist lightly accented by blue and purple furnishings and a dramatic chandelier. The suite offers an exquisite interior design, unmatched ocean views of the stunning Gulf of Thailand along with plenty of space to relax. Whether you want to read a book in the master bedroom or watch TV in the comfortable living room, every area of the suite will surely delight you. The newly renovated bathroom invites you to relax in a large Jacuzzi whilst soaking up the magnificent sea views. In addition, the large rain showers will be a great way to energize you to start the day. Enjoy every moment in this serene and ultra-chic retreat which is perfect for friends and families.

Royal Cliff is the Only Hotel in Thailand to Win the Best of SHA Award for Hotel Accommodation
The Royal Cliff remains a safe haven where essential services can be enjoyed with the appropriate safety precautions in place.  It has achieved the amazing milestone of being the only hotel in Thailand to be awarded the "Best of SHA Award" for Hotel Accommodation.  This cements its place as a destination that has excellent safety and hygiene measures in place to prevent the spread of Covid-19. It has also developed its Prevent and Protect Program which consists of a wide range of measures to ensure that guests will always have an extraordinary and safe stay in all its different hotels.
Royal Cliff Hotels Group
353 Phra Tamnuk Road, Pattaya, Chonburi, Thailand 20150
Tel: +66 (0) 38 250 421
Email: relax@royalcliff.com
Website: www.royalcliff.com
Facebook: @royalcliff