Oakwood To Open Two Properties Within The Beijing 2022 Winter Olympics Zone
Oakwood® today announced two serviced apartments within Sinobo Taizicheng Resort in the Chongli district of Zhangjiakou in Hebei Province, People's Republic of China. Oakwood Suites Chongli and Oakwood Hotel & Apartments Chongli will be located in the 2022 Winter Olympics Zhangjiakou Zone.
Scheduled to open in December 2020, Oakwood Suites Chongli is a private retreat nestled in the State Villas with unobstructed views of rolling greens and scenic mountains. Enveloping the estate, guests will find serenity amidst sleek modernity and can select from 118 luxe studio, one- and two-bedroom apartments. Facilities at Oakwood Suites Chongli include a restaurant with a private dining room, a tea lounge, a lobby bar, a fitness centre, a swimming pool, as well as retail options such as a ski shop and a sundry shop.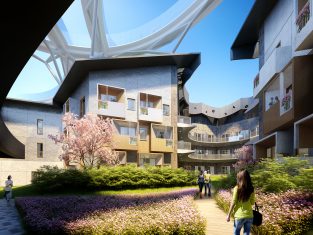 Oakwood Hotel & Apartments Chongli will open in August 2021 in the Taizicheng Village – the resort's heartbeat with premier outlets, retail, restaurants, bars, and co-working spaces. Offering 173 hotel rooms and one-bedroom apartments, guests at Oakwood Hotel & Apartments Chongli will also have access to a dining area, fitness centre as well as meeting rooms.
Situated within the Chongli district – a popular skiing destination, the 2022 Winter Olympics Zhangjiakou Zone will play host to the Beijing 2022 Winter Olympics events such as snowboarding, skiing, ski jumping, Nordic combined and biathlon. Travellers can easily access Zhangjiakou from Beijing in less than an hour when the Beijing-Zhangjiakou high-speed railway is completed at the end of this year. The Taizicheng Resort will also comprise an international convention centre, the Taizicheng Village which offers retail, dining and accommodation options, as well as the State Villas which features a collection of luxury accommodations for distinguished travellers.