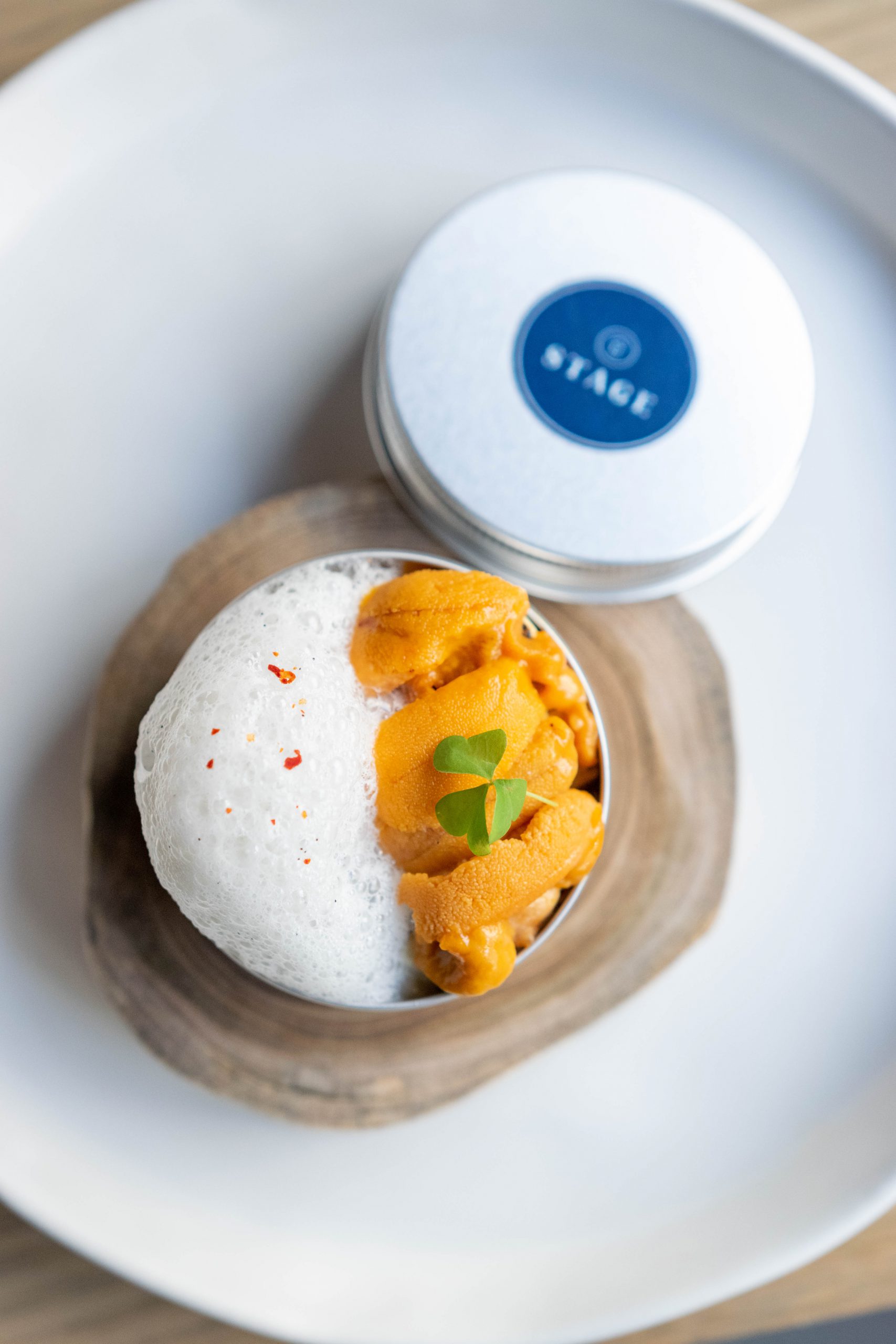 Restaurant Stage: the Stage of Being State-of-the-Art
Hidden in the bustling Ekamai area is an unmissable spot for all food connoisseurs: Restaurant Stage. Led by Chef Jay Sangsingkaew, who has obtained years of experience in French gastronomy, every single dish she and her team design is filled with creativity that creates utmost delectability.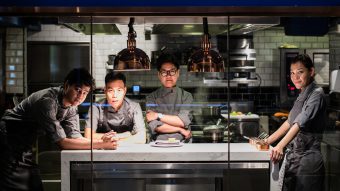 Having been a "stage", meaning apprentice in French, at world-famous L'Atelier de Joël Robuchon, she implements French techniques and adds touches of Modern European cuisine to the fares. Besides, the team is devoted to finding ingredients of highest quality and makes the best use of it. This is why their crafts are purely charming.
By the time I visit the place, they are serving Nordic-inspired cuisine, which is quite an unusual experience in Bangkok.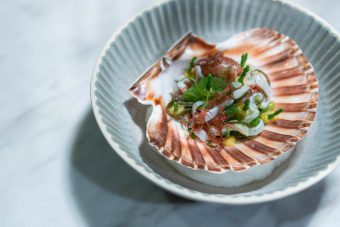 Snacks served to trigger the appetite are melt-in-your-mouth dried aged duck with shallot gel and cracker topped with ikura, to be enjoyed with kombucha. From the Sea comes next inside a shell. The pearl inside comprises 3 types of seaweed, poached-then-grilled squid giving fantastic texture, and passion fruit gel dressing.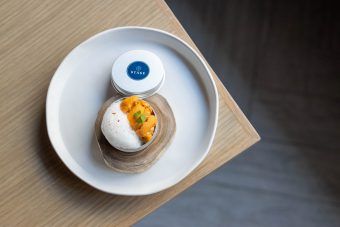 After the appetisers is a metallic box of wonders with ultimately refreshing senses. Placed right before me is fresh Hokkaido Bafun Uni that hides brown crab below itself. The sided white foam is made with Hokkaido milk corn and vanilla with subtle saltiness added. The bites are paired with Junmai daigingo sake, which is the highest grade of Japanese rice wine.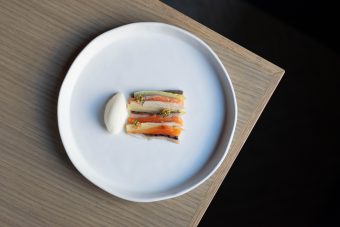 As preservation has been a Nordic lifestyle for a long time, the chefs play with such tradition in a creative way. The slices of white tuna belly confit, smoked trout, and pickled mackerel may look quite simple, but they are exceptionally tasty, especially with pickled white asparagus and horseradish ice cream. Apart from being heavenly in taste, it is a very nutritious dish with essential fatty acids.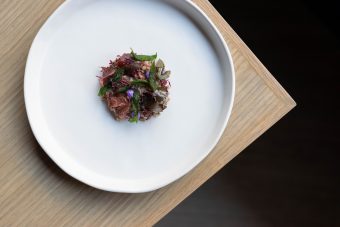 Moving on from the sea, From the Land is quite a unique dish of meticulously dry-aged venison tartare, served with truffle dressing, lavender, and clove. Pairing with a glass of earthy Pinot Noir, this is a blissful sensation.
The previous dishes are already wonderful, but the next plate surprises me even harder. A Spanish Carabineros is transformed into palatable cuisine. Its head is added to the stock, which is used to cook the rice, and then transfigured into a crispy chip. Its alluring body is brushed with citrusy olive oil that helps bring out the best of its flavour. The Carabineros is to be savoured with classy Wiener Gemischter Satz wine with the right balance between sweetness and bitterness.
It's time to take a short break before the next best thing with some small bites. Delectable Caviar Bun and mouth-watering Abalone are served with rare Savoie Chignin-Bergeron wine with amazing aftertaste.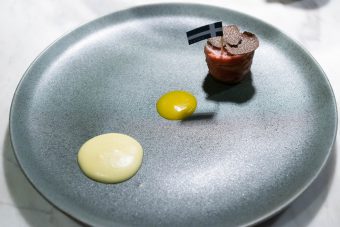 Before the experience ends, they make sure that I am satiated with special Meat Loaf, a homey menu that is turned into an impressionable encounter. It is a combination of A4 Hokkaido Wagyu and A5 Australian Wagyu, topped with truffle, served alongside with peach jam and mashed potato. It's stunning how such simple-looking food can taste and smell elegantly good.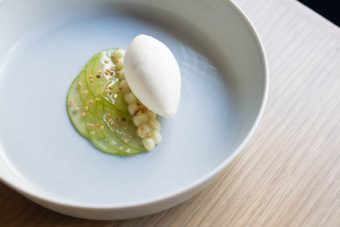 Granny Smith apple with yogurt sorbet and bee pollen are naturally refreshing, especially with one-of-a-kind French cider from Normady, followed by the dessert trolley full of delicacies made with Nordic ingredients.
The cuisine alone makes a massively great impression. However, the wine and drink pairing here creates a sheer elation to the meal. Khun Louis, the restaurant manager and Sommelier knows so well about his brilliant choices of wine that I am excited to know the story behind every glass. If you are here at Restaurant Stage, please let yourself revel into both edible and drinkable arts.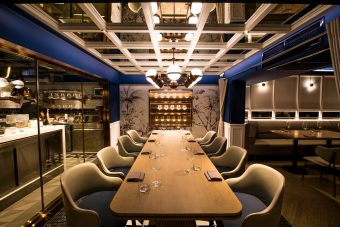 RESTAURANT STAGE
359/2 Ekamai Complex, Sukhumvit 63, North Khlongtan, Wattana, Bangkok
T. +66 (0) 2 002 5253 / +66 (0) 83 623 4444
INSTAGRAM: @stagebkk
Text by Pakvipa Rimdusit