Sweetest Valentine Giveaway (ENDED)

By Lifestyle+Travel
Alas, there can only be one lucky winner and congratulations to Khun Mameaw Meawmeaw. You have won a 2-night stay at Centara Sandy Beach Danang, Vietnam. Please send us a message on or before 15 February 2020 to claim your prize.
Thank you everyone for participating in our lucky draw. Keep an eye on lifestyle+travel page. Never know, it might be your name up in lights (more or less!) next time!
The competition ended on the 10th February 2020 and the lucky winner has been selected and annouced on 11th February 2020. Thank you for your interest.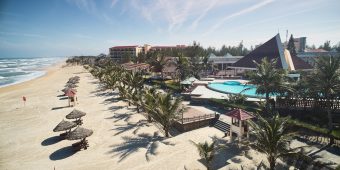 By Lifestyle+Travel
St. Valentine's Day is just around the corner and it's high time to decide what you're going to treat your dear one to. The present you'll give them should reveal your deepest feelings and remind of your care. If you're looking for the most romantic gift ideas for Valentine's Day, you have certainly come the right way! In this video we've collected 9 items that will put a smile on your loved one's face or even bring sweet tears to their eyes. Look through the list to pick something special for your better half. Don't forget to scroll down the page and join our contest for your chance to win a box set of AloEx Hair Regrowth Shampoo and Serum! Issey Miyake ' f ' Exclusive Edition First released in June 2018, the "f" Series was created in collaboration between ISSEY MIYAKE Watch Project and Ichiro Iwasaki which features two symmetrical sets of numbers for AM and PM represent the two different faces of our day, telling the story of the 24 hours in a day. MCM LUNAR NEW YEAR CAPSULE COLLECTION Inspired by the Chinese logic puzzle popularized throughout the world in the early 1800s, MCM makes tribute to Tangram and the Bauhaus, blending MCM's classic motifs with geometric designs featuring colorful architectural shapes, playful patterns and layered color blocks. Shiseido Ultimune Duo Set The ultimate serum for enhancing skin's inherent multti defensive power against signs of aging, environmental factors and daily stress. Sweet Furla Bag Spread a little love for Valentine's Day with the heart print embossed leather bag from FURLA. This specially curated assortment of collectible handbags in shades of black, white and red is guaranteed to impress that special someone. PIAGET's Valentine Collection Inspired by the iconic ring, Piaget offers a playful and trendy bracelet in rose gold with two turning bands paved with a pure line of diamonds.Playing with this precious bangle becomes a daily ritual for the self-assured women who possess their lives. Coach CitySole An innovative new footwear collection that merges the house's fashion authority with leading technology to increase comfort and flexibility and minimize impact and weight. Cartier Platinum Tonneau Cartier Tonneau Cartier Platinum Tonneau Cartier Tonneau shaped wristwatches can be dated back as early as 1906. These early examples have become the inspiration behind current models based on the iconic case design- such as the Cartier Privé Tonneau. For more information, please visit https://www.lotusartsdevivre.com Emporio Armani Sunglasses These Emporio Armani frames have core elements that are revisited in a modern take on a fresh style, with innovative and trendy colourful designs. Perfect to suit all looks. Win A Box Set of AloEx Hair Regrowth AloEx Hair Regrowth Shampoo and Serum are products specially developed for those who suffer from hair loss, thinning hair, and unhealthy scalp. Both products are extracted from various kinds of Thai herbs e.g. kaffir lime, butterfly pea, aloe vera, henna, garden quinine, moringa, fame flower, soap nut, bamboo leaves, and gotu kola, and have been certified by scientists and hair and scalp specialists. For more information, please visit https://www.aloexhair.com This AloEx Box Set will make the perfect