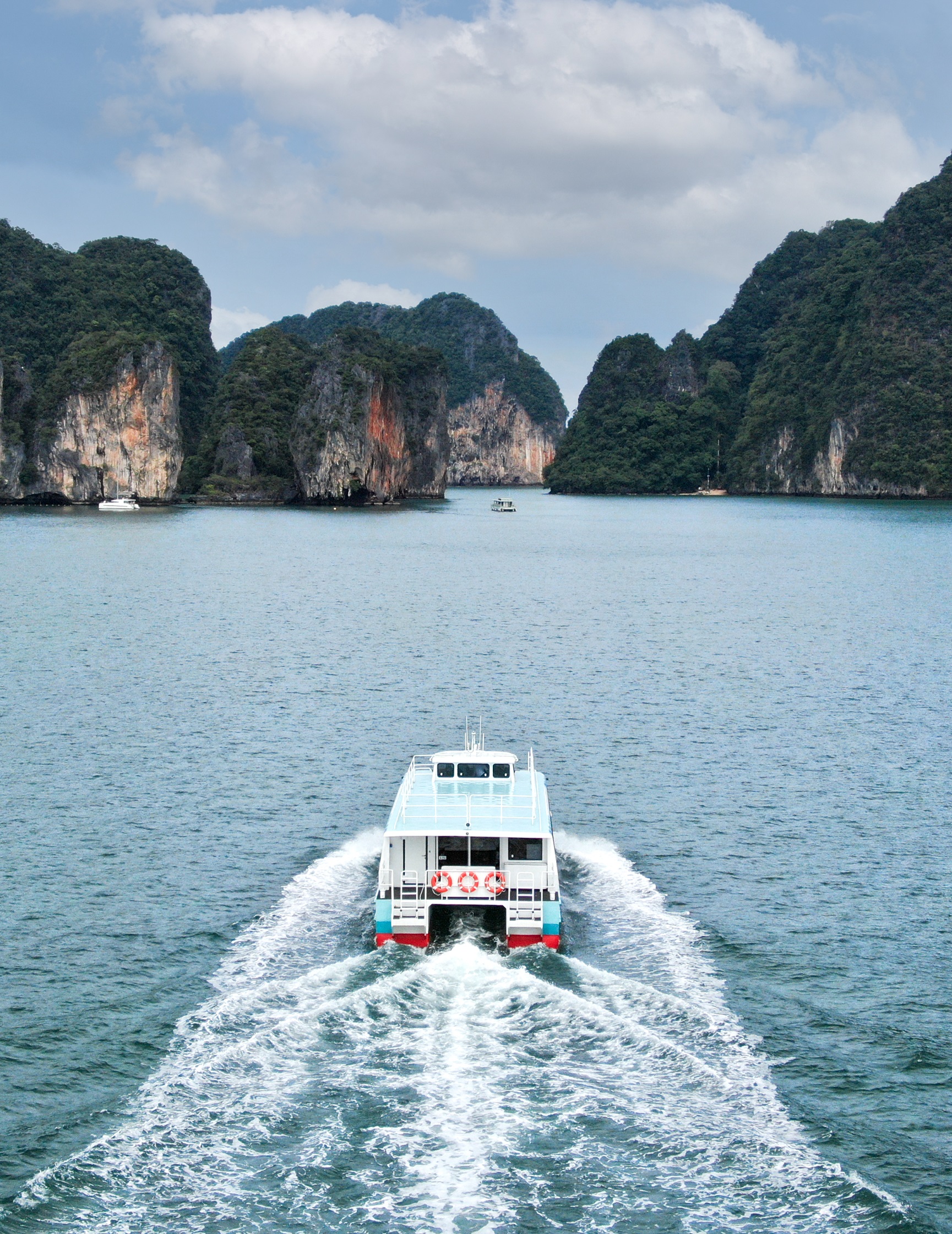 Thailand's First Eco-Friendly Banpu NEXT e-Ferry Launched in Phuket
Banpu NEXT,  in collaboration with Phuket Patri Tour, has recently lauched innovative Banpu NEXT e-Ferry in Phuket as Thailand's first marine tour electric ferry, starting its first route with Phuket – Phang-nga tour. Tourists are welcomed to embark on a clean energy ferry to take pleasure in green tourism, visiting the country's most stunning spots in gorgeous Phang-nga Bay including Ko Pa Nak, Ko Hong, Khao Ta Pu (James Bond Island) and Khao Phing Kan.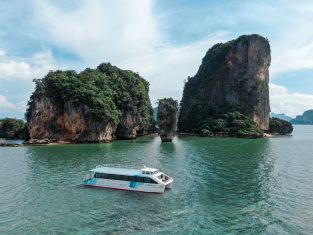 Key features of Banpu NEXT e-Ferry include its capabilities in terms of traveling comfort, high level of safety, being built under ISO 9001: 2015 standards for quality management system, and energy-saving and eco-friendly advantages because it does not create any oil and noise and air pollutions.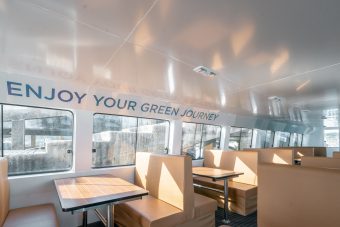 If all of  marine tourism activities in the Andaman Sea and the Gulld of Thailand are electrified like Banpu NEXT e-Ferry, over 53 million liters of fuels can be saved and 140,000 tonnes of CO2 emission can be reduced in one year, which is equivalent to planting 17 million trees. This pioneering project could lead to massively beneficial changes to the environment, without having to sacrifice the joy of travelling.
For more information and for booking a chartered tour, please call + 66 (0) 76 263 558, visit website www.phuketpatritourgroup.com or go to Facebook page 'Phuket Patri Tour'.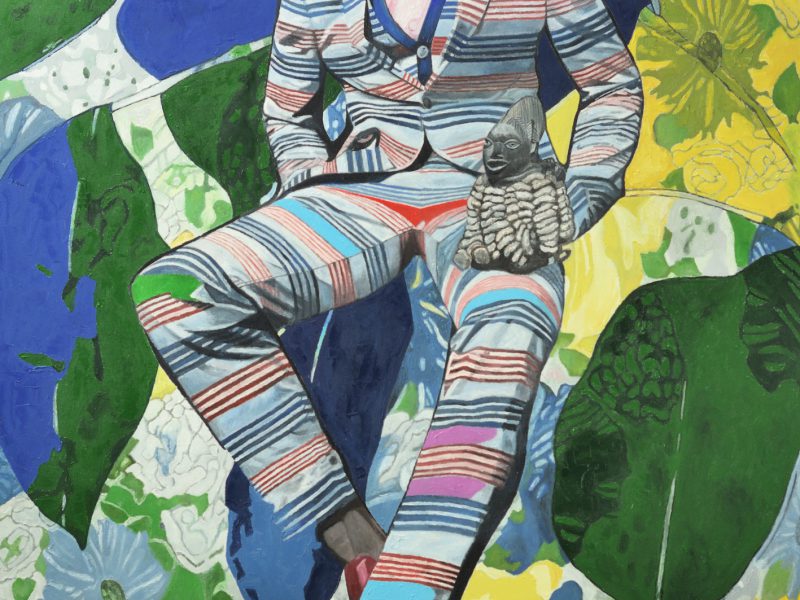 By Lifestyle+Travel
Since 2016, ART x Lagos has been a cornerstone of the African art scene, as well as the first of its kind in West Africa. Over 30,000 visitors, from art collectors, art patrons, scholars, to critics and more, have traveled from all over the globe to visit this cutting-edge art fair. The fair has also hosted delegations from leading global art institutions. The growth of the scene is undoubtedly indicators of Lagos' position as a fast-emerging and exciting cultural hub. As this year has given most people a reason to reflect and pivot, these galleries represent the resilience and creativity of the African continent. Visitors to the online fair via ARTXLAGOS.COM will be able to explore 200 works from leading artists offering up new perspectives on histories grounded in Africa and its people. BLOOM ART LAGOS Lagos, Nigeria Currently a unique fusion of an art gallery and private studio, Bloom Art Lagos offers intimate exhibitions in an accessible format that is supported by coveted ancillary programming, tailored to each exhibition. Inspired by a desire for innovative approaches to showcasing and challenging Nigerian artists, the gallery offers pointed perspectives on contemporary visual art, connecting it to significant cultural precedents. Featured Artists: Angela Amami Isiuwe, Gbenga Offo, Olu Ajayi, Richardson Ovbiebo and Uchay Joel Chilma. ED CROSS FINE ART London, UK Ed Cross Fine Art collaborates with emerging and established artists on the African continent and its Diaspora, seeking to stage conversations between practitioners and international audiences, as guided by its artists. The exhibition platform seeks to amplify voices historically silenced, and to create space for their independent development. Featured Artists: Abe Odedina, Tiffanie Delune and Wole Lagunju. GALERIE CÉCILE FAKHOURY Abidjan, Côte d'Ivoire Opening its doors in 2012, Galerie Cécile Fakhoury had by 2018 expanded to Dakar, Senegal, and Paris, France. Strongly rooted in their respective identities and stories, the artists it represents distinguish themselves through the use of a language that abolishes barriers and rejects geographical stigmatisation. Featured Artists: Aboudia, François Xavier Gbré, Ouattara Watts, Roméo Mivekannin and Sadikou Oukpedjo. GALERIE MAM Doula, Cameroon With nearly 25 years of experience and a strong professional reputation in the art market, Galerie MAM continues to offer exciting programs to its collectors and art lovers, in addition to providing advisory and logistics services. The gallery plays a significant part in the promotion of contemporary African art offering a robust program with a diverse catalogue of works. Featured Artists: Bernard Matussière, Boris Nzebo and Claudie Poinsard. Kó Lagos, Nigeria In Yoruba, kó translates as a verb meaning 'to gather' or 'to build'. The art space is dedicated to promoting modern and contemporary art with a dual focus on championing Nigeria's leading artists from the modern period and celebrating emerging and established contemporary artists across Africa and the Diaspora. It aims to support the visual arts in Africa by providing a platform to communicate, share and grow. Featured Artists: Ben Osawe, Chike Obeagu, Chioma Ebinama, Isaac Emokpae, Toyin Loye and Uzo Egonu. LOUISIMONE GUIRANDOU GALLERY Abidjan, Côte d'Ivoire LouiSimone Guirandou Gallery was formed from pioneering gallery Arts Pluriels, one of the first traditional and contemporary art galleries in Africa. Through an eclectic program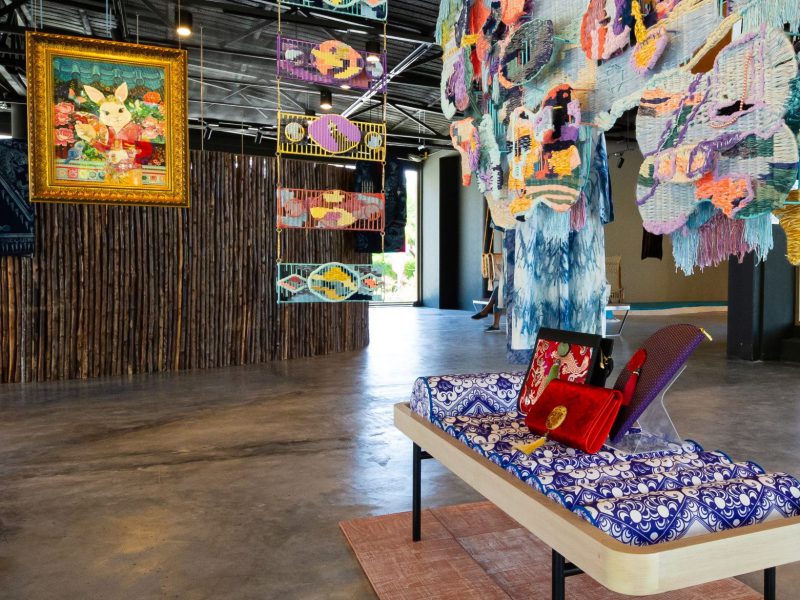 By Lifestyle+Travel
Phuket is an island of sophistication with an ever-evolving cultural scene. The recent opening of Living Art Gallery has elevated the local art scene to international level. Set in the centre of Blue Tree, the lifestyle hub of Phuket, the new gallery promises to showcase revolving exhibitions of works by Thai artists of different genres, as well as by designers who work closely with Thai artisanal communities, which the gallery intends to support. Led by Somchat Krainara, The Living Art Gallery will host its inaugural annual festival in Phuket during 26 - 29 November 2020. "Phuket is a tourist destination because of its local attractions. The city has its own charms and characteristics, drawing in visitors from all over the world. The city is incredibly rich in culture, and by bringing art into Phuket I'm hoping it will enhance the art and cultural reputation of the destination -- in other words making Phuket become known as a MICE destination for arts, and creating a truly cultural and creative city," said Somchat. Both the gallery and the upcoming festival hold on to the same purpose – to provide a platform for emerging Thai artists to showcase their work to an international audience, and to support artisanal communities across Thailand with opportunities to make connections with art lovers, fellow artists and designers, and an international audience. Living Art Gallery is divided into four zones: Zone 1: Peranakan Culture (Baba-Yaya) in Phuket Province Inspired by the traditional Peranakan houses of Phuket old town, Awika Samukrsaman – the apparel designer – creates woven textiles in pastel hues that interpret the patterns, colours and symbols of southern Thai culture. Awika has been w orking closely with local communities to preserve the local traditional knowledge of textiles and weaving, while pushing it into a contemporary direction. Within the conceptual Peranakan house, the vivid and intricate embroidered paintings of Sunisa Assawinrungroj are displayed. Stirred by the death of her pet rabbit, Sunisa embroidered delicate rabbits in traditional Phuket dress into these pieces. Hanging in one corner is Rungcheewan Kamvichit's collection of contemporary tie-dyes, made using fine Thai silk and the rare Shibori tie-dye technique. On the opposite side hang a painting titled Sao Phuket by Sarawut Yasamut which depicts a southern woman carrying a Chinese-style food basket and embraced by flowers native to Phuket and Indonesia. Ongkorn Sinlapangkul is also featured in this zone, with the artist's special interpretation of the colours and sights of Phuket in two fantastical paintings of a seahorse and woman with a dragon mask. Zone 2: Forest and Landscape of Phuket The second zone of the gallery takes visitors on a journey through Phuket's landscape from the viewpoint of artists. It kicks off with a special collection of nature-inspired ceramics crafted by master artisan Professor Somlak Pantiboon, known for his pottery studio Doi Din Dang in Chiang Rai. Also hailing from northern Thailand, but from Chiang Mai, is Likit Tunoud who describes the interaction of humans and nature, and its oftentimes destructive consequences, in intricate ink-on-paper drawings. Adding his influence to this zone is Professor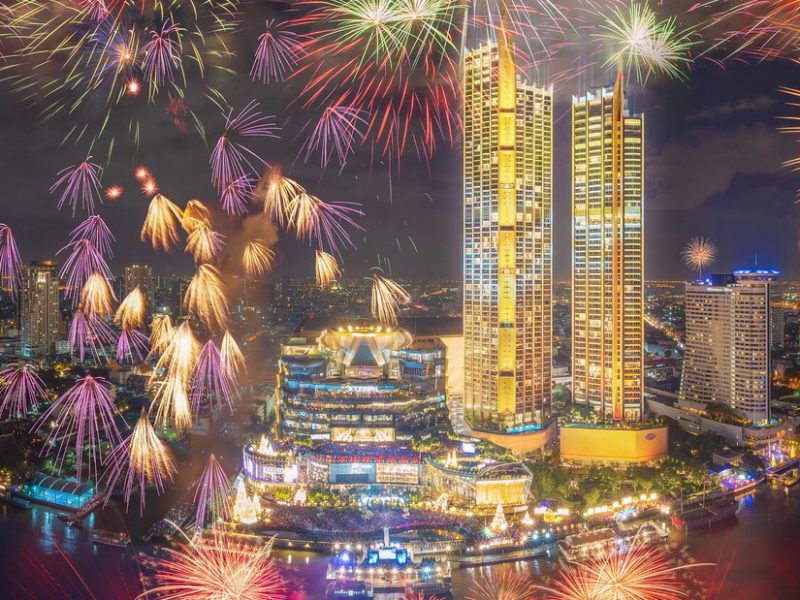 By Lifestyle+Travel
The Tourism Authority of Thailand (TAT) joins forces with ICONSIAM and entrepreneurs along the banks of Chao Phraya River to unite Thai hearts by organizing the mega-phenomenon "Amazing Thailand Countdown 2021" promising to become the most spectacular celebration of Thailand to ring in the New Year, under the concept of "The Wonders of Happiness upon the River", representing hope, faith, prosperity, and happiness. The mega-event will feature  over 20,000 spectacular, eco-friendly fireworks, which are made from Thai sticky rice, that will be lit up along the most beautiful curve of the Chao Phraya River spanning an area of over 1,400 meters and within a distance of over 5 kilometers of the city-wide celebration. Each act signifies auspicious meanings of Big Hope, Believe, Brilliant Life, Beautiful World, Blooming Wealth, Be Together (presented by True Corporation), and Best Begin. In addition to a myriad of entertainments throughout the night of New Year's Eve by top artists and the avant-garde fireworks, one of the unmissable activities is the "Amazing Thailand Countdown 2021" video and photography contest under the theme of "Magic upon the River", granting over THB 500,000-worth prizes to the winners. The countdown celebration event will be broadcast live on Thairath TV 32 HD Channel as well as on the online platforms via Facebook pages of ICONSIAM, Thairath Online, Khaosod and TrueID application. ICONSIAM is easily and rapidly accessible via the complete modes of transportation - cars, rails, and boats. The operation of Bangkok's Gold Line electric rail route in December will also ease the public transportation.