"The Dance In Between" at River City Bangkok
Due to today's situation filled with uncertainty, anxiety, and insecurity, "The Dance In Between" art pieces by Hiroko Hongyok will touch your soul in an exquisitely soothing way.
Being "in between" is like walking into a desert without a compass, being surrounded by nothing but sand. In this state, it's easy to feel lost, being overwhelmed by fear, especially when it involves your aspirations, dreams, career and relationships. Instead of worrying about what is out of our control, why not learn to cherish the unknown?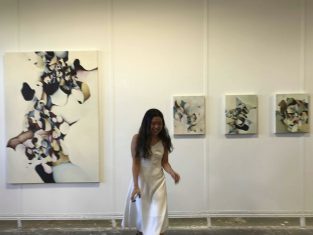 "The Dance In Between" exhibition is a celebration of the "in-betweenness" in an eye-opening way. The exhibition invites you to interact with the ambiguity of "neither black nor white", in a playful, yet thought-provoking manner. Growing up familiar with the teachings of Zen, Hiroko Hongyok's practice is inspired by the Japanese aesthetic ideal of "Ma" (間), which is defined as "the space between objects, the silence between sounds, the stillness between actions". Hiroko represents "Ma" (間) through abstract forms that play deliberately with the boundaries of dichotomies; hovering in between expansion and contraction, revealing and concealing, inside and outside, movement and stillness. Like dancing, Hiroko invites the audience to discover this "in-between" state and enjoy every moment of life.
Experience "The Dance In Between" at Room 248, second floor, River City Bangkok from 11 February until 14 March 2021. Free Entry.
In response to Covid-19, this exhibition is open for limited capacity of 10.