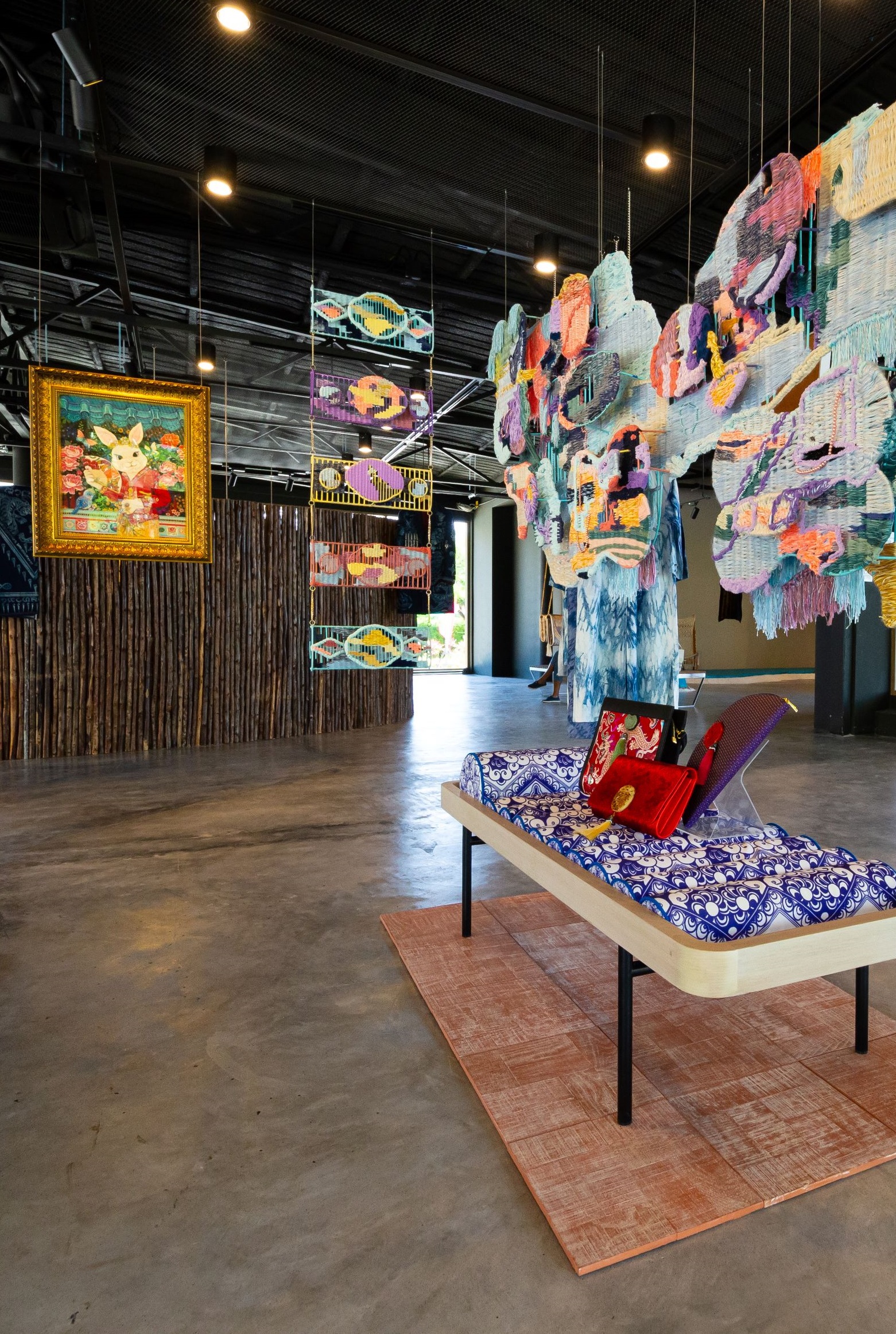 The Living Art Gallery: Art for All
Phuket is an island of sophistication with an ever-evolving cultural scene. The recent opening of Living Art Gallery has elevated the local art scene to international level.
Set in the centre of Blue Tree, the lifestyle hub of Phuket, the new gallery promises to showcase revolving exhibitions of works by Thai artists of different genres, as well as by designers who work closely with Thai artisanal communities, which the gallery intends to support.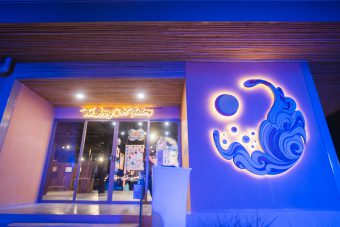 Led by Somchat Krainara, The Living Art Gallery will host its inaugural annual festival in Phuket during 26 – 29 November 2020. "Phuket is a tourist destination because of its local attractions. The city has its own charms and characteristics, drawing in visitors from all over the world. The city is incredibly rich in culture, and by bringing art into Phuket I'm hoping it will enhance the art and cultural reputation of the destination — in other words making Phuket become known as a MICE destination for arts, and creating a truly cultural and creative city," said Somchat. Both the gallery and the upcoming festival hold on to the same purpose – to provide a platform for emerging Thai artists to showcase their work to an international audience, and to support artisanal communities across Thailand with opportunities to make connections with art lovers, fellow artists and designers, and an international audience.
Living Art Gallery is divided into four zones:
Zone 1: Peranakan Culture (Baba-Yaya) in Phuket Province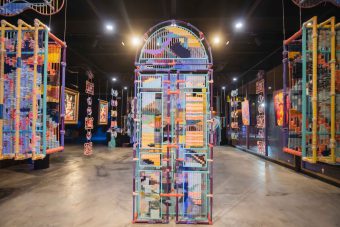 Inspired by the traditional Peranakan houses of Phuket old town, Awika Samukrsaman – the apparel designer – creates woven textiles in pastel hues that interpret the patterns, colours and symbols of southern Thai culture. Awika has been w orking closely with local communities to preserve the local traditional knowledge of textiles and weaving, while pushing it into a contemporary direction.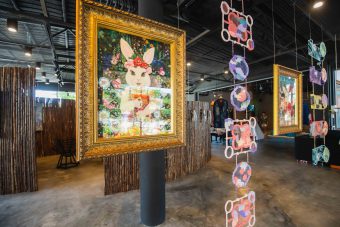 Within the conceptual Peranakan house, the vivid and intricate embroidered paintings of Sunisa Assawinrungroj are displayed. Stirred by the death of her pet rabbit, Sunisa embroidered delicate rabbits in traditional Phuket dress into these pieces.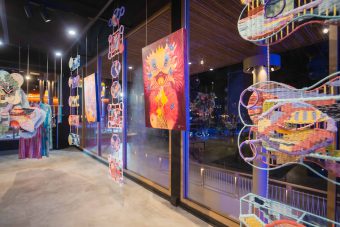 Hanging in one corner is Rungcheewan Kamvichit's collection of contemporary tie-dyes, made using fine Thai silk and the rare Shibori tie-dye technique.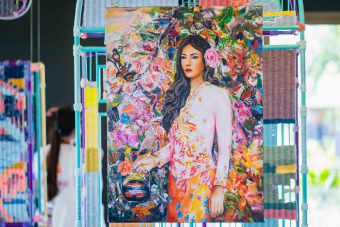 On the opposite side hang a painting titled Sao Phuket by Sarawut Yasamut which depicts a southern woman carrying a Chinese-style food basket and embraced by flowers native to Phuket and Indonesia.
Ongkorn Sinlapangkul is also featured in this zone, with the artist's special interpretation of the colours and sights of Phuket in two fantastical paintings of a seahorse and woman with a dragon mask.
Zone 2: Forest and Landscape of Phuket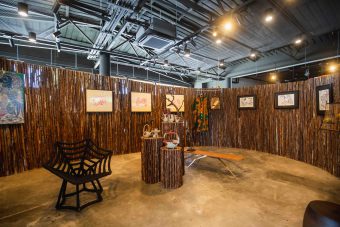 The second zone of the gallery takes visitors on a journey through Phuket's landscape from the viewpoint of artists. It kicks off with a special collection of nature-inspired ceramics crafted by master artisan Professor Somlak Pantiboon, known for his pottery studio Doi Din Dang in Chiang Rai.
Also hailing from northern Thailand, but from Chiang Mai, is Likit Tunoud who describes the interaction of humans and nature, and its oftentimes destructive consequences, in intricate ink-on-paper drawings. Adding his influence to this zone is Professor Chairit Srisa-ngasomboon, the acclaimed realistic watercolour artist, with a number of works inspired by themes of nature.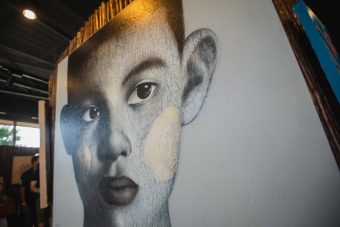 Southeast Asian culture is also highlighted with a masterpiece by Pranai Kasemtavornsilpa, who presents a figure using thanaka, the powder that is commonly applied by the Burmese and Mons to their faces.
Zone 3: Blue Ocean, the Clear Blue Andaman Ocean in the South of Thailand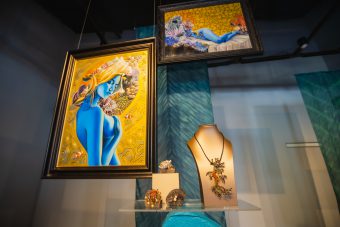 An exhibition in Phuket cannot be complete without an exploration of the deep blue Andaman Sea. The centre of attention in this zone is Gulached Kaochaimaha's powerful work that portrays a mysterious goddess of the sea that morphs into coral reefs and is surrounded by a plethora of sea creatures.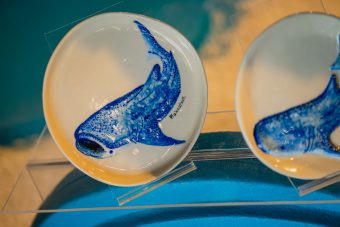 Pichupa Sapanovong, who goes by the moniker Pla Kaatoon (the Thai name for anemone clownfish) contributes to Zone 3 with her deeply satisfying acrylic paintings of whales, sea turtles and manta rays as well as her beautifully crafted ceramics depicting the creatures of the Andaman Sea – all heavily inspired by her diving trips.
Zone 4: The Performing Arts
For the opening of The Living Art, Dojo Sareena and Aor Nopawan presented a powerful performance that criticised modern consumer behaviour and wasteful communication. These two Thai artists are no strangers on international stages, and their performance led to a fruitful debate on abstract concepts depicted through art.

There was also a fashion show by Buncha Chooduang – the acclaimed fashion designer who presented a special collection of clothes with embroidered artwork made in a cooperation with inmates of Dann 3 Penitentiary.
The Living Art at Blue Tree, Phuket is open to the public daily during 15:00-22:00 with free admission. Alternatively, you can purchase a virtual reality and augmented reality tour of the gallery at thelivingart.vrtwinshop.com and www.thelivingartsthailand.com. Don't forget to watch out for the schedule of the Living Art Festival during 26 – 29 November 2020 with its variety of fascinating workshops and much more!