This November: Pop-Up Culinary Event at Kimpton Kitalay Samui By Masterminds Behind Bangkok's Samlor
Kimpton Kitalay Samui invites you to join the celebration of the resort's first anniversary with a series of exclusive pop-up event, featuring a seven-course dining experience by Thailand's acclaimed culinary talents, Chef Napol 'Joe' Jantraget and Chef Saki Hoshinowhich form Samlor in Bangkok, which will take place on 25 and 26 November at BoHo Thai Lifestyle Café.
Highlights of delectable creations include 'Marinated Local Fish Crudo' with citrus vinaigrette & chili oil; 'Curry Crab Chawanmushi' with local beans and fermented chili; and 'Grilled Wagyu Striploin' with glazed oyster, baked rice and kale.The special dining experience is priced at THB 2,500 per person, with optional wine pairing at THB 1,800++ per person. Advance reservations are recommended, which can be made at +66 (0) 77 951 999,
kimptonkitalay.info@ihg.com
or
kimptonkitalaysamui.com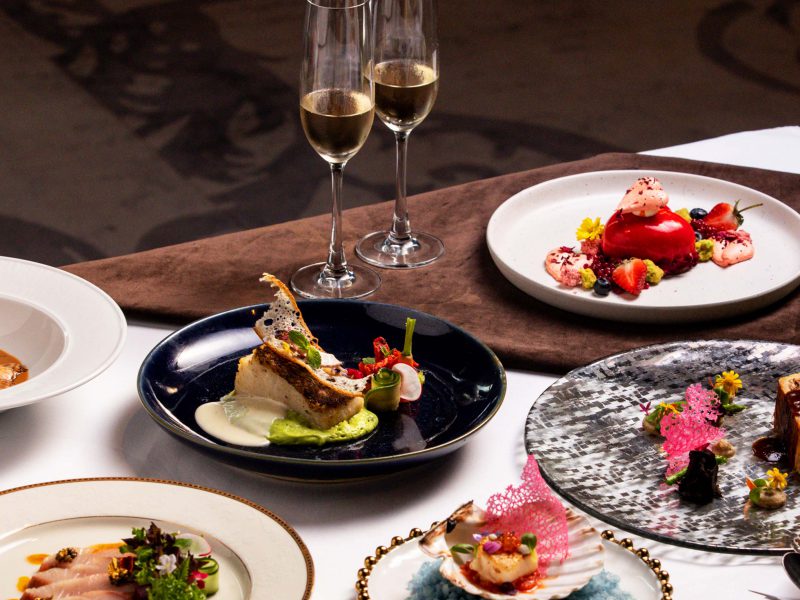 By Lifestyle+Travel
At @stregisbangkok, the spectacular VIU restaurant has a specially curated 5-course set menu for Valentine's Day that you can spoil yourself and a loved one with and tick every taste box imaginable. Opening with the Amuse Bouche of Pan-Seared Sea Scallops before floating along to the fresh taste of the Yellow King Fish Ceviche and Caviar with a Beetroot Lemon Dressing that brings a wonderful zest to the freshness of the fish, and this, closely followed by the pre-main soup of Poached Langoustine with Lobster Cream with Truffle Foam that has the most warming aroma. For the main course, you will choose between a beautifully soft Beef Wellington, the ever-delicious Australian Wagyu cased in a puff pastry that is cooked with a touch of excellence and just melts in your mouth perfectly, or the freshly Baked Snow Fish with a creamy brandy lemon sauce that brings a delicate citrus flavour to the tenderness of the Snow Fish. Dessert brings this 5-course feast to an elegant and loving close with the heart-shaped Rose Bavarois, which is executed to creamy and fruitful perfection. The Champagne Jelly Sable Breton is the finishing touch that this exquisite dessert truly deserves. This Valentine's Day, VIU is serving one of the finest menus in the city, and with stunning views and a calming atmosphere, it is the ideal setting for romance.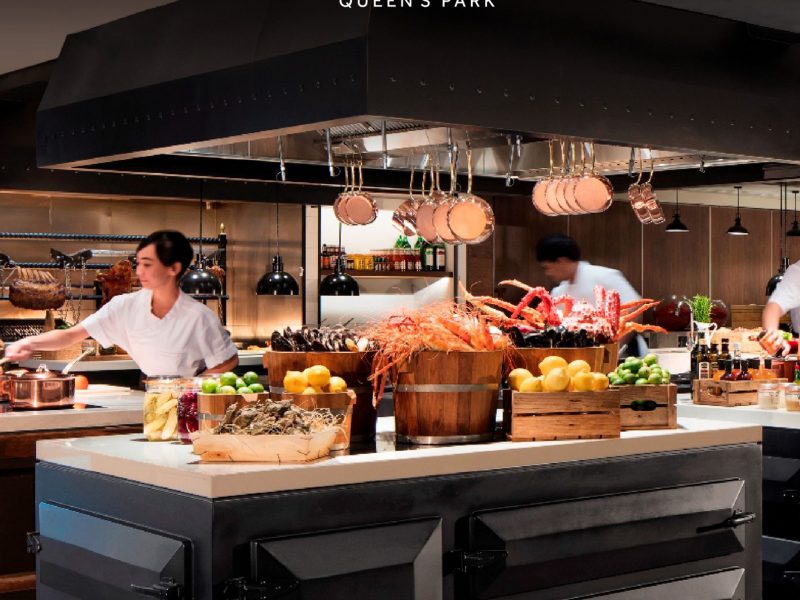 By Lifestyle+Travel
Goji Kitchen+Bar, the vibrant international culinary marketplace at Bangkok Marriott Marquis Queen's Park, is celebrating Lunar New Year in style this January with a variety of traditional Chinese dishes as part of its international buffets and brunches, to help all diners hop into the "Year of the Rabbit." From 20th – 22nd January 2023 Hotel guests and local residents are invited to come together with their family and friends to celebrate the arrival of the "Year of the Rabbit" with a selection of handcrafted dim sum, including ha gao, sui mai, and barbecued pork buns, savor a selection of soups including fish maw soup, Sichuan hot & sour seafood soup, and bamboo pith soup, or discover delicious main dishes such as steamed black grouper with soy sauce, steamed scallops with garlic & vermicelli, steamed garlic butterfly prawns, and Chinese drunken chicken. A dedicated BBQ Station will showcase suckling pig, char-sui pork, roasted duck (Saturday Lunch only) and Peking duck (Sunday Brunch only). Then on the Lunar New Year's Day during brunch (Sunday 22nd January 2023), Chef Oscar Pun will bring a special trolley to each table, piled high with "Salmon Yu Sheng" – a special Spring Festival delicacy that traditionally should be tossed in the air with chopsticks – and a special Chinese dessert! All other international buffet stations and dishes will be available, including an array of fresh seafood on ice, handcrafted sushi, and sashimi, a salad bar, roasted premium meats, sweet treats and more.Goji Kitchen+Bar's Lunar New Year Menu will be available for lunch and dinner from 20th to 22nd of January 2023, details as follows: Friday - Sunday Dinner (17.30-22.00 hrs.): THB 2,299++ per person  Saturday Lunch (12.00-14.30 hrs.): THB 2,299++ per person Sunday Brunch (12.00-14.30 hrs.): THB 2,600++ per person Marriott Bonvoy and Club Marriott discounts apply. For more information and to celebrate the Spring Festival with your loved ones, please call 02 059 5999 email restaurant-reservations.bkkqp@marriotthotels.com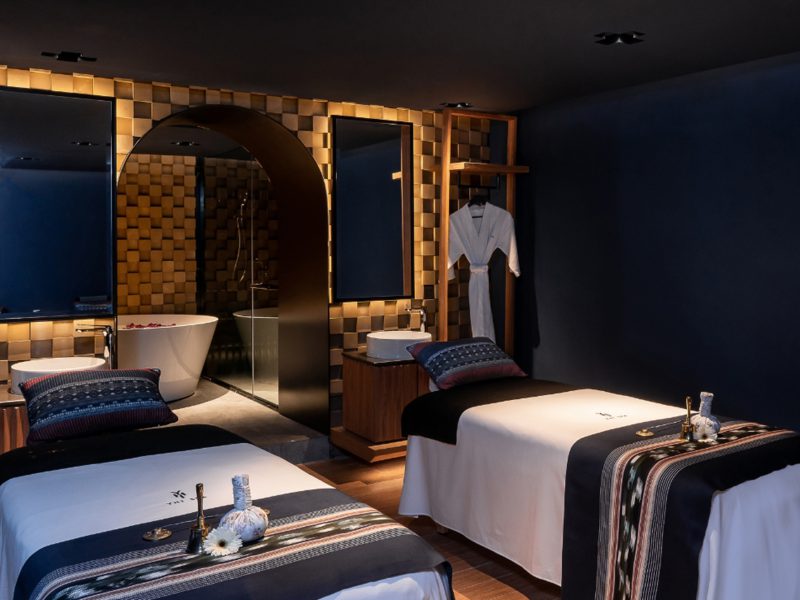 By Lifestyle+Travel
There is always a good reason to go to the spa. It is not only about making time for yourself to relax your body and mind, but also about discovering a new scene and experiencing a new spa treatment created with local wisdom and a touch of modern wellness techniques. 1. This newly opened spa in Chiang Mai is the third outlet after a successful launch in Koh Samui and Phuket. 2. The 'YHI' was inspired by the goddess YHI, responsible for life and light and personified by the sun for the Karraur First Nations people in Australia. 3. The conceptual treatment at YHI Spa is derived from ancient Asian healing wisdom combined with modern wellness techniques. 4. Its extensive spa menu includes massages, body scrubs and wraps, hydrotherapy facials, manicures and pedicures, and more. 5. The seven treatment rooms are spacious and designed with an underwater theme, with a touch of a Thai herbal sauna and steam. 6. The signature spa menu here is the 90-minute treatment that combines an ancient Northern Thai massage (Tok Sen) with a Spanish massage aimed at relaxing muscles and providing fatigue relief. 7. YHI Spa pays homage to Thailand with designated massage treatments such as "Traditional Thai," which focuses on the body's pressure points, and "Thai Lanna," which uses a Thai herbal ball. 8. "Kid Therapy" is a 45- or 60-minute treatment for children aged six to twelve years that aims to prevent hyperactivity. 9. YHI Spa uses products from HARNN, an organic Thai wellness brand. Their products are known for their natural ingredients and the wisdom of Thai artisans.