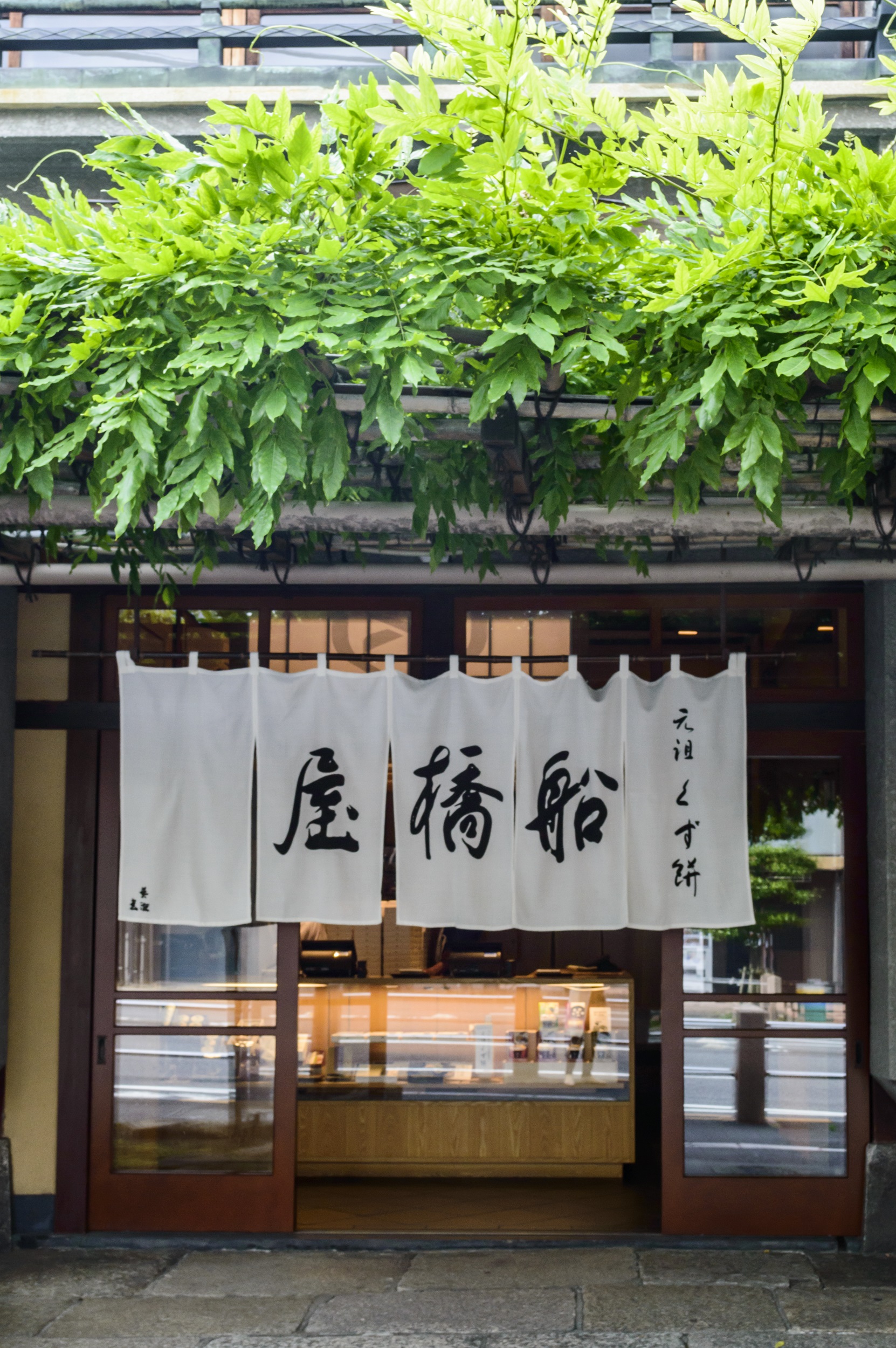 Tokyo's Appetising Scenes
Four sensational stops for a whole palette of flavours at decent prices, from traditional Japanese sweet, handmade soba noodles, healthy Japanese set meals, and flavourful Thai food. We are excited to introduce you to Tokyo's four top restaurants, presented in no particular order, in the list below.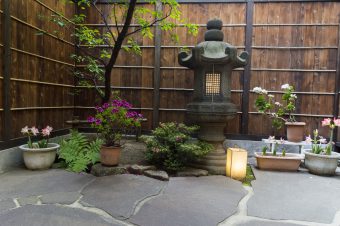 FUNABASHI-YA
Let's start with the classic traditional Japanese confectionery shop, Funabashi-ya, the old school café renowned for dainty kuzumochi located within a short walk from the scenic Kameido Tenjin Shrine. Funabashi-ya's kuzumochi is made with wheat starch that has been refined and fermented in underground water for 450 days, then carefully steamed to create a delicate consistency. Dark molasses syrup and fragrant soy bean flour are added before serving to create a trinity of exquisite
flavours.
Funabashi-ya was founded in 1805. Kansuke, the original proprietor of the company, took note of the throngs of worshippers visiting Kameido Tenjin Shrine when plum blossoms and wisteria flowers were in full bloom. He decided to build a business catering. Kansuke created his kuzumochi from wheat starch and hot water. It was a huge hit souvenir and soon became
one of Edo's most famous products.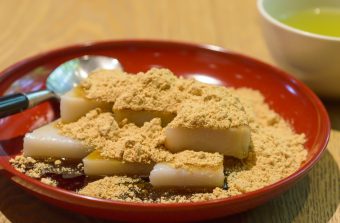 Last spring I visited this tranquil Japanese style café to try out their popular kuzumochi. The dessert was served cold and straightforward in style. The fermented wheat cakes were faintly sweet, firm yet tender. The texture was unique, not chewy
like conventional mochi, and not as firm as agar jelly. It was somewhere in between. The fragrant syrup was rich but not too thick.
Powdery soy bean flour imparted a wonderful tan colour and nutty finish to the dessert. It tasted very refreshing on a warm day. I could see why this has been the best seller for over 200 years.
Besides its delicate taste, kuzumochi is full of nutritious values. It contains lactic acid from the fermenting process which helps
boost the metabolism rate. It's great when you need something light and easy to digest.
I was actually very full but I wanted to hang around and try another sweet so I ordered a bowl of cream anmitsu, the traditional
sweet consisting of smooth red bean paste, matcha ice cream, rice dumplings, agar jelly, and kuzumochi. It was colourful, presented beautifully, creamy and flavourful.
The café also offers other options including agar jelly with red beans and tokoroten, jelly-like noodles made with tengusa seaweed – a low-calorie healthy diet with a very refreshing taste.
You can also purchase plenty of takeaway versions from the shop to recreate the experience at your place. With the heritage dating back to the Edo Period, they'll make great souvenirs, too. If you can't make it to Kameido, Funabashi-ya currently has 25 stores around Tokyo.
FUNABASHI-YA (KAMEIDO TENJIN SHRINE MAIN STORE)
3-2-14 Kameido, Koto-ku, Tokyo
Business Hours: 9am – 6pm (last order for eat-ins at 5pm)
Holiday: No scheduled holidays
W. www.funabashiya.co.jp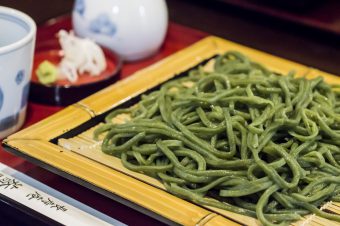 CHOJU-AN KYOSHO
If you love buckwheat and want a memorable dining experience where you mingle with Tokyo locals, try Choju-an Kyosho, a family-run soba joint in Kiyosumi Shirakawa, located right across the road from the serene Kiyosumi Gardens.
Chuju-an Kyosho serves Ni-Hachi soba: soba containing 20% wheat and 80% buckwheat. The shop carefully selects the best
buckwheat flour from Hokkaido, Yamagata, Niigata, Nagano, and Fukui to create chilled soba noodles with dipping in summer and hot broth as noodle soup in winter. Upon reservation, the shop offers course menus featuring sashimi, steamed egg, sushi made from soba and soba noodles.
On a humid rainy day, I dropped by the restaurant to try their signature, Fukagawa Gozen, a set meal comprising soba with the
assortment of seasonal tempura plus a mini serving of Fukagawa meshi, a bowl of rice topped with clams simmered in a broth made from hatcho miso and soba dipping sauce.
The chilled buckwheat noodles were chewy, smooth and refreshing. Their tempura batter was light, almost airy and just delicious, accompanied with a bottle of Himalayan salt to dip in. A clam rice bowl was savoury and sweet. The asari clams were fatty, succulent and not fishy at all. It was great to enjoy the local taste and delicious food at the same time.
I was actually very full but couldn't resist a plate of yomogi soba, special buckwheat noodles made with buckwheat flour and
mugwort powder which is available only in May and June. Yomogi soba is firmer and thicker than conventional buckwheat
noodles. It was very fragrant, smooth and firm to the bite. It was one of the best soba noodles I ever had.
The restaurant also has a variety of drinks on offer including sake and soba shochu, a liquor made from buckwheat. It is a modern variety of shochu with a mild, slightly bitter flavour. If you are new to shochu, I recommend you to pair it with tempura and
dilute the drink with soba-yu (the water that soba noodles have cooked in) so that you won't get drunk easily.
Well, I had work to do after this, so I was strictly on tea. Also obviously, I was there for the noodles and the clams. Even so, this
had to be one of my most favourite meals in Japan.
CHOJU-AN KYOSHO
1-7-2 Hirano, Koto-ku, Tokyo
Business Hours:
Monday ~ Saturday
11.30am – 14.30pm / 5.30pm – 8.30pm
Holidays: Sunday and National holidays
W. www.myfavorite.bz/kyosho/pc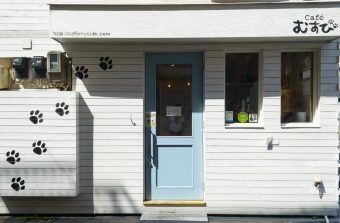 CAFE MUSUBI
Café Musubi was founded in a quiet Kameido neighbourhood, a little away from the bustling train station, two years ago. The
owner deliberately created a friendly, non-smoking, adorable café where dogs are welcome. It has been a popular hangout spot among dog owners in the area where many Japanese dog lovers appear with their dogs for a chance to let their pets interact with other furry friends.
The café serves teishoku, a type of Japanese set meal, where all of the dishes in the course are served together as a set. This is
similar to traditional home cooking but of very high quality. All of their rice is genmai kouso, germinated and fermented organic brown rice. For the main, they offer healthy options such as steamed chicken breast or pork as well as heartier options like fried chicken.
I have a thing for dogs and was pretty elated when I chanced upon this café while browsing through a local newspaper. One
fine day I decided to drop by for lunch. The red bean germinated brown rice was tender, chewy, savoury sweet and easy to handle with chopsticks. The texture of the rice was unique, obviously softer and a little stickier than conventional brown rice. It yielded a slightly sweet flavour with a hint of savoury from a sprinkle of sea salt. The fried chicken was juicy, tender and not greasy at all.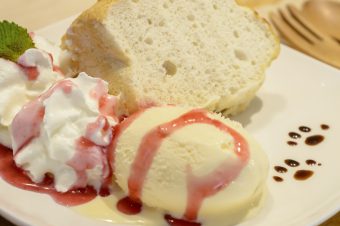 A cup of hot latte was strong yet milky without any bitter after taste. The chiffon cake arrived with a scoop of vanilla ice cream and chocolate sauce that formed adorable paw prints. The cake was light, airy, just delicious, and beautifully presented.
I've been to a number of restaurants where guests can observe the chefs working in the kitchen. However, this was my first time
to see the café's kitchen. The atmosphere was different, less hectic, relaxing like a home kitchen yet luminous and refined. The exotic wood accent in the café filled the air and I felt so good spending time in such a soothing and peaceful ambience.
The café features a monthly rotating exhibition where local artists can submit and showcase their artworks. Visitors are welcome
to purchase the works at the exhibition space and some adorable tableware here.
CAFÉ MUSUBI
7-19-7 Kameido, Koto-ku, Tokyo
Business Hours: 11am – 8pm
Holidays: Mondays and Thursdays (if Monday or Thursday is a national holiday, closed the following Tuesday or Friday instead)
W. cafemusubi.com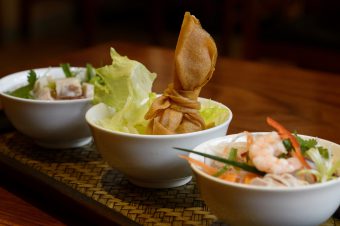 BANGKOK ORCHID
While you're here, eating Japanese food is no doubt high on your list, but if you're carving something spicy you can
also have some of the best Thai food for a very reasonable price.
Bangkok Orchid is located just a 15-minute walk from Shinkoiwa Station, in Shinkoiwa Lumiere shopping district. The restaurant is managed by Piya and Noptanin, two friends who have lived in Tokyo for decades. "We started off working somewhere else, learned the trade and went independent, starting our business here nine years ago." Piya, the owner and proprietor, recalled. "Many people told us not to open the restaurant here as it was too quiet. But, it was hard for us to get a better location. In the beginning, it was very frustrating but we clung on."
From about the fourth year, the restaurant started to gain steady customers. "Many customers were elderly locals; some even
had a hard time climbing up to the restaurant on the second floor," Piya added.
The menu is extensive, featuring the most popular traditional Thai dishes including a few twists with local ingredients plus a series of lunch sets. Their lunch set comprises a main dish such as a bowl of curry noodles, chicken rice and Pad Thai with three starters, a bowl of dessert accompanied with a cup of lemongrass tea. "Our menu is quite consistent. You can expect to see the
same menu throughout the year. However, we do offer some special seasonal menus depending on the season.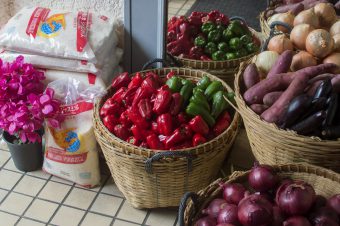 "We always stick to the recipe to ensure all the dishes come out exactly the same every time," Piya said before dishing out my order. My stir-fried seafood curry set was great and exceptionally good value. The seafood was firm, briny sweet and bouncy. The sauce was creamy, strong, and fragrant, with the kind of distinct flavour that developed over the years.
"I added the curry powder to the frying pan and kept stirring it before adding other ingredients. This gave the sauce fragrance
and vibrant colour," Noptanin, who manages the kitchen, said.
The lunch set was filling, although they may not look like it. So if you can beat the crowd and make it between 11am and 3pm
for lunch, you can take advantage of their extremely affordable lunch sets.
BANGKOK ORCHID
1-51-1 Shinkoiwa, Katsushika-ku, Tokyo
Business Hours: 11am – 3pm / 5pm – 11pm (last order at 10pm)
Holidays: Mondays
Text and Photos by Tataya Kudo