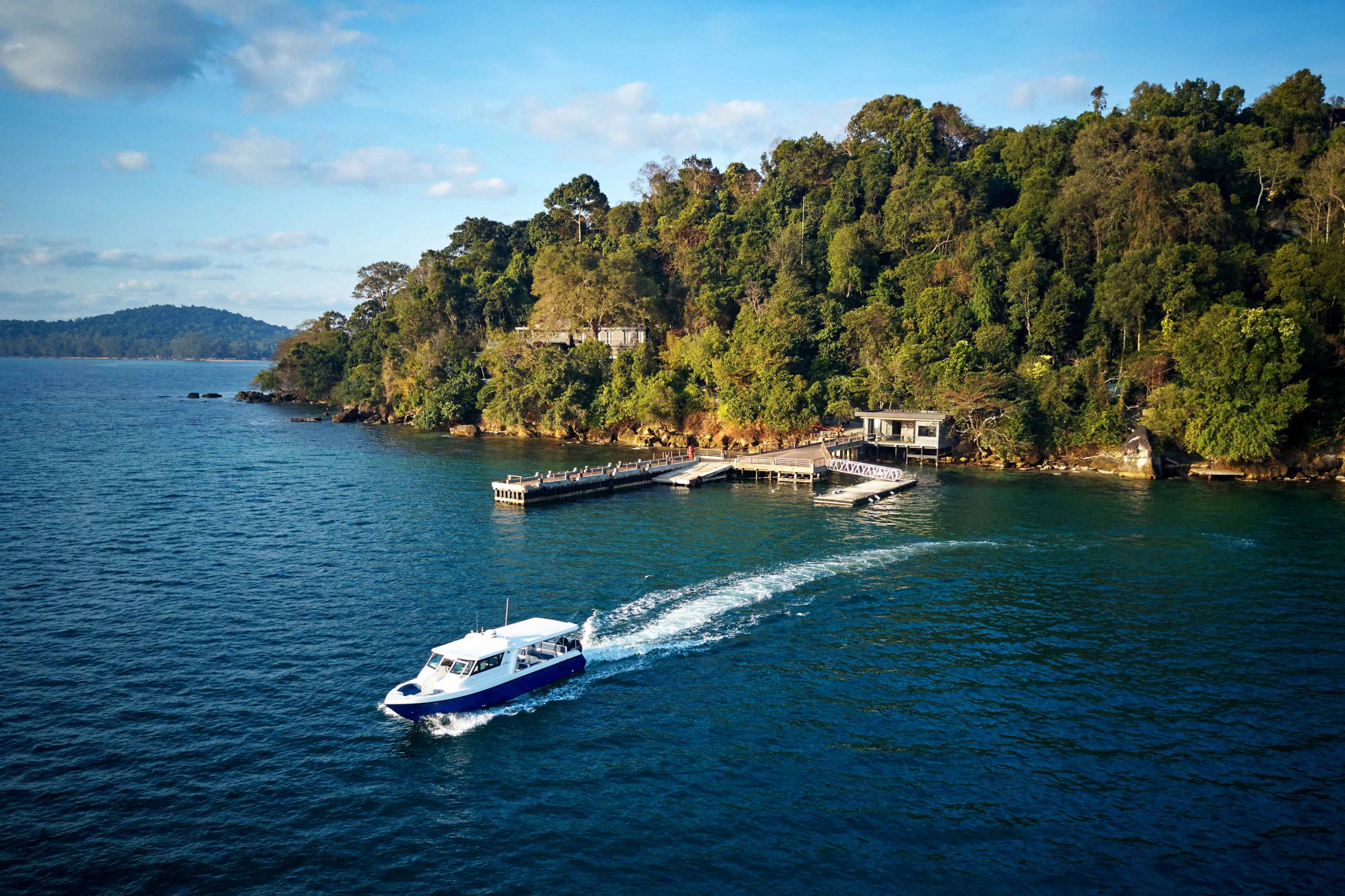 A STRING OF ISLANDS: CAMBODIA'S PEARL OF THE SEA
FROM KOH CHANG IN THAILAND TO PHU QUOC IN VIETNAM,
A STRING OF ISLANDS HUGS THE COAST – AND MOST OF THEM
ARE CAMBODIA'S, SITTING OFFSHORE OF THE KINGDOM'S 440
KILOMETRES OF TWISTING AND TURNING COASTLINE –
THE PEARLS OF THE CAMBODIAN SEASHORES
The beauty of these islands is that most of them are undeveloped, with wild beaches and just a few simple backpacker huts if you want to stay a while – or no huts at all, just you and nature. Perfect for day trips, or pitching a tent in paradise.
Then there are two big islands – Koh Rong and Koh Rong Samloem – which have a whole range of accommodation along their super-long beaches, with dense jungle interiors. Lastly, for those with fat wallets, there are three private islands blessed with fabulous luxury resorts.
Well and truly off the map at the turn of the century, Cambodia's islands now have something for everybody, from just a hammock in the trees, to a wooden chalet with a balcony, through to an exclusive villa with your own pool. Numbering no less than 60, the islands lack roads, ATMs or mains electricity, but boast a host of bars, restaurants and dive shops, plus endless beaches, azure seas and an escapist, easy-going vibe.
Controversially, some islands have been leased to developers for large-scale resort building, so who knows how long this away-from-itall tranquillity will exist? Already the charm of the first of Cambodia's beach hubs, the seaside town of Sihanoukville, has been smashed and annihilated by manic development. In just the last few years, what was a laid-back beach town has become a grotesque casino city for Chinese gamblers, its former backpacker haunts left to rot.
That means right now is the time to enjoy the Cambodian islands, while they are still treasures possessing a serenity not easily found elsewhere in Southeast Asia. Let's check them out.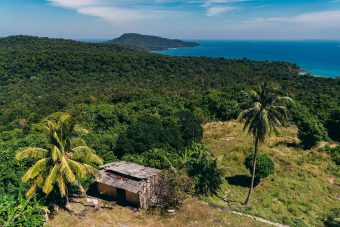 THE NORTHERN GROUP
---
KOH KONG KOAH
If you're coming from Thailand by land – not a bad idea at all, entering Cambodia from Trat province – then the first big island is Koh Kong Koah, which is in fact Cambodia's largest island. However, it has a strong military presence, so access is tightly controlled and you must visit on a guided boat tour out of Koh Kong town or Tatai costing USD21 per person, including lunch and snorkelling equipment, or you can take overnight trips with beach camping or homestay for USD55. These trips only operate from October to May and it's forbidden to explore the forested interior. Seven beaches are strung along the western coast, lined with coconut palms and lush vegetation. At the sixth beach from the north, a narrow channel leads to a hidden lagoon.
KOH S'DACH ARCHIPELAGO
KOH S'DACH
Twelve small islands form the Koh S'Dach Archipelago, located offshore midway between the Thai border and the coastal city of Sihanoukville. Just two kilometres long, Koh S'Dach is the only island with a sizeable population, about 2,300, and it buzzes with fishing boats and an ice factory as the economic heart of the archipelago. The beaches are rocky, but the waters abound with great snorkelling, with affordable guest houses to stay in – or the luxury of Belinda Beach resort. Numerous dive sites surround the archipelago, with dive shops on Koh S'dach serving all needs.
KOH TOTANG
A speck in the ocean at only 1,300 by 500 metres, Koh Totang lies 5 km from Koh S'Dach. Out of the way and largely out of mind, the island draws those who yearn for a slice of undeveloped paradise. Squeaky sand beaches and a rocky coastline embrace Koh Totang, with just Nomads Land's five chalets to stay in – and just a couple of local families for Cambodian company. That unique guest house arranges boat trips to uninhabited islands for snorkelling and fishing, and provides paddle boards, kayaks and snorkelling gear for free.

THE MIDDLE GROUP
---
KOH RONG
Moving on along the coast to the middle group of islands lying offshore from Sihanoukville, the star act is Koh Rong. Extending for 78 sq km with long white sand beaches and turquoise waters, it is a dreamy tropical escape and one of the loveliest islands in the Gulf of Thailand. Truly gorgeous, Koh Rong counts seven bays teeming with marine life, great for snorkelling and diving. You can also do trail biking and trekking in the forest interior and kayaking in the sea.
The hub beach, Koh Touch, is packed with guesthouses and has given Koh Rong a party island reputation. Despite many developers eyeing the island with grand designs, most of the current rapid development is limited to simple huts and cheap guesthouses along Koh Touch, but the rest of the island has a chilled-out vibe. Quiet refuges are easily found on Long Beach, voted by many as "the best beach in Cambodia", a 7 km stretch of soft white sand and nodding palms with a good hotel selection. At its southern end are rocks that offer great snorkelling. Quieter than its neighbour, the four kilometres of Long Set Beach have several beach chalet resorts. Here the waning moon reveals bio-luminescent plankton in the sea, which gives the beach a ghostly glow at night.
KOH RONG SAMLOEM
A smaller sister and neighbour of Koh Rong, less developed but developing fast, Koh Rong Samloem boasts some excellent beaches, many of them within walking distance of each other. From Saracen Bay there are two dirt trails to the west, one to Lazy Beach and the other to Sunset Beach. A third trail runs from the southern end of Saracen to the lighthouse and Military Beach.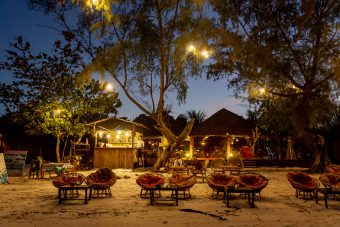 Saracen Beach on the main east-facing bay is by far the most developed beach on the island. Adjacent to Saracen is east-facing Sandy Beach, which is most easily reached by boat. The west coast has Military Beach towards the southern end, then Lazy and Sunset Beaches a little to the north. These beaches have cleaner sand, cheaper accommodation and a less busy scene than Saracen, which is party central. M'Pai Bei village near the northern tip is the most affordable place, with plenty of accommodation below USD20. To the east of M'Pai Bei, there is a long golden sand beach, and around the headland lies the east-facing Clear Water Bay.
THE SOUTHERN GROUP
---
This group is an amazing mixture of simplicity and luxury, the latter in exclusive resorts on Koh Russey and Koh Krabey (see the box "Exclusive, Expensive, Extraordinary").
KOH TA KIEV
This island is wild enough and big enough to delight all beach bums who just want things simple, peaceful and beautiful. Lying off the coast near Ream National Park with just one guesthouse
for each of its long sandy beaches, Koh Ta Kiev is an adventurer's dream. The 13 km shoreline comprises secluded coves, rocky cliffs and mangrove forests as well as those dreamy beaches. Well-beaten walking trails criss-cross the jungle interior past marshes and grassy meadows. If you want to pitch your own tent, you can do so by paying a couple of dollars at a guesthouse.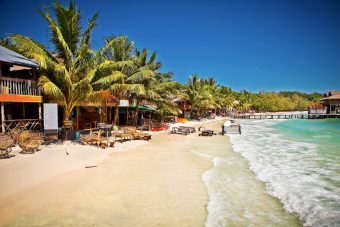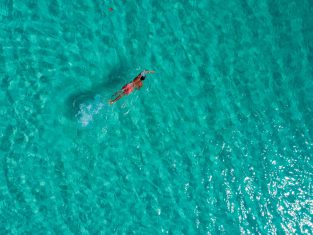 The northeastern shore hosts the local fishing community, a ramshackle array of houses built on stilts alongside piers leading out to sea, a great place to sample downhome Cambodia and meet the hardworking people that are the backbone of the country. The northeast is also home to the highest point on the island, with some hidden caves full of bats.
KOH THMEI
Part of the mainland's Ream National Park, Koh Thmei is reached by boat (sometimes with dolphin sightings) from Koh Kchhang fishing village on the coast, and is a paradise for bird watchers. Simple beachside chalets provide the accommodation, and swinging on a hammock is the ideal pastime, listening to the sounds of the sea and the songs of the birds. If you can drag yourself away, activities include snorkelling, kayaking and leisurely walks around the island.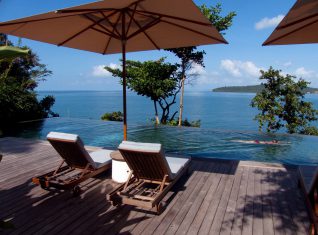 KOH TONSAY
Last of the Cambodian islands is Koh Tonsay – Rabbit Island – just four kilometres off the coast from the sleepy seaside town of Kep. Cambodians love to take day trips from Kep to Rabbit Island, whose long palm-fringed beaches have eating places. For peace and quiet, the best thing is to arrive late, to overnight in a rustic hut – or a hammock – and to leave before 10am. That way you avoid all the day trippers and have a relaxed time exploring the tiny island's two
square kilometres.
OVER THE BORDER
The last island is the biggest of the whole string, Phu Quoc, which was once part of Cambodia's Khmer empire but has long been inhabited by Vietnamese fisherfolk. Because of that, the island was assigned to Vietnam by the French colonial authorities – and now constitutes Indochina's premier island destination. Only a couple of decades ago, Phu Quoc was virtually pristine, a beach bum's paradise; now its sands are lined with sophisticated resorts. You can't help feeling that Cambodia really lost out by not hanging onto Phu Quoc, which is fast heading towards Phuket-like status as an international tourist destination. C'est la vie, as the French would say.
---
EXCLUSIVE, EXPENSIVE, EXTRAORDINARY – IDYLLIC ISOLATION ON PRIVATE ISLANDS
Three lavish retreats lie off the central stretch of coast, occupying their own islands: Six Senses Krabey Island, Alila Villas Russey Island and Song Saa Private Island Resort. If you want an island that is exclusive, where luxury reigns, and you rule your own villa with its own pool, then these no-expense-spared resorts are for you.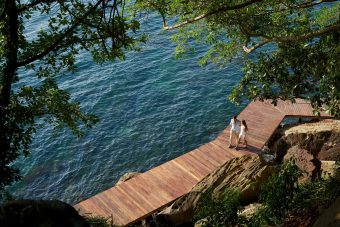 Six Senses Krabey Island leads the pack as a highly reputed brand with 18 resorts dotted across the globe from Istanbul to Fiji. Its tender skills in Cambodia are devoted to a jungle-clad
speck just a 10-minute speedboat ride from the mainland with close access to Sihanoukville airport. A gem of a tropical hideaway, Six Senses Krabey Island features 40 free-standing pool villas that blend into the lush environment of rainforest and gardens. Sustainable planning has made the resort a haven for birds and butterflies and it includes its own mushroom nursery. Two restaurants offer all-day dining and fine dining on Western, Asian and Cambodian cuisine prepared by international chefs. A brand renowned for its spas, Six Senses Krabey Island offers transforming wellness experiences from its signature spa menu plus Cambodian healing treatments. Wooden walkways ring much of the island offering beautiful coastal walks. Details at
www.sixsenses.com/en/resorts/krabey-island
Koh Russey – two kilometres from the Sihanoukville coast – was a navy outpost but is now noted for Alila Villas Koh Russey, a string of 50 luxury pavillions and 13 villas with close access to a long sandy beach. Resolutely modernist, the villas have their own pools and acres of space. Part of the Alila Hotels chain, this is the only resort on the island. Details at www.alilahotels.com/kohrussey
Located just off Koh Rong in a marine conservation zone, Song Saa Private Island Resort stands out for its ecoconsciousness and its thatched villas built over the water. A one-off created by an Aussie couple, its two tiny forested islands linked by a wooden walkway, much of the luxury resort is made of upcycled wood collected locally. Details at www.songsaa.com
THE CAMBODIAN RIVIERA
"The Cambodian Riviera", they called it back in the days before the civil wars, when wealthy Cambodians from the capital and French colonialists would take carefree seaside breaks there, often in their own villas. Today Cambodia's coast is bouncing back, in the healthiest economic shape since those halcyon days.
In the far south, the sleepy town of Kep boasts a new beach of imported sand, and draws hordes of weekenders from Phnom Penh, notably because of its freshly-caught crab cuisine and funky crab market. The ruins of the old elite's modernist villas are a magnet for architecture buffs.
Further north, Kampot is a bigger town with a huge array of accommodation, especially along its riverside which is very popular with backpackers and flashpackers for bathing in. There's good eating, including some French cuisine, and funky streets of old Khmer-Chinese shophouses.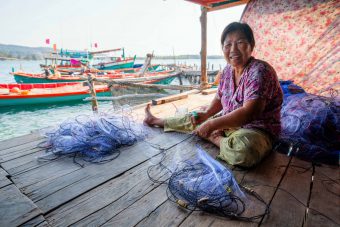 Sihanoukville, the biggest town, was Cambodia's favourite beach resort until just the last few years, when it has totally changed into a flashy casino city for the Chinese with rampant ongoing construction everywhere. "Avoid it!" is now the message, except for getting ferries to the islands.
---
GUIDE TO THE CAMBODIAN ISLANDS
GETTING THERE
By air
From Bangkok's Don Mueang airport and from Kuala Lumpur, AirAsia www.airasia.com has flights to Sihanoukville, from where frequent ferries run to the main islands. By air and land For the northern coast, you can fly from Bangkok to Trat by Bangkok Airways www.bangkokair.com and then continue by bus overland.
By land
You can drive from Thailand, entering at the Hat Lek border crossing in Trat province, and taking the Cambodian coast roads all the way to the Vietnamese border. The islands have no roads.
GETTING AROUND
Ferries operate constantly from the coast to the islands, with the main public jetty being at Sihanoukville. The private island resorts run their own ferries. Buses and shared taxis run along the coast roads. On the islands, you either walk, hire a trail bike or hire a boat.
STAYING THERE
With so much accommodation along the beaches, but not so much variety, the best thing is to check out what's available on www.booking.com or www.agoda.com. Or else just fetch up on an island and see what you fancy. Islands often have trails leading from one beach to another, or you can hire a boat to take you from beach to beach. Be warned that all the accommodation is expensive on Cambodia's islands and coast, compared to what you would pay in Thailand for similar standards, roughly double the price, in fact. In the peak season of December and January, the rates rise hugely.
Luxury accommodation: see the three islands in the "Exclusive, Expensive, Extraordinary" box. Mid-range accommodation is available on most of the beaches of the big islands of Koh Rong and Koh Rong Samloem, as well as budget places.
Budget accommodation is very common on the islands, where many guesthouses offer wooden huts with simple beds and mosquito nets.
Basic accommodation is almost always available on the islands, where many guesthouses offer tents on the beachfront or hammocks to sling in the trees. Or you can bring your own.
WHEN TO GO
The seasons are similar to Thailand's, with a cool dry season from November to February, a hot dry season from March to May, and a wet season from June to October. The tourist season runs roughly October to April, with December and January being peak season. Many guest houses and hotels close outside the tourist season, and the ferries become unreliable in stormy weather.
MONEY
US dollars are legal tender in Cambodia and are used for anything above small transactions. The islands have no ATMs or banks, so cash up in US dollars on the coast before heading out.
GETTING INFORMED
Travelfish www.travelfish.org is a great resource, frequently updated.
---
Text and Photos by Keith Mundy