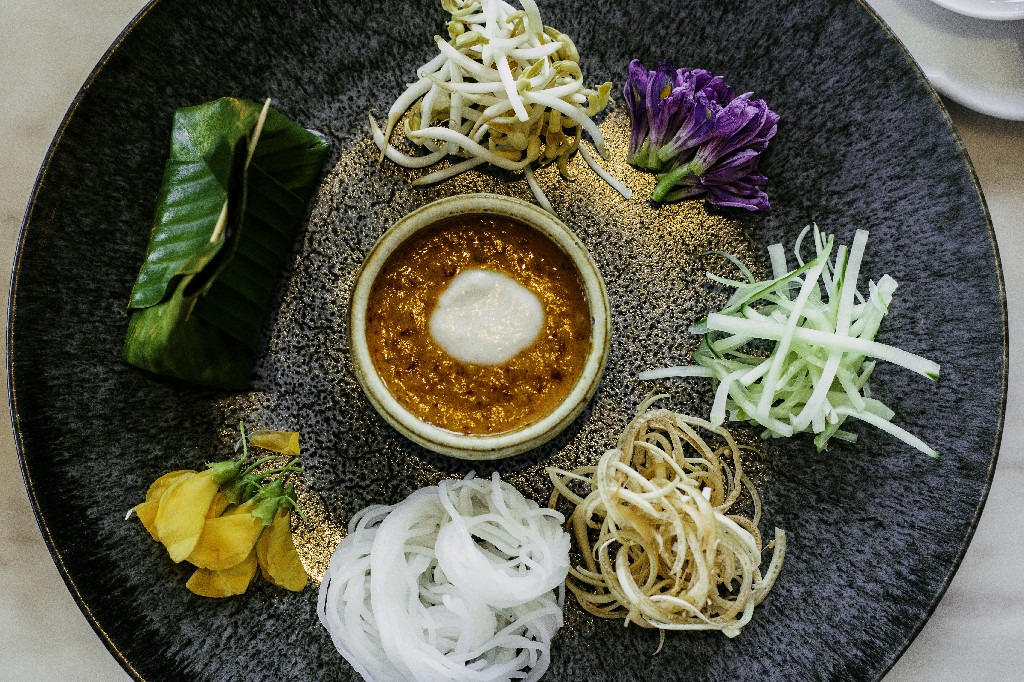 Exploring Phnom Penh's Dining Scene
As a fast-growing city, the number of multinational enterprises escalates, so does the number of expatriates from around the world. The more the city flourishes, the more it attracts tourists. Apparently, Phnom Penh is now a multicultural modern town where people can have fine, edible comforts as in other major cities around the world, plus one-of-a-kind charms of authentic Cambodian cuisine.
THE FRENCH INFLUENCE
One of the most recognisable features of Phnom Penh city is the trace of Colonial influences intermingling with Cambodian ambience and young skyscrapers. The French influence that lives on from Cambodia's so-far-gone history is so palpable in Phnom Penh, especially in its dining scene.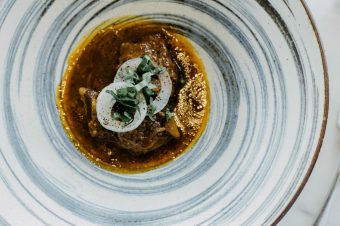 In Phnom Penh, a multitude of French diners are at hand if you want to try some, and many of them serves authentic French taste. On the Okha Ket Street, Bouchon Wine Bar is a colonial house with homemade French cuisine in the cosiest setting, serving different dishes from day to night. Apart from choices of wines, its home-made Rose Sangria is a must-try. There are a lot more places to have it the French way, but Bouchon Wine Bar is one of the best ones downtown.



Another unmissable stop is Brasserie Louis at Rosewood Phnom Penh, where top-notch French tastes and authentic Cambodian dishes are feasted in the midst of marvellous panoramas of Phnom Penh city. Also at Rosewood Phnom Penh, Patisserie is the place to delight in fine pastries and desserts crafted with real French technique.
HAVE IT HEALTHY
Vegans and health aficionados are going to love it in Phnom Penh, as the city is bustling with scrumptious vegan-friendly dishes and healthy bowls.
To grab some, Eleven One BKK1 is a house in a verdant garden with a myriad of health- and environmentally-friendly choices made from local produces and with zero MSG. Popular is the one-off Amok Burger and Khmer Beef Steak.



There is an out-of-the-ordinary alley hidden in the city, and it is the Street 240 ½. The alley is home to artsy venues and fascinating street art, as well as the fantastic ARTillery Café. On the menu for this easy-going café are creative healthy choices, which can be the ideal breakfast to have on a regular basis. Its Poke Bowl fills up the stomach so well and tastes great. Its smoothies and superfood dishes are also worth loving.
Aside from the aforementioned spots, vegan and healthy options are available at many restaurants and cafés, so don't worry about your health plan once you are in Phnom Penh.
DRINK THE DRINKS
As previously stated, with the Western influences, wines and cocktails can be commonly found at most restaurants. For the ultimate drinkable experience, recommended is Sora Sky Bar at Rosewood Phnom Penh. Even though it is famous for its unbeatable views from the 37th floor, especially during sunset, its drinks are indeed second to none. With highly-skilled bartenders, whether you want to sip classics, signatures, or tailor-made glasses, you are sure to be elated. Rare whiskies are also its strong suit.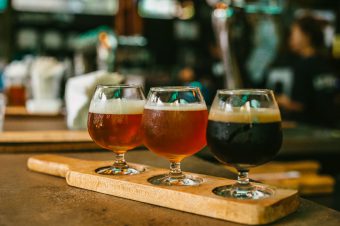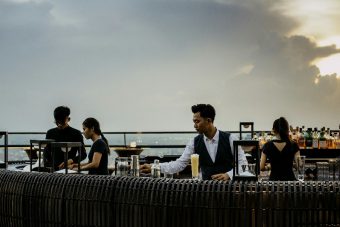 In Phnom Penh, with big and microbreweries on site, the craft beer scene is also huge in the city. You can explore local and world-class brands of beer at very affordable prices. Botanico is where you can hide in the garden and savour a variation of beers on a long table. Foods served at Botanico are impeccable matches with cooling beers. Another great venue to enjoy craft beers in a very friendly atmosphere is Embargo, which can easily become your next favourite bar in Phnom Penh.
CAMBODIAN CUISINE
Some people may find Khmer dishes the replicas of Thai or Vietnamese, and most of the time, people don't know that much about Cambodian foods. Even though common dishes like Fish Amok, Lok Lak, Phrahok, or Khroeng are available at most Khmer restaurants, it's a rare occasion that you find these things outside of Cambodia. But, once you get to know more about Cambodian cuisine, your perception towards the country's food scene will never be the same.



Rotanak Ros or "Chef Nak" advocates her time to passionately unfolding traditional Khmer recipes and to make the best use of local ingredients. Through her famous "Rotanak" house; "Mahope" Home Dining Experience; her appearances on TV shows; and her books, Chef Nak has successfully propelled the beauty of Khmer cuisine to the eyes of global food connoisseurs, and has brought many lost recipes back to life. In addition to the previously mentioned works of hers, recently Chef Nak started breathing life into recipes on her treasured "nhum – Recipes from a Khmer Home Kitchen" cookbook at Brasserie Louis.
Kravanh is one of the best places to have true, flavourful Cambodian tastes through its high-standard home-style cooking. On the menu are Cambodian favourites and other tasty surprises.
Please note that if you want to explore Cambodian street foods, be prepared to be perplexed, as their flavours may not be familiar to your taste buds.
Text by Pakvipa Rimdusit | Photos by Chananya Sikkhakul