Chef Mauro Colagreco Visits His MICHELIN-Starred Côte in Bangkok
Recently in late April, Capella Bangkok's Côte has welcome its founding Chef Chef Mauro Colagreco to Thailand. After one year and a half of the restaurant's inauguration, Côte by Mauro Colagreco has been one of Bangkok's most acclaimed culinary gems, keeping food aficionados coming back for more and more, thanks to its exquisite concept of 'Riviera to River' – bringing the Mediterranean Riviera flavours to the bank of Chao Phraya River while paying homage to the origins and the destination alike. The culinary team led by highly-talented Chef Davide Garavaglia plays a massive role in its success, flawlessly translating Chef Colagreco's philosophy and passion for sustainable and seasonal produce through a range of fascinating tasting menus and a signature '9-course Carte Blanche' gastronomic journey. Côte's excellence stands out from the crowd that it has been awarded one Michelin Star.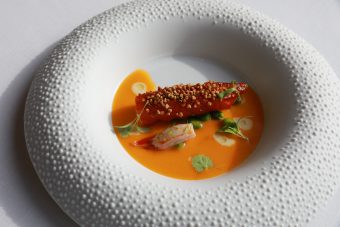 'I'm so delighted to be in Bangkok to finally celebrate the first Michelin star with all the team. It such an achievement,' said Chef Colagreco. 'This trip is a dream come true. It has been so challenging to travel the last years, being here in Bangkok, feeling the energy of the city, of my team and meet our dedicated guests, it's incredible.'
During his stay in Thailand, Chef Colagreco with his team met with organic farmers at Poomjai Garden located next to the Bangkhuntien canal in Bangkok and Plean Yod Tarn community in Samutsongkhram province to source vegetables and herbs of the highest quality.
'For me, working with sustainable ingredients not only means following the seasons, it also means working the land with full respect and embracing what nature brings into the kitchen. We have to be flexible and resourceful in adapting the menu to highlight the best produce available every single day.' Chef Colagreco explained.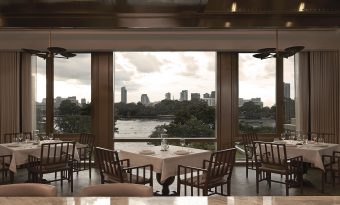 Côte by Mauro Colagreco is located on the second floor of Capella Bangkok, and is open for lunch from 12:00 to 14:00 and dinner from 18:00 to 22:00 (closed on Mondays and Tuesdays). For reservations, email cote.bangkok@capellahotels.com, call +66 (0) 2 098 3888 or visit www.cotebkk.com. Keep yourself posted at Facebook: @cote.bangkok or Instagram: @cote.bangkok.