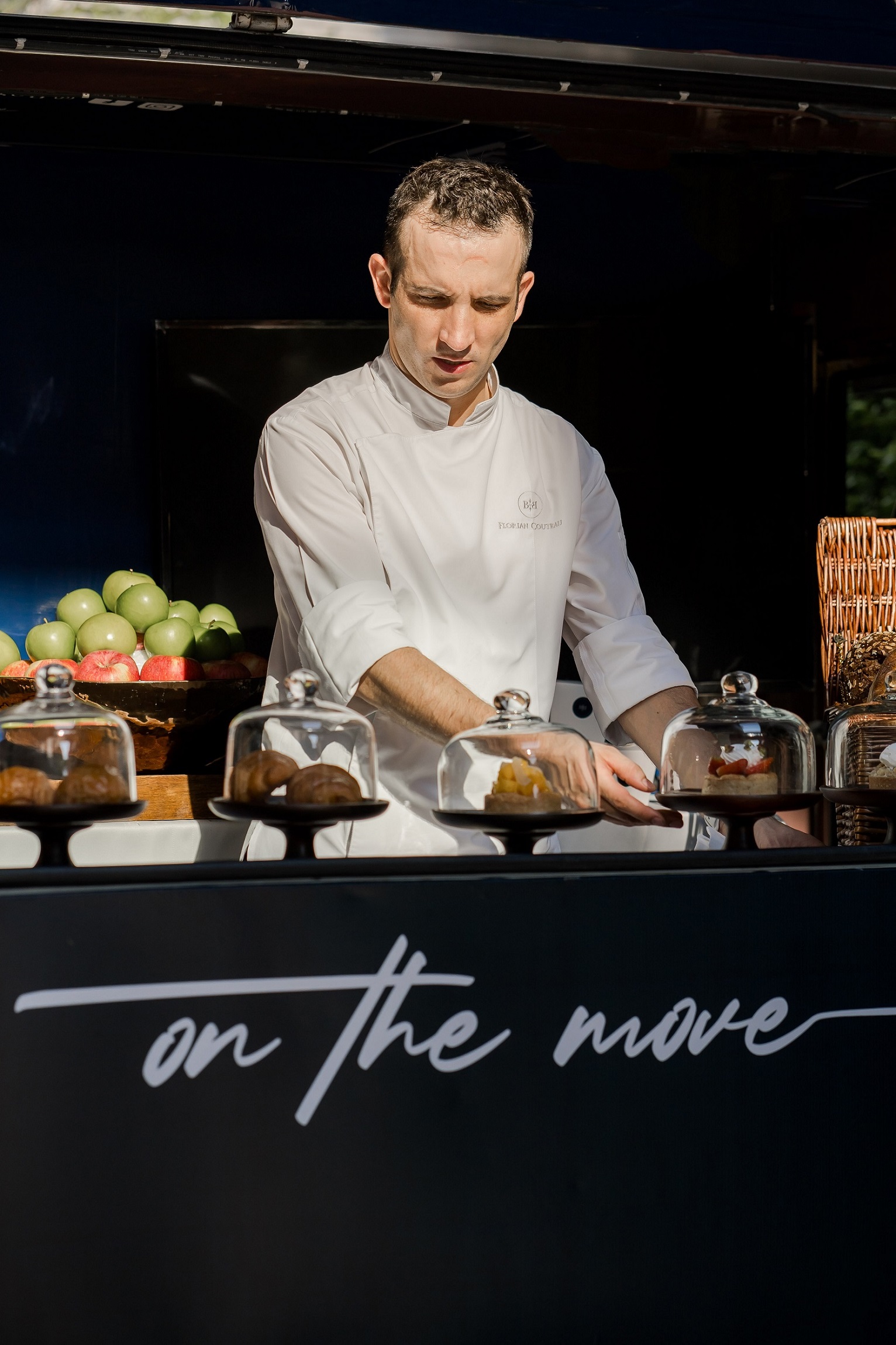 Drive-Through Luxury by Rosewood Bangkok
You can now add a prestigious touch of Rosewood to your meals at your beautiful home!
Rosewood Bangkok debuts "Rosewood Bangkok On The Move Drive-Through" service, offering easy yet luxury experience, in accordance with the new normal lifestyles. Right in your car, you can get fresh and premium produces, butchery and artisanal sauces for you to cook at home. If you would like to taste Rosewood's delectable healthy fares like Spaghetti Squash with Chickpeas, Roasted Salmon Glazed with Red Pepper Coulis, and Broccoli Quinoa Casserole, you definitely can. Additionaly, freshly baked breads and mouth-watering pastries, including Lemon Meringue Tart and Apple Cinnamon Crumble Tart, are available as well.
With one hour's advance order online, by email or phone, freshly prepared, healthy meals can be picked up at Rosewood Bangkok's doors from 11 a.m. to 6 p.m. daily. For more information and to place an order, please call +66 (0) 2 080 0088, email
bangkok@rosewoodhotels.com or visit megatix.in.th/events/rosewoodbangkokonthemove.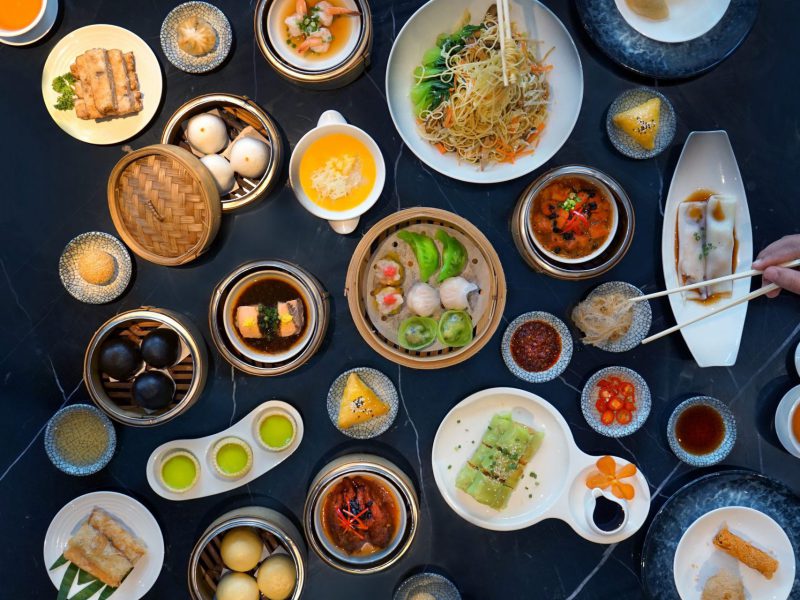 By Lifestyle+Travel
To celebrate the grand comeback, JW Marriott Hotel Bangkok offers irresistible promotions for its famous outlets: Tsu Japanese Restaurant, Nami Teppanyaki Steakhouse, Man Ho Chinese Restaurant and JW Café. For all guests, you will get a 50% discounts from now until 31 July 2020! Tsu Contemporary Japanese Cuisine Chef Yukio Takeda and his team masterfully prepare fresh sushi, sashimi and a curated selection of rolls alongside artfully crafted dishes. Enjoy a 50% discount from their a la carte menu Opens for Lunch: 11:30 am – 02:30 pm and dinner: 06:00 pm – 10:30 pm Nami Teppanyaki Steakhouse With fire and flash, Nami Teppanyaki Steakhouse serves up authentic Japanese Teppanyaki dishes in a cool, contemporary environment. Diners watch as talented chefs prepare their meal to their exact specifications right in front of them. Enjoy a 50% discount from their a la carte menu. Opens for Lunch:​11:30 am – 2:30 pm and dinner: ​6:00 pm – 10:30 pm Man Ho Chinese Restaurant Executive Chinese Chef Leslie Du and his team captivate the palate with the finest Cantonese delicacies. Enjoy a 50 % discount on their a la carte menu and promotional price on all you can eat Dim Sum for THB 750 net per person from Monday to Friday. Weekend dim sum returns at THB1,250 net per person. Opens lunch: 11:30 am – 02:30 pm and dinner: 06:00 pm – 10:30 pm JW Café An urban industrial concept decorated in gray vein marble with wood panels to create a modern yet cozy space, JW Café serves an array of International cuisine from the semi-buffet and unlimited a la carte menu including chef recommended signature dishes, and local favorites from fresh seafood to foie gras. Enjoy 50% discount on the dinner buffet from Monday to Thursday. Dinner buffet available 06:00pm – 10:30 pm. New York Steakhouse Consistently recognized as Bangkok's best steakhouse and awarded with 3 consecutive years of the Michelin plate award, due to its unparalleled service and premium cuts of meat. It is in a class of its own with an atmosphere evoking a classic New York City steakhouse. Serving imported cuts from Australia, Japan, New Zealand and the United States together with local options and a wide selection of seafood. Complimentary signature cocktails will be served to guests from 2 nd July -31 st July 2020 to get us back in that New York state of mind. Opens daily from 06.00 pm. – 11.00 pm. For more information or reservations please feel free to call +66 (0) 2 656 7700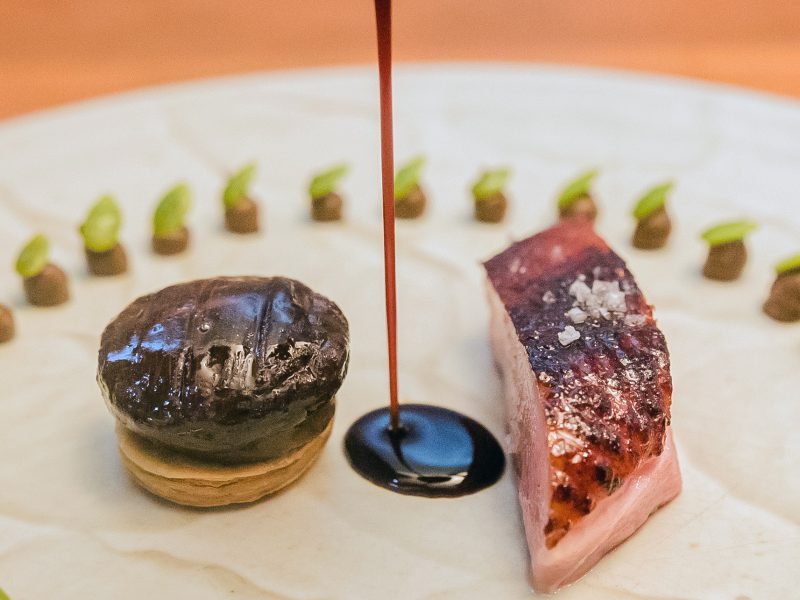 By Lifestyle+Travel
One of the must-visit spots for foodies, Michelin-starred PRU at Trisara Resort Phuket, is now open again. In addition to elevated safety and sanitisation, PRU returns with stronger relations to the local farming and artisan community, an exciting new dinner menu, and gourmet product line available for delivery, in accordance with Trisara's "Dine Good Do Good" ethos. Trisara has implemented numerous updates at PRU to allow for a safe dining experience, including: Tables and chairs removed in the dining room to further limit restaurant occupancy and allow for physical distancing without detracting from ambience Tables and chairs reconfigured for increased physical distancing while still offering magnificent ocean views  Restaurant hosts will guide physical distancing at entrances, waiting areas and queues All surfaces will be sanitized regularly, and UVC sterilization of entire table setup QR Code menus will be implemented that enable guests to scan and access on their mobile phones. Strict HACCP guidelines enforced for food preparation, receiving, and storage of all products Hand sanitizer will be readily available to guests\ Face masks are required for staff Moreover, PRU restaurant and Trisara resort also launch a special gift voucher 'A Night Under The Stars at PRU and Trisara' for an exquisite evening under the starlit sky of Phuket. Enjoy a 5-course eco-system based meal with wine pairing at PRU Restaurant, followed by a one-night stay in our Ocean View Pool Junior Suite with panoramic views of the Andaman Sea. Purchase gift card for THB 24,000+++ and valid for a stay until 30 September 2021. For more information, click here or contact reservations@trisara.com  and call +66 76-683-320 PRU restaurant is now open Friday to Monday for 6 pm dinner service. Reservations are required. For more information on PRU, please visit www.prurestaurant.com. To make a reservation please contact +66 76-310-232 or prureservations@trisara.com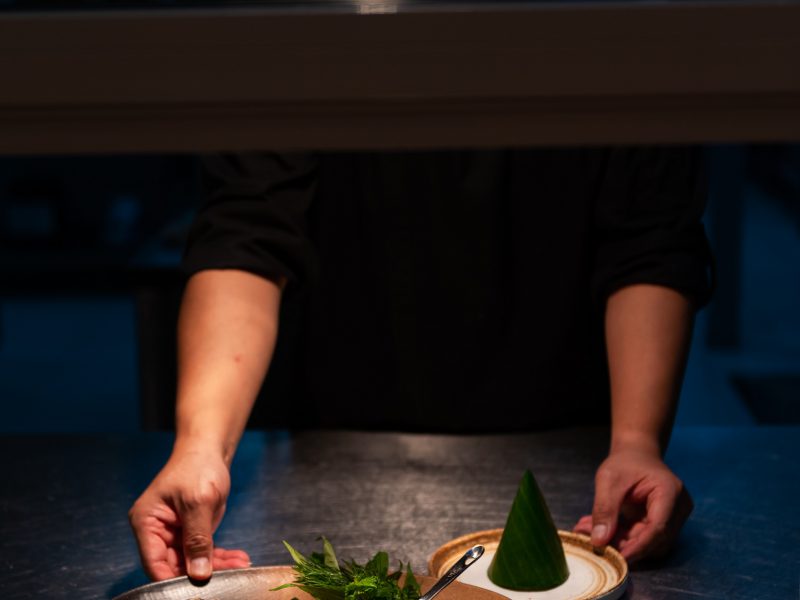 By Lifestyle+Travel
As a Bangkok-born who has always lived here, there is something about this city that never ceases to amaze me. One of my most favourite spot to re-visit from time to time is Pranakorn Area. Samranraj is one of the districts in the area, famous for old houses and street foods, as well as one-off lifestyles. The cushy fusion between Thai, Chinese, Indian, and Western influences of the district is dulcet in the way no other place is. Chef Bank, a native of the area, who is the chef at Samranraj Cuisine, narrates the charming way of living around here through his finesse in culinary arts and impressive knowledge of Thai ingredients. His cuisine fuses cultures with flavours, as if he is taking you on a journey in Thailand from the northernmost part to the south, while making a stop at Samranraj district to peek at the beautiful cultural blend. At Samranraj Cuisine Restaurant, I get to try the dinner set in a casual yet exquisite setting. The semi-open kitchen makes the dinnertime even more enjoyable. In the southern part of Thailand, there are a large number of Muslim people, and they add their unique flavours to various dishes, one of them being "Salad Khaek". On the Samranraj Rice Crackers, the sweet-and-sour zest of the salad is added to chunks of fresh crabmeat and culantro from the North, creating a succulent sensation over the crispy rice from the Central region. For Wild Hokkaido Scallop Som Tum Ceviche, when common dish like Som Tum is made extravagant, it feels like home, with cutting-edge redecoration. Topped on papaya salad are jumbo-sized fresh scallops. Instead of simply adding chilli to the salad, the chef transforms it into jelly, so the whole experience is marvelously textured. Vegan-friendly Banana Flower Salad is utterly nutritious, while being rich in flavours. Pomelo adds juiciness to the dish so gorgeously. And then it is time for the mains. Poached and Seared Foei Gras & Duck is a seamless, stunning blend of Western and Chinese flavours. Instead of cooking common Dong Po Rou, duck and foei gras are poached in Po Rou water, so that the unique herbal aroma seeps thoroughly in the meat. The sided mulberry chutney complements the dish so well. When savouring everything together in one bite, it gives unexpectedly heavenly senses. Thai Wagyu Beef brings the best charcoal-grilled beef from Sakon Nakhon to the plate, peppered with ground roasted rice, making each piece crispy on the outside, and juicy on the inside. To reveal the famous Isaan-style flavours, spicy "jaew" dipping is served alongside. I am usually not a fan of lamb, but when I try Charcoal Lamb Cutlet Massaman Curry, I must say this can easily be my favourite. This is a great combination of Chinese, Indian, and Western tastes, crystallising the charming cultural diversity of the district. The tender lamb and rich-in-flavour Massaman curry goes brilliantly with one another. After having had a long delectable time, dessert is the way to say sweet goodbye. Jasmine Panna Cotta Ginger Jelly is topped with