Enjoy Street Art, Eat Street Food – The New Face of Bangkok's Canals
Indeed, "art" does not relate to us only aesthetically, but it can also impact us in a communal level. Art can make a community more livable, enhance safety, and boost tourism as well as the area's economy. Recognising its importance, Bangkok Metropolitan Administration (BMA) has come up with a project to depict Bangkok through works of art, to make desolate spots safer, to make a good use of empty spaces, and bring vibrant street arts to the heart of Bangkok.
At Ong Ang Canal, travelers can experience charming ways of living of the communities around centuries-old Ong Ang canal and enjoy speculating street arts portraying the lives around here in the past. In the early days, Ong Ang Canal was a floating pottery market, selling various types of earthen water jars and the canal was named after its main product, "Ong Ang", meaning pottery in Thai. The BMA has implemented various measures to clean up this canal, revive its landscape, and allow water to flow to Chao Phraya River. Shortly after the transformation, Thailand's Ong Ang Canal was one of the 6 places in Asia to win the 2020 Asian Townscape Awards by UN-Habitat Fukuoka.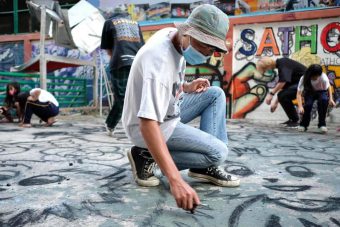 In Sathorn area, tourists can spot street arts at various sites, one of them being Wat Yan Nawa Canal in Si Suriyothai Community. Along the canal, nearby communities are where Buddhism, Islam, Christianity, and Bramanism have been co-existed in harmony. Once an abandoned site, the area surrounding the canal has been revitalised with "Canal Art", making it a new landmark of the city thanks to support from various private sectors and artists. In addtition to the magical transformation of the over 890-metres long wall, safety of the community has been increased with installation of street lights and green inspection booth of City Law Enforcement Section. This area also boasts a potential for developing into community tourist attraction of Sathorn district.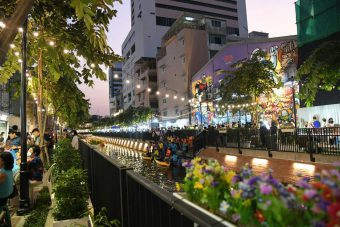 To add more vivacity, street foods of high quality are available throughout the canal side journeys. Quality of street food in Bangkok have been improved to make sure that all ingredients are safe to consume and the venues are clean, with "Food Safety Standard Certificate" to reassure the safety.