Commemorative Watch With A Royal Touch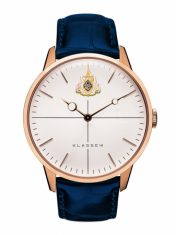 Joining the whole nation to celebrate the Royal Coronation Ceremony of King Rama X, Trocadero Time, the leading sole watch distributor in Thailand, in collaboration with Klasse14 Italian fashion watch brand have produced special edition timepieces to commemorate His Majesty the King on this auspicious occasion.
In honour of the new King of Thailand, the special edition timepieces are exclusively created and graciously granted the permission to feature the coronation emblem at the 12 o'clock position on the dial.
The design of these commemorative timepieces consist of an elegant rose gold plated case with white sunray brushed dial and perfectly matched with Royal Blue Italian leather strap. Limited only 1,000 pieces separated in two different sizes: 40mm for gentleman limited for 600 pieces and 36mm for lady limited for 400 pieces with the serial number engraved on the case back and come in the special design box in yellow colour.
It is a great opportunity for Thai people to show the loyalty and admiration of the King's graciousness on this nation historic occasion. These special edition timepieces will be first launched for the watch aficionados and those interested in owning these remarkable timepieces to reserve at Klasse14 pop-up store in Siam Paragon Watch Expo 2019 during 9 July – 7 August.