Putahracsa Hua Hin
Combined the charms of this heritage town with a sophisticated beach hideaway. PUTAHRACSA features state of the art living life style inquality and natural design elements, in a total of 67 units in three zones of privacy, which make us an ultimate Hua Hin address Combined the charms of this heritage town with a sophisticated beach hideaway. PUTAHRACSA features state of the art living life style inquality and natural design elements, in a total of 67 units in three zones of privacy, which make us an ultimate Hua Hin address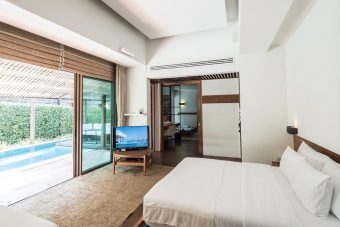 A MESSAGE FROM THE OWNER
VELVADI SRITRAIRATANA ON THE HISTORY OF THE PUTAHRACSA PROPERTY
Velvadi Sritrairatana on the History of the Putahracsa Property The original owner of the land on which Putahracsa has been built, was my grandmother, Khun Ying Supatra Singholaka, who served under the royal court of his majesty, King Rama VI. When she bought this land, she named it Baan Budhalaksa. She then had bungalows built and rented them out to the local people. When my grandmother passed away, my mother inherited it and bestowed it upon to me to manage. I turned it into a 5 star resort, keeping the original name in memory of my grandmother. Thus the name: Putahracsa Hua Hin.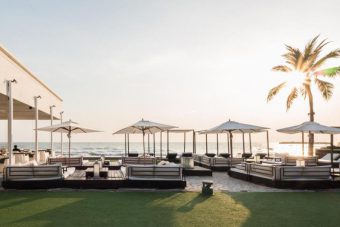 Putahracsa Hua Hin: allows guests to combine the charms of small town leisure together with a beach hideaway. Situated in the residential section of Hua Hin, Putahracsa is designed to feel like a beach residence.All rooms and villas reflect the owners' personal touch, incorporating Hua Hin's tradition and blendingit with contemporary design. Each detail is crafted by interior designer, Viboon Techakalayatum, my husband and owner of Design Scene Co., Ltd.
LUXURY PRIVACY
Nature-themed rooms lying on two-storey buildings in the striking geometric structure set surround a large swimming pool amidst lush gardens. Features one king-size bed or two twin beds on both levels. Easy access to swimming pool for the ground floor rooms. Bathtub is included for the upper floor rooms.
Bed Type : 1 large double bed or 2 single beds
Occupancy : 2 adults 
Extra bed :
Possible for 1 adult or 2 children with extra charge

No additional charge (room only) for children under 12 years of age sharing room with parents without extra bed
POLICIES
Check in: 14:00 HRS Check out: 12:00 NOON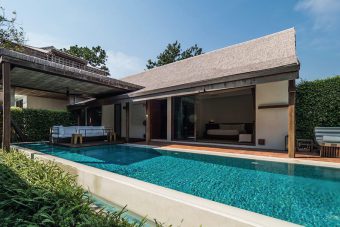 ROOM AMENITIES & SERVICE
King-size bed or twin beds, Oversized daybed, LCD 40" TV, Satellite TV with multi-language channels, Complimentary TV on-demand channel, Complimentary Wi-Fi access, In-room phone, In-room safety deposit box, Bathroom amenities, Hairdryer, Espresso machine and tea making facilities, Refrigerated minibar, Bathtub/ shower, Complimentary daily newspaper and fruit, DVD Player
DINING EXPERIENCE AT OCEANSIDE BEACH CLUB & RESTUARANT
An open-air restaurant inspired by Thai and western, and authentic BBQs. Offering uninterrupted views of the sea and sounds of waves crashing right at the foot of the restaurant providing the perfect atmosphere for an ideal beachside dining experience. Seating options at the restaurant are in the dining room or bedsides.Oceanside Beach Club offers the barefoot socializing experience while you enjoy a wide range of beachside beverages and food with the view of an endless ocean.

CUSINES:
Casual fine dining of seafood, European, Thai with vegetarian and gluten-free options.
OPEN TIME:
Breakfast : 
DAILY 07:00 – 10:30 HRS
Lunch & Dinner : 
SUN – THU 11:00 – 23:00 HRS
FRI – SAT 11:00 – 01:00 HRS
Contacts
Hotel address:
22 / 65 Naeb Kaehat Road, Hua Hin 77110, Thailand
tel + 66 (0) 3253 1470  fax + 66 (0) 3235 1488