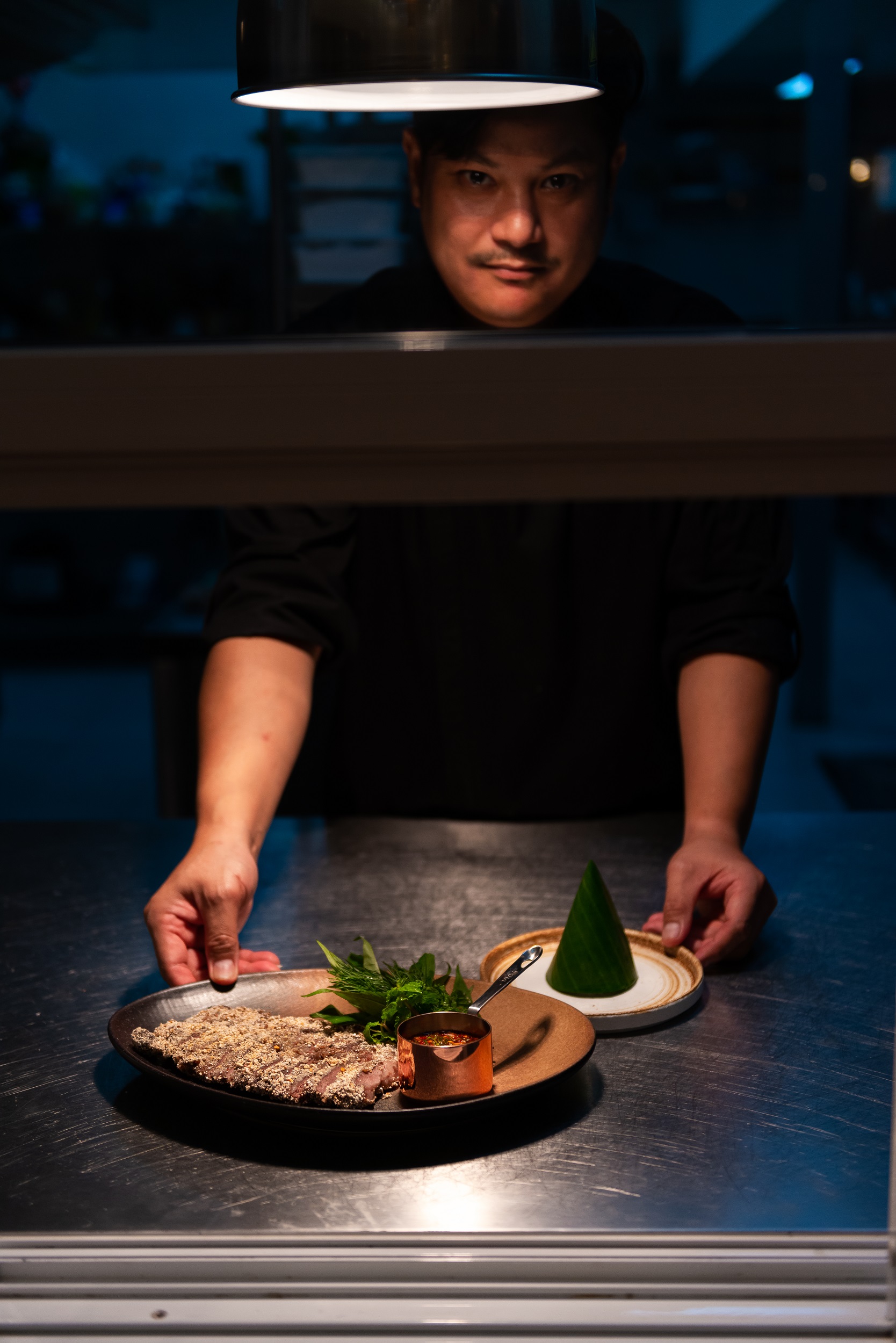 Samranraj Cuisine: Pranakorn-inspired Delectation
As a Bangkok-born who has always lived here, there is something about this city that never ceases to amaze me. One of my most favourite spot to re-visit from time to time is Pranakorn Area. Samranraj is one of the districts in the area, famous for old houses and street foods, as well as one-off lifestyles. The cushy fusion between Thai, Chinese, Indian, and Western influences of the district is dulcet in the way no other place is.
Chef Bank, a native of the area, who is the chef at Samranraj Cuisine, narrates the charming way of living around here through his finesse in culinary arts and impressive knowledge of Thai ingredients. His cuisine fuses cultures with flavours, as if he is taking you on a journey in Thailand from the northernmost part to the south, while making a stop at Samranraj district to peek at the beautiful cultural blend.
At Samranraj Cuisine Restaurant, I get to try the dinner set in a casual yet exquisite setting. The semi-open kitchen makes the dinnertime even more enjoyable.
In the southern part of Thailand, there are a large number of Muslim people, and they add their unique flavours to various dishes, one of them being "Salad Khaek". On the Samranraj Rice Crackers, the sweet-and-sour zest of the salad is added to chunks of fresh crabmeat and culantro from the North, creating a succulent sensation over the crispy rice from the Central region.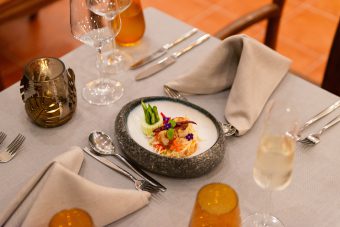 For Wild Hokkaido Scallop Som Tum Ceviche, when common dish like Som Tum is made extravagant, it feels like home, with cutting-edge redecoration. Topped on papaya salad are jumbo-sized fresh scallops. Instead of simply adding chilli to the salad, the chef transforms it into jelly, so the whole experience is marvelously textured.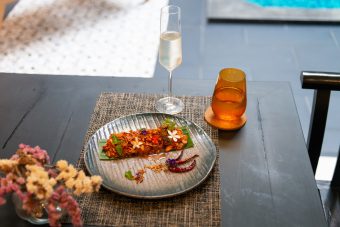 Vegan-friendly Banana Flower Salad is utterly nutritious, while being rich in flavours. Pomelo adds juiciness to the dish so gorgeously.
And then it is time for the mains. Poached and Seared Foei Gras & Duck is a seamless, stunning blend of Western and Chinese flavours. Instead of cooking common Dong Po Rou, duck and foei gras are poached in Po Rou water, so that the unique herbal aroma seeps thoroughly in the meat. The sided mulberry chutney complements the dish so well. When savouring everything together in one bite, it gives unexpectedly heavenly senses.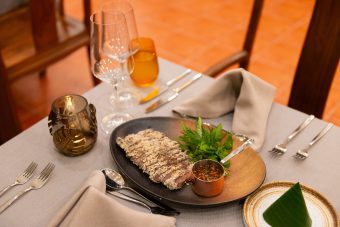 Thai Wagyu Beef brings the best charcoal-grilled beef from Sakon Nakhon to the plate, peppered with ground roasted rice, making each piece crispy on the outside, and juicy on the inside. To reveal the famous Isaan-style flavours, spicy "jaew" dipping is served alongside.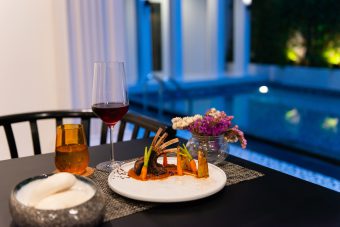 I am usually not a fan of lamb, but when I try Charcoal Lamb Cutlet Massaman Curry, I must say this can easily be my favourite. This is a great combination of Chinese, Indian, and Western tastes, crystallising the charming cultural diversity of the district. The tender lamb and rich-in-flavour Massaman curry goes brilliantly with one another.
After having had a long delectable time, dessert is the way to say sweet goodbye. Jasmine Panna Cotta Ginger Jelly is topped with golden egg yolk threads, which makes the sweet-smelling panna cotta tastes even more paradisiacal. Frisky Mango Lotus Tea Jelly & Crumble is served with coconut ice cream poached in Chinese tea, alongside with refreshing mango purée as the crumble of the plate.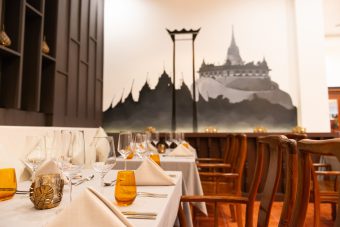 SAMRANRAJ CUISINE
Villa De Pranakorn
543 Mahachai Road, Samran Rat Subdistrict, Phra Nakhon District, 10200 Bangkok
T. +66 (0) 2 221 1122
E. info.bkk@villadepranakorn.com
W. www.villadepranakorn.com/restaurant.php
Text by Pakvipa Rimdusit
Photos by Nissorn Somrattanakul