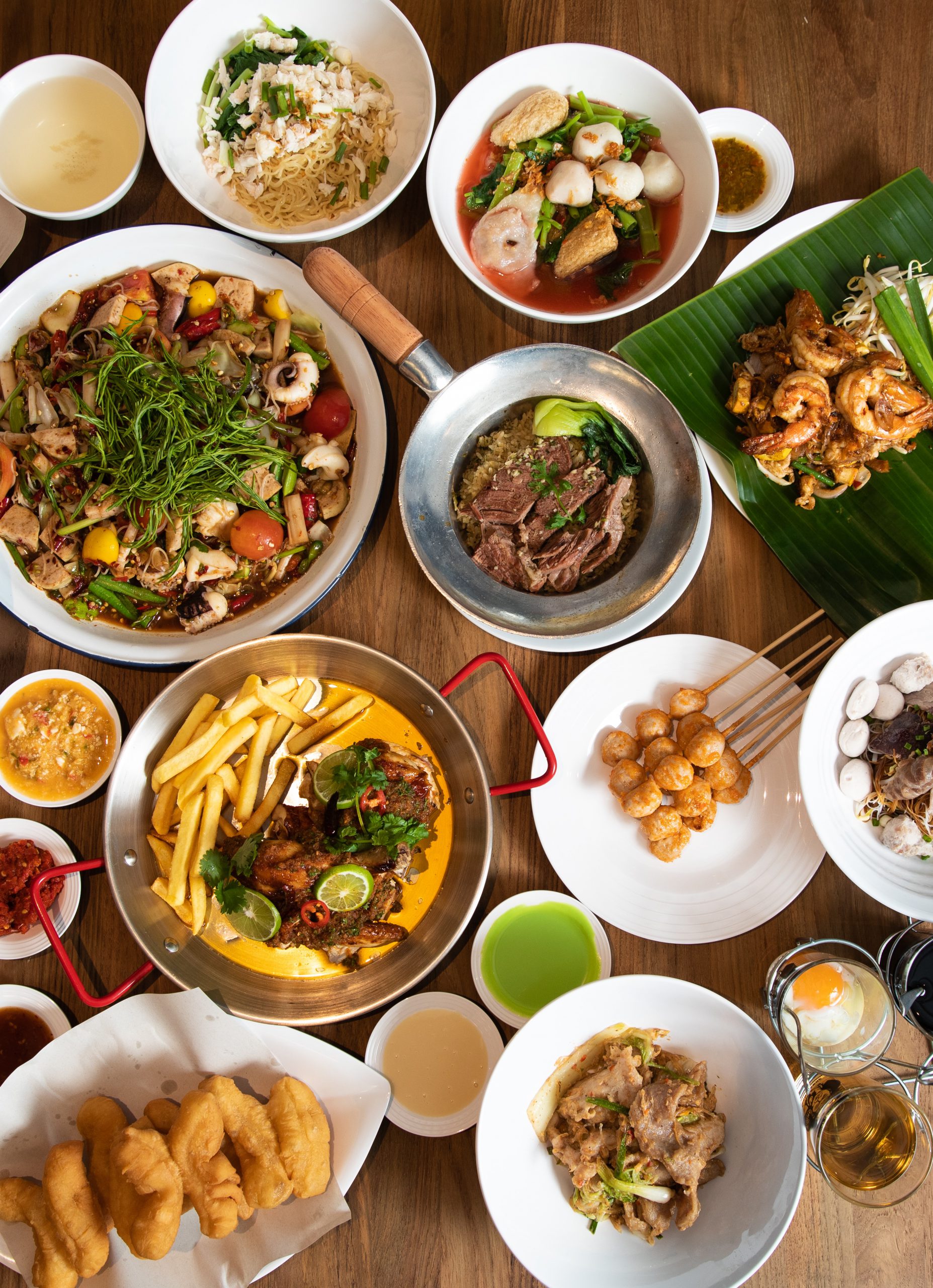 Thai Taste Hub Mahanakhon CUBE: A Hub for Awesome Appetites
Setting up branches at Mahanakhon CUBE are a dozen favourite Thai street food restaurants, some of which are Michelin-recommended. The new rock star venue for foodies is named 'Thai Taste Hub Mahanakhon CUBE', and will unquestionably offer plenty of mouth-watering comfort foods to satisfy every palate.
Located on the first floor of Mahanakhon CUBE, which is found at exit number three of Chong Nonsi BTS station, Thai Taste Hub fits the bill especially for those who love legendary street foods but not the hassle of driving around crowded areas and trying to find a parking space, then queuing up at the original restaurant and fighting to keep their seats. The 640 sqm space here can accommodate 200 foodies at a time.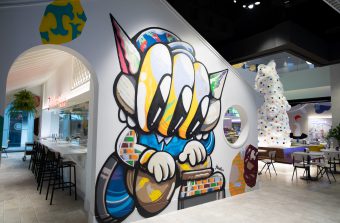 The ambience is street of course, with a mix of arts by Thai artists working in different mediums e.g. Beerpitch on typography, Benzilla on street art, Gongkan on acrylic on wall, Pim on ceramic and mosaic, and Lolay on the 3.5-metre sculpture at the heart of the space.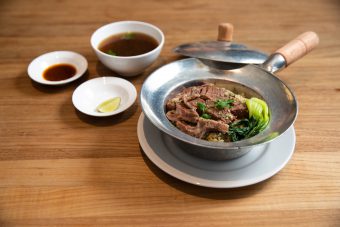 Yih Sahp Luhk (Michelin Plate 2020)
Original restaurant: Phra Athit Road
Signature dishes: Braised Short Ribs Rice Pot (THB 220), Hotate (scallops) Rice Pot (THB 450)
Our thoughts: The baked rice was flavoursome, the beef ribs were tender and super juicy, and the accompanying soup was perfect!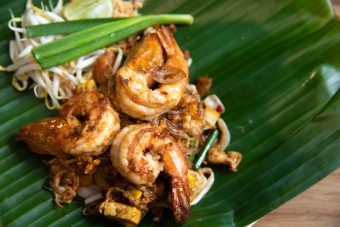 Pad Thai Fai Ta Lu (Michelin Bib Gourmand 2019-2020)
Original restaurant: Dinsor Road
Signature dishes: Pad Thai Fai Ta Lu Crispy Pork Belly (THB 220), Pad Thai Fai Ta Lu Grilled Pork Jowl (THB 190)
Our thoughts: The Pad Thai sauce was vibrant and coated the noodles thoroughly. It's worth observing the cooking process as well since the large flames that engulf the entire wok is pretty impressive.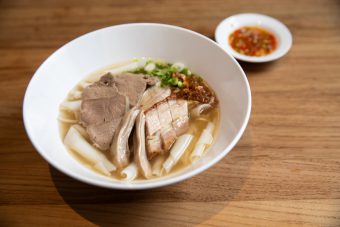 Nai Ek Roll Noodle (Michelin Plate 2018-2019)
Original restaurant: Bangkok Chinatown
Signature dishes: Roll Noodles (THB 65-90), Deep Fried Crispy Pork with Rice (THB 65-90)
Our thoughts: The Roll Noodles (Guay Jub) had a slight chewiness that was satisfying, the crispy pork was perfectly cooked, and we could not waste even a single drop of the aromatic black pepper soup gave our sinuses a big hit (in a good way!).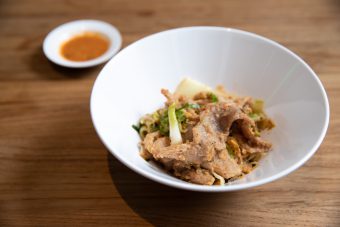 Maverick Suki (Michelin Plate 2019-2020)
Original restaurant: Soi Yod Sae, Bamrungmuang Road
Signature dishes: Stir-Fried Sukiyaki (THB 80), Stir-Fried Noodle with Chicken (THB 70)
Our thoughts: The sukiyaki sauce, which has been passed down through generations since 1960, proved to be so irresistible that we kept asking for more. The marinated pork was so tender it literally melted in our mouths.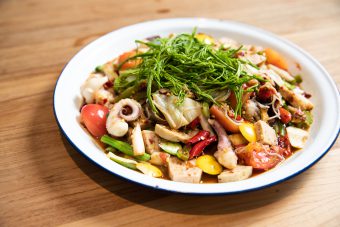 Phed Phed Hey!
Original restaurant: Nakhon Phanom
Signature dishes: Salad with Vermicelli Noodles (THB 275), Mongosteen Papaya Salad with Shrimp Paste and Sugar Cane (THB 275)
Our thoughts: The oversize portions were impressive, as well as the succulence of each dish. Even so, the three of us found it difficult to finish each portion! So the more of you, the merrier a meal here becomes.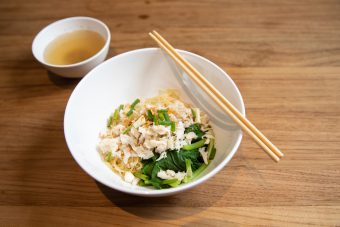 Boon Lert
Original restaurant: Nang Loeng
Signature dishes: Egg Noodle Soup with Crab (THB 70-80), Wontons with Grilled Pork in Soy Sauce (THB 55-65)
Our thoughts: The traditional bone broth complemented the delicate egg noodles splendidly, and the crab meat was very succulent.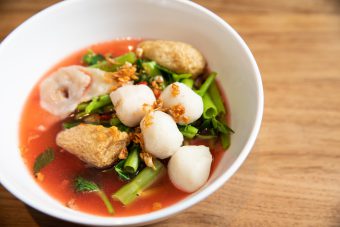 Limlaosa
Original restaurant: Song Wat Road
Signature dishes: Dried Egg Noodles with Seasoning Sauce and Fish Balls (THB 60-80), Egg Noodle Soup with Pink Broth and Fish Balls (THB 60-80)
Our thoughts: The 'pink sauce' (yentafo) was balanced so well – not too sweet and not too sour – and an additional cup of it was provided in case we wanted to intensify the flavour in our bowl. The fresh homemade fish balls featured the required bouncy texture and were delicately tasty; no wonder they have been legendary for over 80 years.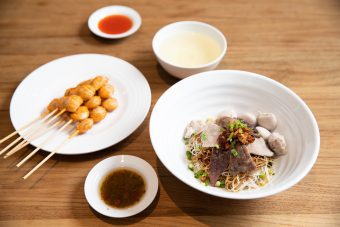 A Na Mai Noodle
Original restaurant: Soi Soonvijai
Signature dishes: Rice Vermicelli + Mixed Beef (with or without soup) (THB 80), Grilled Beef Balls and Tendon Beef Balls (THB 75)
Our thoughts: The shop's signature beef balls, tendon beef balls, sliced beef, liver and braised beef all won our hearts (and stomachs), and we went back for more grilled beef balls.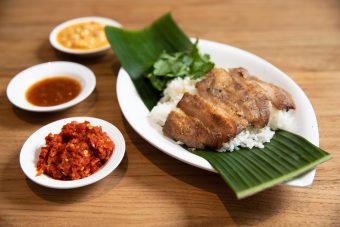 Kor Moo Rama 5
Original restaurant: Ratchapruek
Signature dishes: Barbecue Pork Neck on Rice (THB 80), Fried Pork on Rice (THB 70)
Our thoughts: The grilled pork was aromatic and tender, and we got one complimentary sauce with each main dish. There were six sauces to choose from – we opted to pay and get to try them all, and our favourite was the salted egg spicy sauce.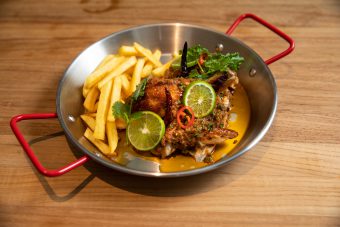 Pinn
Original restaurant: Chim by Siam Wisdom
Signature dishes: Peri Peri Chicken (THB 250), Chicken in Truffle Soy Sauce (THB 180)
Our thoughts: The whole chicken was perfectly cooked in flavoursome peri peri sauce which was not too spicy. The chicken arrived with condiments that complemented it very well.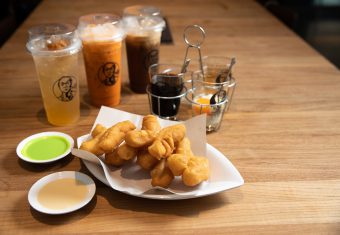 Chumpol Patonggo
Original restaurant: Buriram
Signature dishes: Deep Fried Dough Stick + Pandan Custard (THB 45), Grilled Duck Butt (THB 80)
Our thoughts: While the outside of the dough sticks (patonggo) was crispy, the inside was fluffy. The pandan custard for dipping tasted great, but some of us preferred to enjoy the dough sticks plain. The Grilled Duck Butt was very crispy and dry, to be nibbled on as munchies. Chumpol Patonggo's offerings make great local breakfast fare, with several drinks also on offer.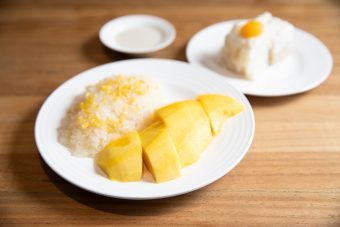 Pa Hong Thai Dessert
Original restaurant: Nang Loeng
Signature dishes: Durian Sticky Rice with Sweet Coconut Milk (THB 60), Thai Custard (THB 40)
Our thoughts: A meal is not complete without a dessert (or two) and Pa Hong Thai Dessert has many on its menu. The Durian Sticky Rice, and the Mango Sticky Rice are in high demand every day, while the other Thai desserts are offered in turns. The authentic traditional recipes make the calories worth it according to those with a sweet tooth!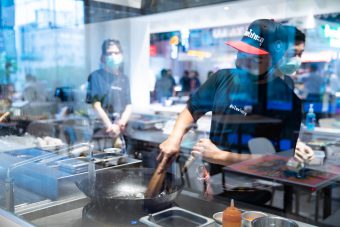 Thai Taste Hub Mahanakhon CUBE
Open: 10:00–20:30
Chong Nonsi BTS station, exit 3
96 Narathiwat, Silom, Bangrak, Bangkok 10500
T. +66 (0) 2 677 8721
W. kingpowermahanakhon.co.th/cube
Text by Urasa Chittamvanich