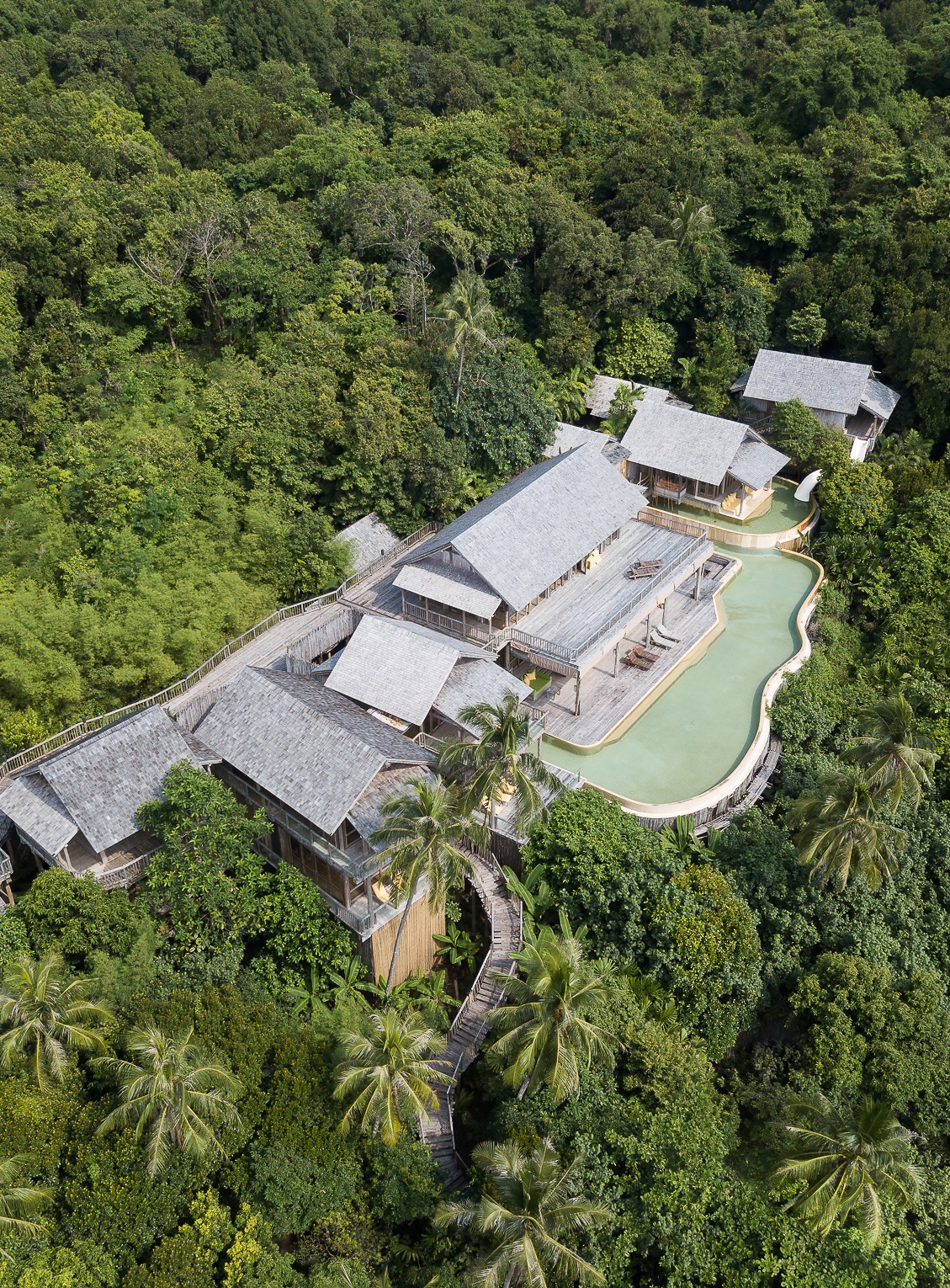 All to Yourself! – Top 9 Venues for Your Private Trips in Thailand
With the Covid-19 pandemic crisis hitting the globe, a new genre of travel has appeared i.e. private, whether individual or group. Lifestyle + Travel has compiled a list of top villas and suites in Thailand for your next holiday in private and in style, as it looks like we will have to live with the 'new normal' for quite some time.
Soneva Kiri, Koh Kood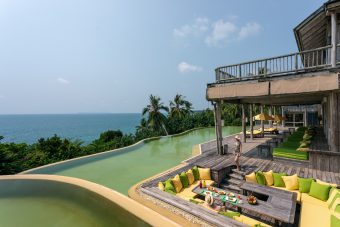 Known for its unparalleled luxury meets eco-friendly philosophy, Soneva Kiri nestles within lush rainforest on an unspoiled island with some of the best beaches in Thailand. The Six Bedroom Sunset Ocean View Pool Reserve, a magical haven atop the cliff, spans over 2,928 sqm and caters up to 16 guests with its six bedrooms. The tree house is a dream come true for children, their own realm in a private jungle canopy. There is a separate master bedroom with walk-in dressing area and bathroom with outdoor vanity, blitz shower, steam room and bath. Four further ensuite bedrooms have with indoor and outdoor showers, bath and personalised deck areas. Other enticing features of this haven are the gargantuan swimming pool with its own water slide, gym and steam room, games room, outdoor dining table and oversized cushions on enormous day beds overlooking the water.
E. mail@soneva.com / reservations@soneva.com
W. soneva.com
Villa Siam at Iniala Beach House, Phang Nga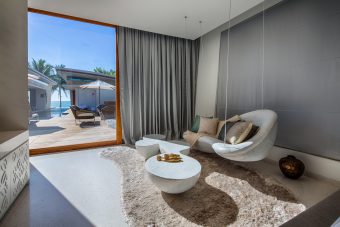 Designed by Eggarat Wongcharit, Villa Siam is an eclectic fantasy inspired by Thai culture and Buddhism in Phang Nga. Eggarat's extraordinary creations use a modern take on traditional Thai craftsmen's techniques, and his unique and original work includes beds and sofas suspended from the ceiling by wicker bamboo, as well as a spa inscribed with Buddhist teachings translated into English, located within an ancient golden Thai bell. Intricate wickerwork and glass mosaics grace the rooms, one of which pays tribute to the sacred Buddha with three large illuminated images on the wall behind hanging white sofas, covered in mother of pearl. A wrapped pagoda with traditional Thai weaving expanding over it onto the ceiling ties the room's contemporary lines with its Thai roots seamlessly together, and the weaving incorporates an elaborate dream catcher facing down upon guests as they walk in. A dining table seats up to six, with a backdrop of playfully-waving cats.
Villa 24 at Samujana, Koh Samui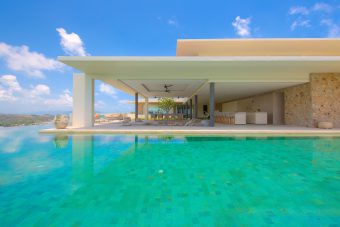 Set on a tranquil, pristine beach of Samui, Villa 24 is the largest of the Samujana villas at an impressive 1,808 sqm. This is a home for a big family or someone with many friends, as it showcases eight bedrooms. Villa 24 has both south and west views over the Gulf of Thailand for enjoying sunrises and sunsets over the ocean. It comes complete with an outdoor dining sala, private gym, cinema, large infinity edge pool and jacuzzi. The friendly Samujana Villa hosts have been handpicked and professionally trained to ensure guest needs are not only met, but exceeded. For fun beyond the villa, Samujana offers an extensive range of land and water experiences from boating excursions on a private sailboat to chauffeured tours of the beautiful island and its waterfalls.
W. samujana.com
Rayavadee Krabi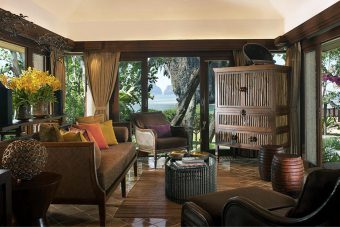 Rayavadee is situated in the heart of Krabi's beautiful Phranang Peninsula on the border of Krabi Marine National Park, an area renowned for its natural beauty and rich flora, fauna and marine life. The Phranang Villas are discreetly hidden in an annex amidst a dramatic landscape of limestone cliffs with views overlooking world-renowned Phranang Beach. Just five minutes' walk down the beach from the main resort, the villas offer a private pool, master bedroom with ensuite bath and two additional (non-adjoining) guest bedrooms, each with ensuite bathroom. The spacious living room, dining area and kitchenette make villa entertainment a breeze. Dedicated butler service is provided.
Hillside Ocean View Private Pool Villa, Pimalai Resort & Spa, Koh Lanta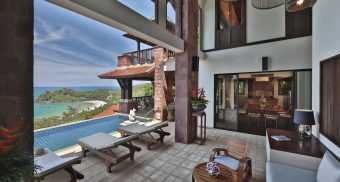 Koh Lanta's best kept secret is nestled within the solitude and serenity of surrounding mountains at Pimalai Resort & Spa, where a 900-metre beach and 100 acres of lush paradise await. Unlike the rest of Koh Lanta which has given way to beach vendors and the hectic buzz of tourism, the natural setting of Pimalai remains virtually untouched up to this day. Indulge in the luxury of a Pimalai signature Hillside Ocean View Pool Villa, which stands amidst lush green hillside around 60-80 metres above sea level. Guests will enjoy astounding views of the sea from the comfort of their villa. Soak up some sun on the private sundeck, and take a dip in the private 22 sqm infinity edge pool.
W. pimalai.com
V Villas Hua Hin – MGallery Hotel Collection, Hua Hin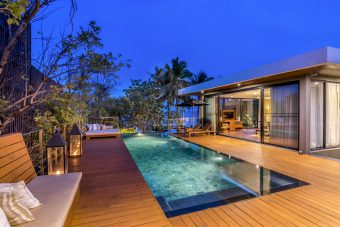 If you are looking for a first class hotel, magnificent scenery and a tranquil white sand beach in Hua Hin, V Villas Hua Hin – MGallery will fit the bill in every aspect. The Presidential Beachfront Pool Villa is hidden away in a beautiful terraced design by world renowned architect J+H Boiffils and a precious haven of comforts and rich furnishings, complete with unique accessories and décor, first-class amenities and 24-hour butler service. The 1,111 sqm two-storey villa features a beautifully designed and decorated master bedroom, and two further bedrooms come with an ensuite bathroom each that offers a rain shower and twin jacuzzi. An expansive living room and fully-equipped open plan pantry allows for entertaining and relaxation. Comforts include a Bose home entertainment system, computer, wine cellar and fresh brew capsule coffee machine. The living room opens out onto a large deck with a private 11.5 x 3.75 m swimming pool.
E. reservation@vvillashuahin.com
W. vvillashuahin.com
Double Grand Pool Villa at Mason Pattaya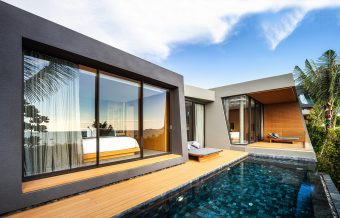 Located in a more serene part of Pattaya that is also conveniently closer to Bangkok, Mason Pattaya offers a private retreat in the beauty of nature. The Double Grand Pool Villa is a two-bedroom, single story luxury villa that is stylishly decorated for a comfortable stay for up to four people. Specially designed to showcase the stunning ocean view throughout the entire villa, enjoy the most Instagrammable moments with the panoramic backdrop of the blue sea along the length of the eight-metre private pool and jacuzzi. Relax on the spacious sundeck terrace on stylish sun-loungers. The large bedroom comes with an ensuite bathroom with an oversized bathtub and walk-in closet. Enjoy access to the private pool directly from the bathroom for additional privacy. The villa is a short five-minute walk from the hotel's private beach entrance.
Two-Bedroom Royal Residence at Onsen@Moncham, Chiang Mai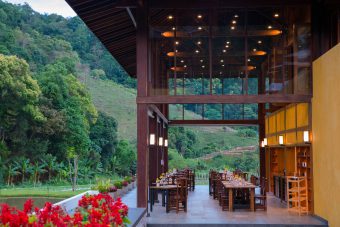 The ideal home away from home for a family or group of friends, with more than 350 sqm of luxury and full butler service, in a harmonious Thai-Japanese setting. Your designated butler will be waiting to escort you via a private entrance to the oversized living room with a dining table and pantry kitchen with ensuite bathroom. Connected to this is the master bedroom with walk-in closet, Japanese washlet toilet and spa shower. On the massive outdoor terrace, soak in the jacuzzi and relish the view, meditate, read a book or simply do nothing at all. Young guests up to 12 years are invited to enjoy an especially-designed tent to get closer to nature. The Two-Bedroom Royal Residence can welcome a family or group of friends with a maximum capacity of 13 persons.
E. reservations@onsenmoncham.com
W. onsenmoncham.com / booking.com/hotel/th/onsen-moncham.html
Villa Tremjasa at Samui Bayside Luxury Villas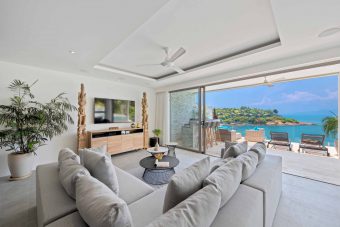 Samui Bayside consists of a boutique collection of luxury sea view villas just steps away from Koh Samui's best-kept secret, secluded Samrong Beach. The focal point of Villa Tremjasa is its luxuriously-decorated, open plan living space. With a fully-fitted kitchen and large pantry at one end, and stunning views across the bay below at the other, it is the perfect space for any vacation hangout. Large concertina doors open to create a vast space where indoor and outdoor merge into one. Five beautifully designed bedrooms, a large infinity pool, and a spacious outdoor patio equipped with a bar make Villa Tremjasa a truly spectacular setting for a private island retreat.
W. samuibayside.com / booking.com/hotel/th/samui-bayside-luxury-villas-koh-samui.en-gb.html